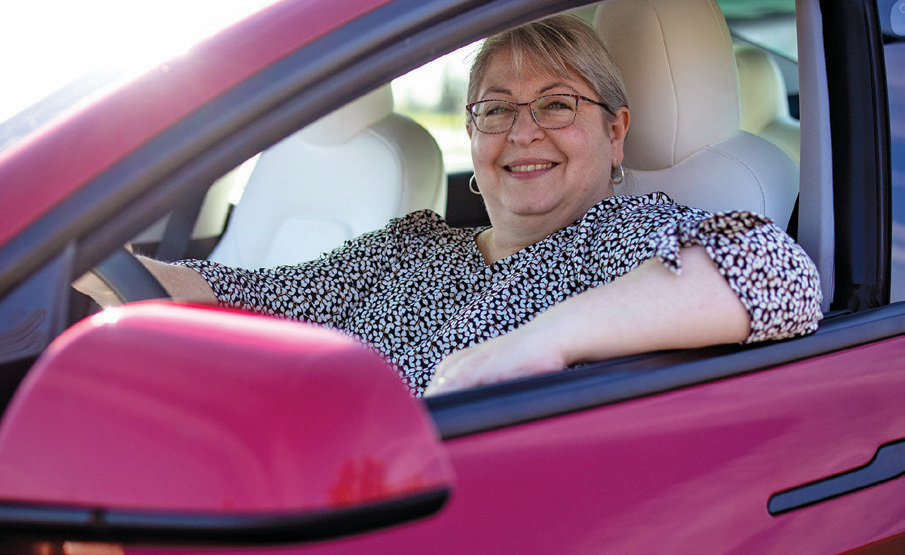 Electric vehicle owner Laura Matney giggled while glancing at goods when visiting a gas station convenience store. Matney, the marketing manager for Wabash Valley Power Alliance (WVPA) and a Power Moves® team member, traveled with her family from Indiana to Sarasota, Florida, in their electric Tesla Model 3. It was Matney's longest journey in an EV. Fortunately, she learned some key lessons that can help EV owners plan future trips.
Map ahead.
Early on, she planned her trip based on the Model 3's battery range and the location of Tesla Superchargers along the way. Some Superchargers were in unique locations, including near a Florida gas station.
"The convenience store was fun. They had a lot of snacks and things that we hadn't seen before," Matney said, "so we were literally being tourists in a convenience store."
EV ranges vary based on make and model. Some EVs include an onboard computer that can show charger locations, distance from the current location and anticipated remaining battery charge when arriving.
Tourists spend more on charging.
Electric vehicle owners save significantly on fuel and maintenance costs when they switch from a gas-powered vehicle. However, public chargers can cost significantly more than homeowners' retail rates. Matney estimated that her family saved about $60 in fuel costs taking the Tesla compared to the family's gas-powered sedan. It would've been almost $200 in savings if she paid to charge publicly what she pays to charge at home.
It's about the journey, not (just) the destination.
EV owners typically make more frequent stops than someone driving in a gas-powered vehicle, and the "fill-ups" also take longer. Fortunately, many (though not all) chargers are near restaurants and destinations people can enjoy while vehicles recharge. The Matneys' Tesla charged for about nine hours total over four travel days.
"For people who like to get in the car and just drive nonstop to get to Florida, I don't think an EV is going to work very well for them," Matney said of her trip. "With our car, we stopped every two hours for maybe 30 minutes."
She enjoyed the vacation and has taken several other long-distance road trips since. Her lessons from the inaugural journey assuaged her range anxiety. "This trip was what we were expecting," Matney said.
"The traffic was smooth. The charging equipment all worked. The onboard navigation on the car was great, and we really didn't have any surprises."