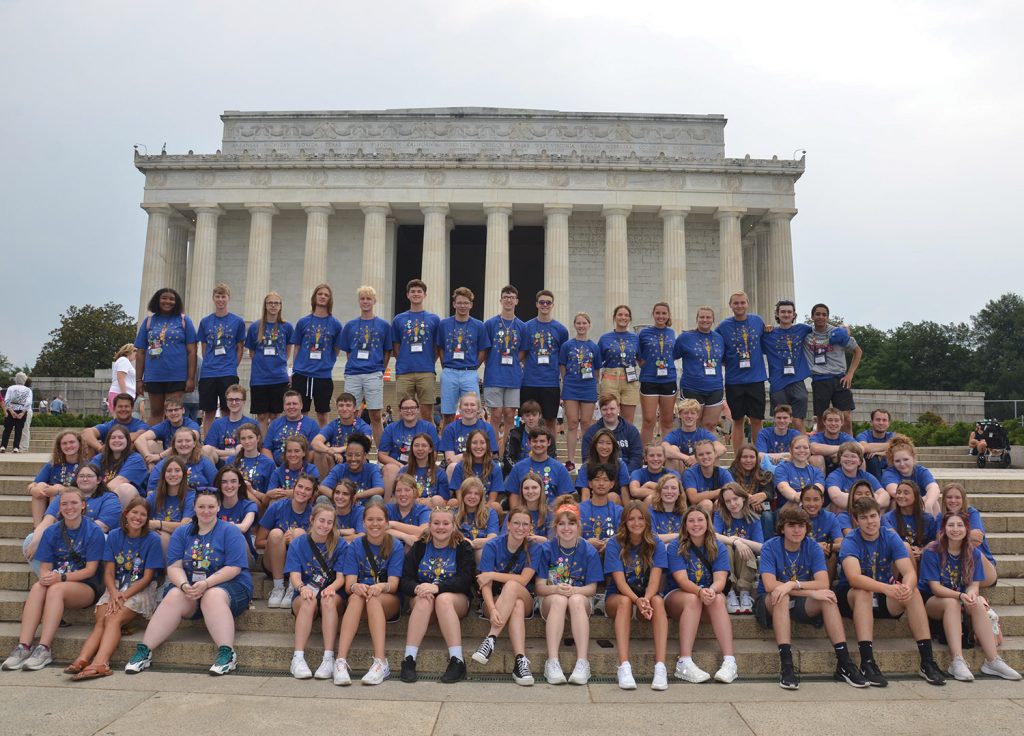 Hoosier Energy spent summer vacation sponsoring youth events.
Whether it was on the steps of our nation's capital or on a zip line tower, Hoosier Energy helped local youth take advantage of the opportunity to spend a portion of the summer engaging in fun and educational activities.
At Camp Kilowatt in Brookston, Indiana, Hoosier Energy sponsored the "circuit boards and bikes station," one of several rotating activities for the 101 participating campers — 38 of which came from Hoosier Energy member cooperatives — to enjoy each evening. The bikes were provided by Nine13sports, a nonprofit that travels to schools and other student-centric locales such as Camp Kilowatt to provide what the organization describes as "an interactive indoor bicycling simulator."
Eight bikes are set up on stationary training stands, and the bikes interface with a computer software program that simulates cycling outdoors, including going up and down hills. Each rider can see information such as speed and distance displayed on a large-screen TV monitor. That display also includes how much energy the rider created.
There were plenty of other activities on the agenda for the rising seventh graders at Camp Kilowatt, including bucket truck rides, rock climbing, archery, riflery, swimming, alternative energy education, a live line safety demonstration, horseback riding, canoeing and a zip line. This was all done under the direction of Crystal Greathouse of Decatur County REMC, a Hoosier Energy member.
Meanwhile, a slightly older crowd of rising high school seniors went on the Indiana Youth Tour. Hoosier Energy was among the sponsors of the 75 students representing 29 electric cooperatives in the state of Indiana.
The tour included stops at the Flight 93 National Memorial and Gettysburg before the students arrived in Washington, D.C., where they visited the Library of Congress, George Washington's Mount Vernon home, the National Museum of the Marine Corps, the Pentagon Memorial, the Smithsonian Institution and the White House, as well as taking in a Major League Baseball game between the Washington Nationals and the Miami Marlins.