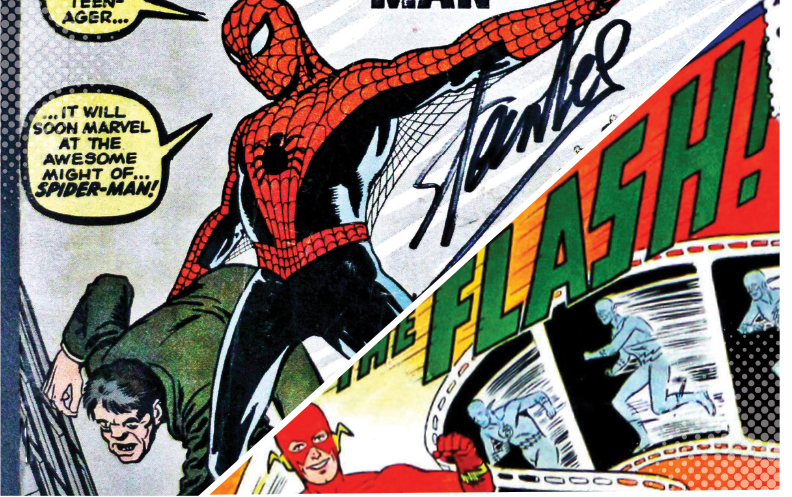 Story and Photos by Richard G. Biever
It's another typical but blustery day in the fair northern Indiana city of Elkhart.
Citizens go about their routines fabricating recreational vehicles and musical instruments. Traffic rolls along the I-80/90 corridor carrying commerce and travelers from near and far.
Meanwhile, just off the toll road in an unassuming former auto parts store: A vortex whirls paper and plastic, fiberglass and fabric. Time portals are breached. Parallel universes collide! Superheroes assemble! The world is imperiled … and saved in epic sagas of virtue vs. villainy.
Welcome to the Hall of Heroes Superhero Museum, the world's only repository and exhibition dedicated to preserving and propagating all things superhero. From comic books to movie props to memorabilia to art and action figures, Hall of Heroes convenes an ever-growing treasury of superhero past and present. Here, generations, present and future, can relive or learn about incorruptible characters who carry on never-ending battles for "truth, justice and the American way."
History: Just way more super
Hall of Heroes bills itself as the world's largest collection of superhero memorabilia, comic books and toys. The museum moved to a new location in August, doubling its exhibition area and increasing its visibility.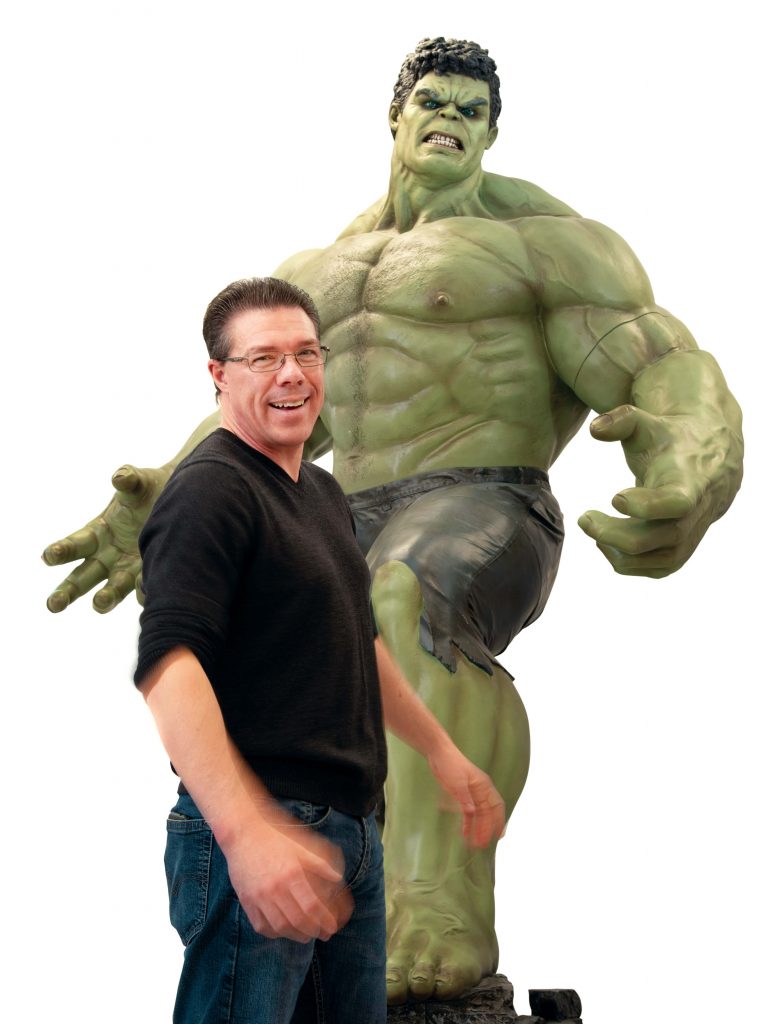 The nonprofit museum's collection contains some 65,000 comic books and includes every issue of every title published since 1956, and a large number dating back into the late 1930s.
"We are the only organization dedicated to acquiring and preserving original copies of every single comic book," said director Allen Stewart.
But it's not just comics. Also on display are three original superhero costumes worn on TV and the Batman outfit owned and worn by beloved actor Adam West, the campy Caped Crusader of the 1960s TV show, during his personal appearances.
There are movie props, signed artworks and artifacts, animation cells, rare toys, and other fun and kitschy stuff, arcade games, and, of course, a gift shop. And, who could miss the life-sized figures of Batman, Superman, Wonder Woman, Spider-Man, Iron Man, and, especially, the angry green giant Incredible Hulk? (Please see highlights on page 24-25.)
"We try to cover the whole history," noted Stewart.
Still, much more than just 80 years of superhero history is preserved at the museum.
"People appreciate our museum for different reasons," Stewart said. "We are like a two-fold time machine. The actual history stuff we're doing that you can see only here and the Library of Congress is important. The original art, the costumes, the Hollywood memorabilia. But I think for a lot of people, it's the nostalgia. We remind them of those more innocent times. We take them back to their childhood."
Friendly neighborhood superhero museum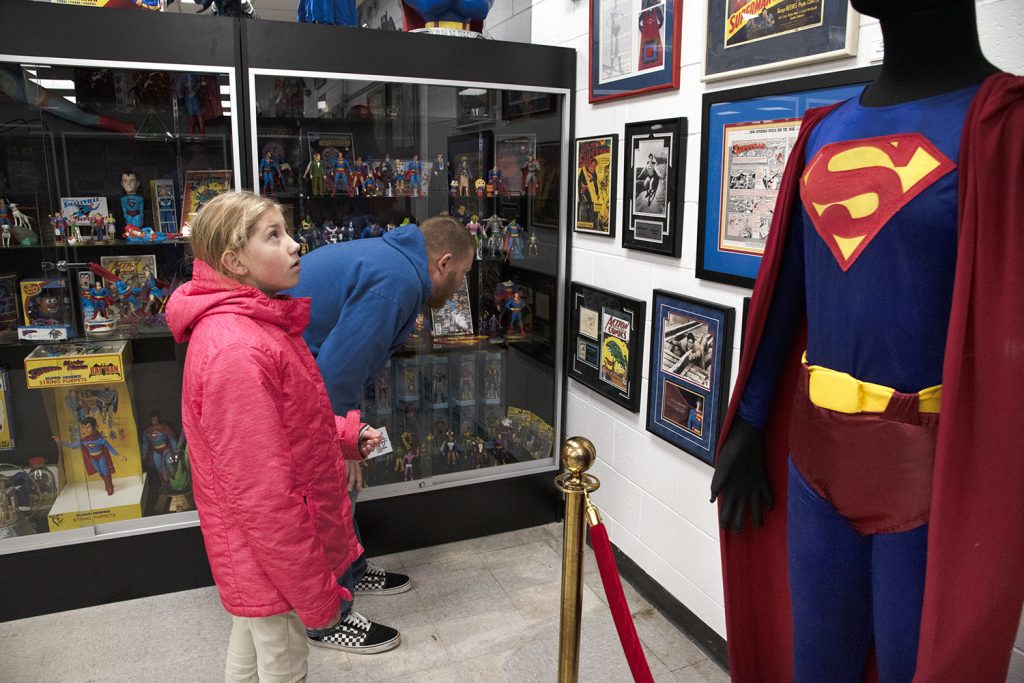 Hall of Heroes first opened to the public in Stewart's backyard in 2007. At the time, it was mostly his own private collection of comic books and action figures he started as a kid. He tore down a small barn and built a two-story building to house the collection — complete with a facade inspired by the "Hall of Justice" from the "Super Friends" Saturday morning TV cartoon.
The 49-year-old Elkhart native said he first started watching "Super Friends" in the mid-1970s. At about the same time, he'd tune into the syndicated Bat-reruns of the 1966-68 TV series with West after school. Then, he also started reading and collecting all the comics he could get his hands on. "It just kind of stuck with me and never let go," he said.
While to some, superheroes, especially Batman from the 1960s TV show, may seem too corny, too "square," folks who grew up with them from a young age, like Stewart, say the examples of virtue they set left a lasting positive impression on their lives.
"I have always tried to do the right thing," Stewart reflected. "I think it was because of all the exposure I've had to superheroes. I've tried to model my own behavior after that. That's why I feel so strongly about preserving the history and so strongly about participating in charity events and giving back to the community and things like that."
Once the nonprofit museum opened and awareness spread, the collection doubled in size as donations came in. The backyard residential location was attracting about 10,000 visitors a year as the collection outgrew the hall. The new larger facility on State Road 19 should attract 30,000-50,000 visitors a year, said Stewart, whose real-life job is a real estate agent. Not surprisingly, even his Stewart Realty business card uses a Superman-style red "SR" on a yellow diamond shape.
A day at the museum
Some 700 people attended the grand opening Aug. 30 at the new location. Not only has moving into the new, spacious facility given the Hall more room to display what it already had in its collection, the move has brought in additions.
"We were out of room for about three years at the old place," Stewart said "We are already filled up here at the new place. We have room for everything right now, but we're going to have to move again in the next 10 years. We're already planning for our 3.0 phase. Our goal is eventually to be like the Indianapolis Children's Museum. We want to be at that level."
Helping christen the new building was Michelle Bohlmann, 26, one of the "cosplay" ("costume play") characters who volunteers for events at the museum. The Granger resident portrays three Marvel characters: Spider-Gwen, an "alternative universe" Spider-Man; Black Cat, a Spider-Man villainess; and Gwenpool.
"I've always loved Spider-Man. He's my favorite," Bohlmann said. "When I started [following superheroes], I was a kid. I liked that he was a school kid, and he was a hero. And he always made the right choices. I felt he was a good role model."
She feels the same about the female alternative she cosplays. "The little girls love it because it's a girl superhero. They don't see that as often. And so, whenever they see Spider-Gwen, they always squeal and come running over … 'Spider-Gwen, you're so cool.' I love when I cosplay for events here," she added. "They're inspired by the characters — the same as I was when I was a kid. I like to be a part of that. It's so much fun to get to see the kids when their heroes come to life."
The museum is also active hosting charity events and participating in local fundraising events. Heroes fight child abuse by supporting the CAPS, Child Abuse Prevention Services. At one Superhero 5K Run for CAPS, a guy dressed as the Adam West Batman ran the entire run holding a bomb over his head, a nod to a scene from the 1966 movie with the TV cast.
Bohlmann is working on adding Super Girl to her own hall closet of heroines once her costume is hemmed and she finds some red boots. Sewing isn't one of her super powers, she admitted. "I have them custom-made because you can't …," she paused, "… well … I can't — other people might be better at sewing — I can't get them to look the way they should. And I like to go with what the comic book should be. Accuracy is really important."
In her alter ego, Bohlmann is a first grade teacher in Elkhart schools. "But my kids don't know," she said. "It's a secret. I don't even tell the parents or other teachers. I've seen some of my students come in here, and that's always fun. But I'll alter my voice and everything if I'm talking to a kid I know."
Bohlmann was asked to drop by the museum this particular afternoon by the PTA to pick up information about the museum's event room and group tours. "Our PTA knew I was involved in heroes, but they didn't know I was a hero."
The backroom at the museum is available for events like birthday parties, at which any one of six male or female superheroes can be summoned for a guest appearance, tours and classes. Stewart, who has a degree in secondary education, has created a curriculum, "Comics in the Classroom," using comic books to teach lessons in any number of subjects, from art to science, history to literature.
Assembling Heroes
Toward the end of that recent blustery day, 10-year-old Brystal Lamberson and her dad, Dave, came into the Hall of Heroes. It was their first visit to the museum, though they had passed it often. They live just over the state line in Edwardsburg, Michigan. Brystal attends Trinity Lutheran School in Elkhart.
Brystal said she had heard about the museum from a classmate who shared his love of superheroes with her. Obviously weighing heavily on her mind, the classmate, she disclosed, was battling brain cancer. Even in a place surrounded by make-believe characters, she was unable to escape one of the real-life traumas we all face daily.
She didn't say it, but she may have been seeking some feel-good superhero karma she could carry back to her friend beyond the prayers she and the rest of her classmates say at their school. She came to the right place.
At the museum, she and her dad quietly examined case after case of the models and memorabilia as they slowly made their way around the museum floor. They'd point out various characters, and wowed at the Ghost Rider motorcycle. As Dave lingered around the Adam West Batman costume, something more from his generation, Brystal excitedly pointed at and checked out the life-sized Wonder Woman statue from the 2017 blockbuster up the aisle before returning to his side.
Asked why she likes superheroes so much, she looked up with sweetness and innocence. Her bright light brown eyes and little jeweled cross earrings caught the overhead light. Without a pause, she simply and softly said, "They save people."
Holy heartstrings!
In the real world tarnished by sickness and sin, where our best minds search for cures to the natural and manmade harms we mortals face, we need fortresses of solitude. We have our faith and houses of worship, but it's also nice to have places like Hall of Heroes.
Here, virtue is celebrated and preserved. Inspiration to uplift us is found in stories and artwork from pop culture about people who — for the good of us all, as Brystal observed — "save people."
Check out some of the artifacts from the museum here!
RICHARD G. BIEVER is senior editor of Indiana Connection.
---
If you go…
Hall of Heroes Superhero Museum is a 501(c)(3) nonprofit, directed by Allen Stewart and overseen by a 10-member board of directors, dedicated to the preservation and presentation of superheroes in comic books, toys, film and animation. The museum features a collection of 65,000 comic books and 10,000 artifacts.
Address:
1915 Cassopolis St., Elkhart, Indiana 46514
Phone:
574-333-3406
HallofHeroesMuseum.com (Also on Facebook)
Hours:
Mon.-Tue., Thur.-Fri. — 11 a.m.-5 p.m.; Sat. — 10 a.m.-5 p.m.; Sun. — Noon-5 p.m.; (Closed Wed.)
Admission:
$9 — Ages 10 and up; $6 — Ages 3-9
---
A comic con near you in 2020
Larger-than-life yet all-too-human superheroes, it's been said, have become one of the most successful and universally enjoyed entertainments in human history. No where is that clearer than when comic book/superhero enthusiasts gather. Here is a list of some of those gatherings, commonly called "comic cons" around Indiana this year.