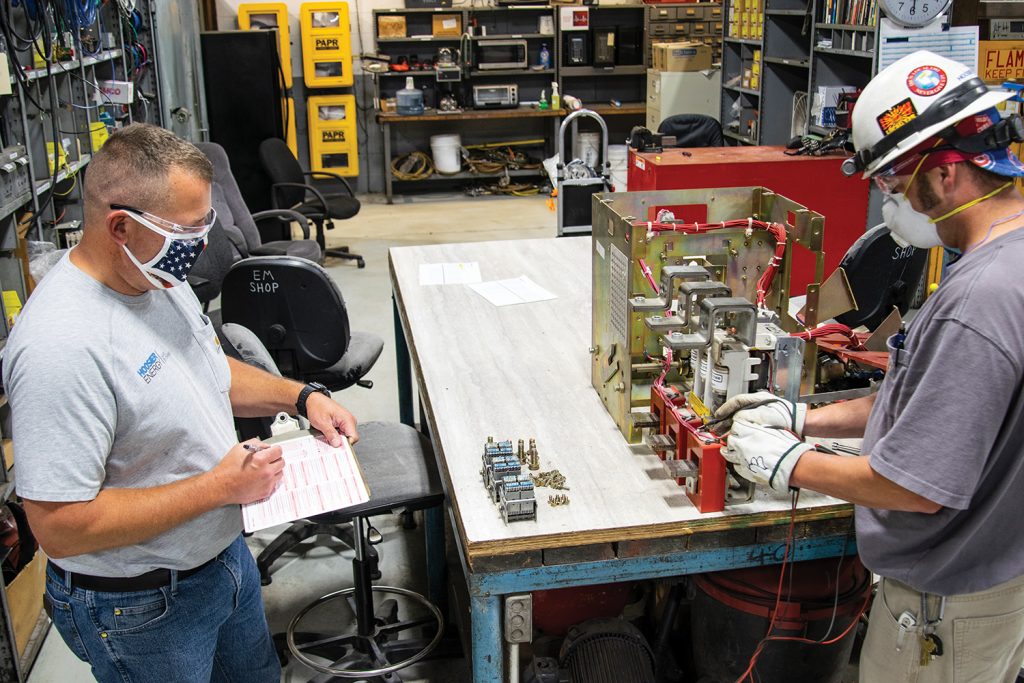 When asked to use a No. 2 pencil, fill circles completely and make no stray marks on the form, these instructions are likely to bring back memories of school years when scantron technology was used for testing.
Hoosier Energy's Merom Generating Station's Job Safety Observation Team is utilizing this technology in a new way.
Using a custom form that is specific to the power plant, members of the team observe work practices and identify safety procedures. They use the forms to identify if practices are safe or at-risk.
"We worked directly with the Scantron company to develop our form for the specific safety items that we wanted. The custom form allows us to identify and address at-risk areas and make proactive changes in order to improve working conditions and maintain a high level of safety for our employees," said John Sneed, area coordinator – I&E maintenance at the Merom Generating Station.
A safety observation begins during a job briefing — scantron and pencil in hand.
Throughout the process, safety leaders are able to identify risks involved with a job or task, that can include climbing, using a forklift, or connecting rigging equipment.
Bubble after bubble, details of the job are categorized. If the job is completed properly, with safety at the forefront of the work being done, the task is marked as "safe." If there were safety issues not addressed, such as forgetting to check fall protection harnesses, the task is marked as "at-risk."
Unsafe practices are discussed on the spot. The goal is to help employees build safety habits through the work they do – and the work is diverse.
The safety review process includes topics such as permits and procedures, personal protective equipment, excavation, ladders and fall protection.
Capturing safety information like this is important but what you do with the data is where the value lies. Once scanned, data collected is then searchable through a database so that analysis can be performed to find opportunities for additional training.
"We can see where the 'at-risk' areas are as we go along so we can identify trends. If we need to fix something, retrain or make improvements, we have the data to figure that out," said Sneed.