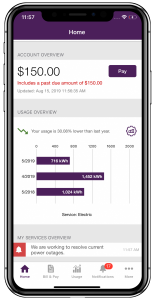 We've heard your frustrations during larger outages and the number one complaint was receiving a busy signal, so we've come up with some solutions to alleviate this problem.
The first option is to use our toll-free number to report an outage. This will allow for unlimited lines to come into our office and/or call center without the busy signal.
The second option is to report your outage from your mobile device through our SmartHub app. If you don't have a SmartHub account, you can sign up on our website or use the camera on your smartphone to hover over the QR code below to download the app.
To report an outage from the app, click on the "Contact us" icon to report an issue/inquiry. From there, you will choose the report outage selection. You'll then be taken through a series of different screens. This will also allow you to control what notifications you want to receive from us in the future.