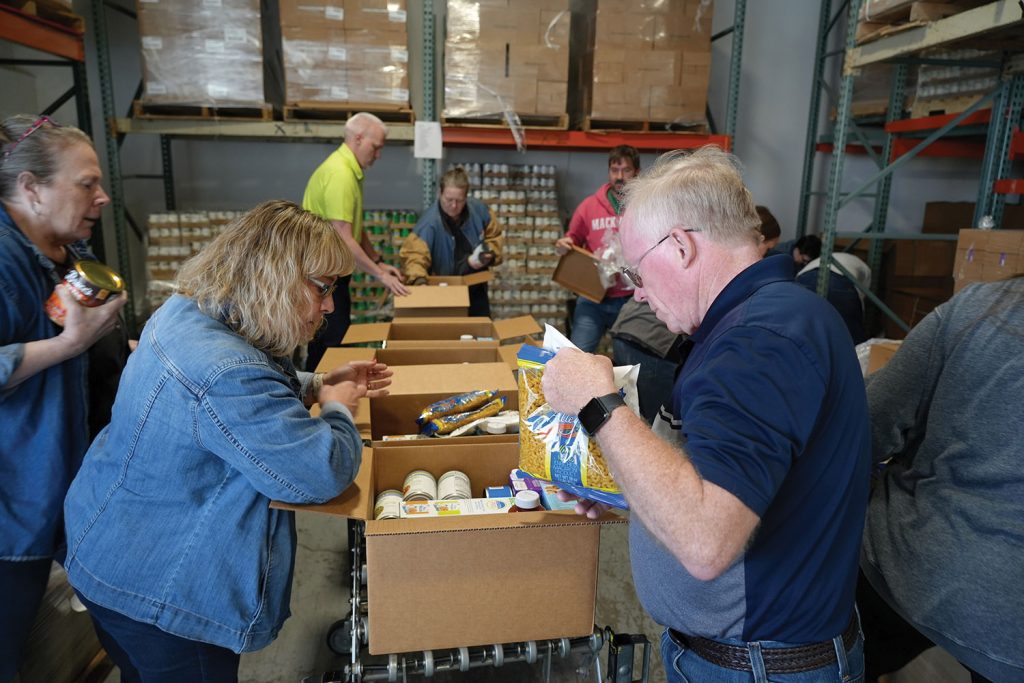 Hoosier Energy's first-ever Community Impact Week saw 25% of the cooperative's workforce participate over the course of the event in Bloomington this spring.
The first in a variety of projects involved volunteering with Backpack Buddies, a program through Community Kitchen that puts together bags of food for low-income children to take home on the weekends. Each bag contained a meal kit of chicken, ramen and vegetables, as well as other items such as applesauce, oatmeal and snack bars. In all, over 400 bags were packed and loaded onto a trailer for transport.
On the second day, employees were encouraged to sign up for the Red Cross blood drive held at Hoosier Energy headquarters the following week.
Community Impact Week continued Wednesday with a pair of events that occurred simultaneously. At Hoosier Hills Food Bank, a group of approximately 15 employees formed an assembly line to fill boxes for the Commodity Supplemental Food Program (CSFP), which aims to help low-income individuals aged 60 and over. Recipients receive two boxes of food and two blocks of cheese every other month. The CSFP at Hoosier Hills provides more than 1,000 boxes per month, and there is currently
a waitlist.
Hoosier Energy representatives put together over 200 boxes that included cereal, canned chicken, pasta and more, averaging close to two boxes a minute before supplies ran out. Volunteers spent their remaining time assembling mailers for the U.S. Postal Service's Stamp Out Hunger Program, which benefits Hoosier Hills Food Bank locally.
Wednesday was also the first of two days that employees worked with Monroe County Habitat for Humanity. The opening day crew completed the framing of interior walls, secured the house wrap and made sure all nails were in place. The following day, a different crew set trusses in place and secured the decking to the roof.
"We are enormously grateful for volunteers like Hoosier Energy who believe in the power of affordable homeownership to transform lives and improve our community," Habitat for Humanity posted on Facebook, while also sharing Hoosier's drone video of the work.
The eventful week was capped off by "Fill the Truck Friday." Hoosier Energy employees donated over 1,200 pounds of goods such as non-perishable foods, hygiene items and cleaning products that were provided to the Salvation Army and Monroe County United Ministries.