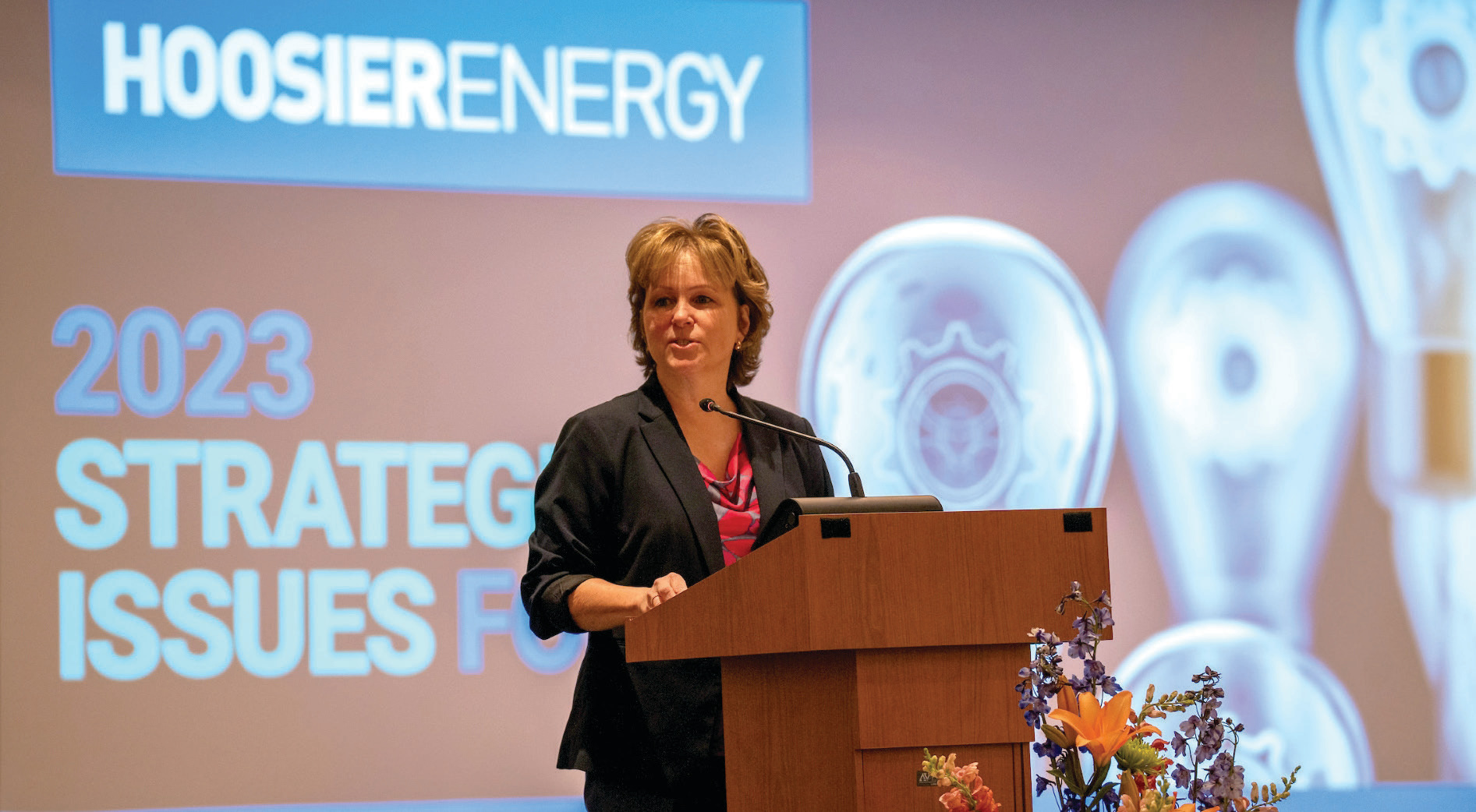 The key to resiliency is to keep moving forward, be it in life or business — that was the message that retired Navy SEAL Clint Emerson delivered in his speech during the final session of Hoosier Energy's 2023 Strategic Issues Forum.
Held in French Lick, the theme of the mid-August event was "Powering Resilience: Inspire, Immerse, Interact." Emerson's presentation capped off two eventful days featuring varying perspectives and aspects of the theme.
The introductory address came from Katie Jereza, corporate vice president of corporate affairs at Electric Power Research Institute. Jereza spoke about "Strategic Insights and Industry Perspectives," including past industry accomplishments, present trends and future challenges.
Jereza was followed by Ivy Tech President Sue Ellspermann. The former state representative and lieutenant governor's theme of discussion was "Civility in Engagement" — an aspect of showing resiliency under pressure.
Ellspermann's speech made for a fitting transition into the "Federal Policy Perspectives" presentation by Sen. Todd Young during the lunch break. Young answered questions about housing policy, farm aid, clean energy and more in a candid conversation that featured several questions from an engaged audience.
The first day wrapped up with an "Indiana Energy Policy Perspectives Panel" moderated by John Cassady, CEO of Indiana Electric Cooperatives. Participating panelists included Rep. Dave Hall, Executive Director of the Indiana Office of Energy Development Ryan Hadley and Chairman of the Indiana Utility Regulatory Commission Jim Huston.
The second day of the forum kicked off with a panel on "Technology Innovation and System Planning for Resilience," moderated by Hoosier Energy Director of Strategic Business Management Jennifer Richardson. Richardson was joined onstage by MCR Performance Solutions Vice President of Transmission Jim Pardikes, GridLiance Director of Development Elizabeth Solano and MISO Director of Resource Utilization Andy Witmeier.
The event finale followed, which consisted of the presentation from Clint Emerson — who was formerly a member of SEAL Team Three and SEAL Team Six, as well as an individual operative for the NSA. Emerson offered a lesson on "Resilience and Agility in the Face of Adversity," subtitled, "A Navy SEAL Operator's Guide to Recovering Quickly, Adjusting to the Unknown and Moving Forward." All in all, it was a successful, enlightening and energizing forum.