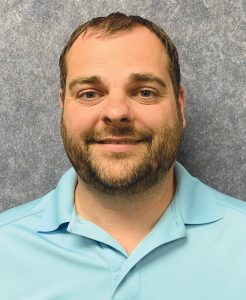 Josh Coles, new member service technician, joined the REMC team on June 8. He will be working with Zach Motsinger on our Demand Side Management program, energy audits, water heaters, security systems, and ETS service and repairs. He will also enter the Meter Technician Apprenticeship Program in the fall.
Coles graduated from Ivy Tech Community College in 2008 with a an industrial technology major. He previously worked at Cooley's Heating and Air as a lead service technician. While at Cooley's, Coles installed the DRU energy management switches for Jackson County REMC and is familiar with ETS heating equipment.
Coles resides in Salem with his wife, Tisha; their 16-month-old daughter, Gracelyn (Gracie); and their newborn son. Coles serves as pastor for the Smedley Church of Christ.