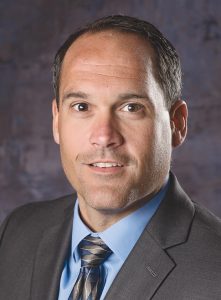 "To move forward, you have to give back."
This quote from Oprah Winfrey reflects the special bond and obligation that ties Decatur County REMC (DCREMC) to the community we serve. With Valentine's Day approaching, we can't think of a better time to express how much we love this community and serving you, the members of the co-op.
We know when we helped to bring electricity to rural Indiana many years ago, the quality of life improved for all. Through the years, other issues needed to be tackled, and we have been at the forefront of helping to address some of those issues. We want to help meet the long-term needs of our community to ensure it continues to thrive – because just like you, we live here too.
While our top priority is to provide safe, reliable and affordable energy to you, equally important is our mission to enrich the lives of the consumer-members (that's you!) that we serve. This focus to benefit the larger community is central to the way we operate as a cooperative. DCREMC knows that electricity is a critical need for modern-day life, but it takes more than poles and power lines to make a community.
Over time, our co-op has evolved to meet the changing needs of our community, thereby improving the quality of life for everyone. And that can mean many different things. It can mean programs for our youth, such as Touchstone Energy Camp or the Indiana Youth Tour, where we take our community's brightest young people to Washington, D.C., for a week-long immersion to experience democracy in action. It means organizing volunteer days to help clean up area parks and contributing to Operation Round Up, a program that supports local community non-profit agencies and projects. It means partnering with organizations like Champions for Youth, Meals on Wheels, Decatur County Parks and Recreation, the Decatur County United Fund and other worthy programs.
Through the years, our community-focused programs and other giving projects have installed new playground equipment for area children, fed hungry families, supported mentoring and education initiatives, and provided access to resources for those in need and so much more – and we couldn't do any of this without you, our members.
We all benefit from these programs because of you and your neighbors. You empower DCREMC through your membership and through your participation in and support of these programs.
As a local business, we are proud to power your life and bring good things to our community. We hope you will continue to guide our efforts by sharing your perspective as we plan for the future. The energy landscape is undergoing dramatic changes fueled by evolving technology and consumer desires for more options. While the larger environment in which we operate is constantly changing, one thing remains the same. By working together, I'm certain that we can continue to do good things for our community.
I encourage you to engage with us and share your thoughts and feedback through any of our communication channels including our newly updated website (dcremc.com), Facebook, Breakfast with Brett, or, as always, stop in and visit us at our office in Greensburg.