A rare full moon — a blue one at that — will rise into the evening sky on Halloween this year. For the abnormal year that's been 2020, why should we expect the annual celebration of the paranormal to be normal?
Whether the pandemic and social distancing will affect traditional Halloween activities like door-to-door trick-or-treating, Haunted Houses, hayrides and parties remains to be seen. But not even COVID-19 will scare off folks from decorating their homes and finding ways to have small get-togethers.
No matter what memories are made this Halloween, it won't affect the memories and the costumes from the past. Earlier this year, Indiana Connection asked readers to share photos and stories of their favorite Halloween memories, costumes and decorations.
Some 65 readers submitted over 100 photos and shared memories of Halloweens past. Some of our favorites are presented here.
---
Spirited Halloweens haunt Ghost Hollow Road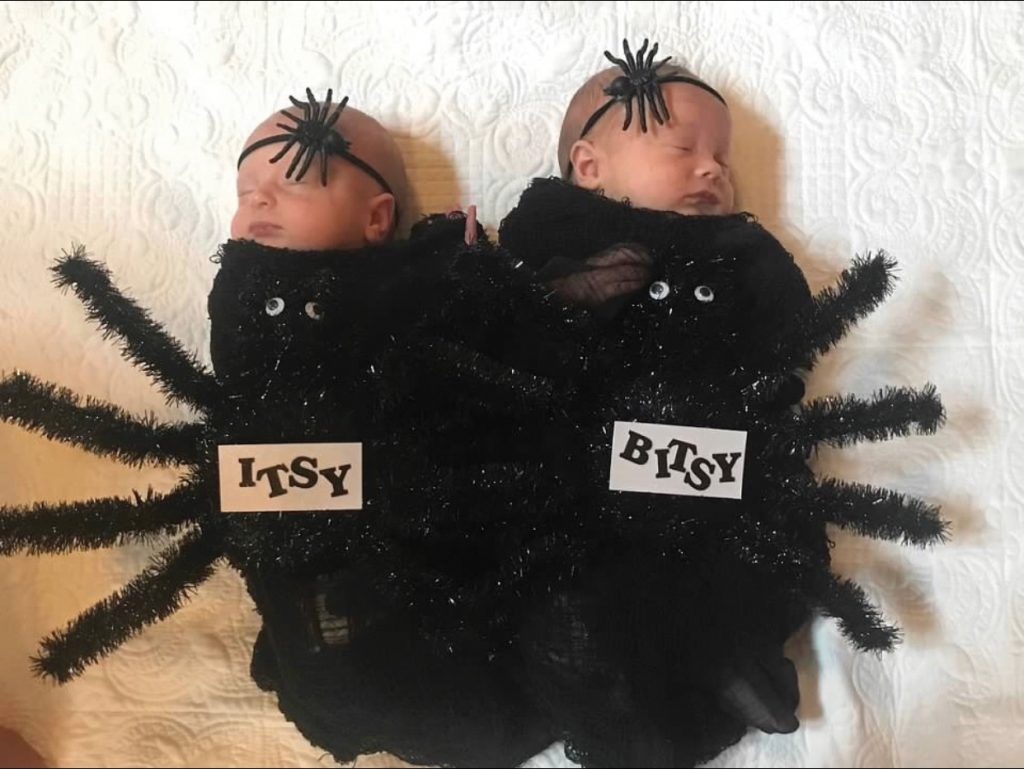 Of course we love Halloween … we live on Ghost Hollow Road! Is it haunted? That depends on who you ask, but it does make for the best hayrides, Halloween parties, and conversation starters!
We started a tradition of making our own coordinating themed costumes when we built our home in Ghost Hollow. We have continued our tradition for well over 12 years and now includes our children. The best part — we keep our costumes a secret from our family and friends until Halloween!
Our favorite costume of all time (and the one that took the longest to make) was our green plastic army men costume. When we decided to start a family, we didn't let that hinder our costume tradition.
As our kids are getting older, it's getting a little more difficult to come up with coordinating costumes for not only the five of us, but something that also keeps our twins in outfits that match each other. Our son helped us come up with our first family-of-five costume theme. He had nicknamed our twins "Itsy and Bitsy" before they were born because he liked to sing the Itsy Bitsy Spider to them.
Once Halloween came, we decided to all be parts of the Itsy Bitsy Spider song: the sun, the rain, the spout, and the twins were "Itsy and Bitsy!"
Our second costume as a family of five was also inspired by our children: their favorite food — a hot dog, French fries, Easy Mac, ketchup and mustard.
We love our Halloween tradition for our family. Who knows what costume will come from Ghost Hollow this year?!
Darin and Ashley Bowling | Veedersburg, Indiana
---
Never too old for trick-or-treat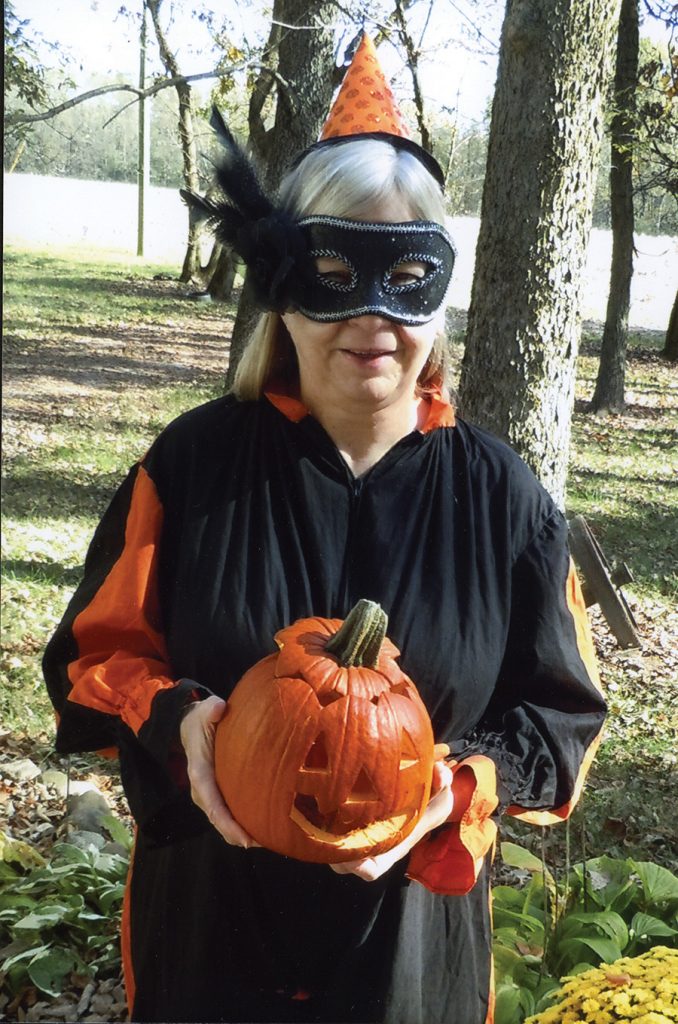 As a rural homemaker, my mother joyfully engaged her children in all of the "fuss and frenzy" of holiday activities. When "trick-or-treating" became popular in the early 1950s, she sewed my older brother and me our first Halloween costumes — matching red polka dotted clown outfits. The costumes were classic clown outfits, not the scary kind of today's horror movies.
As we grew older, she encouraged us to create homemade costumes, like hoboes, fishermen and farm hands, from a grab bag of discarded old clothes. A store-bought mask usually completed the outfit. (On Halloween, my parents then drove us to family, friend and neighbor homes. We also tried to come home early so we wouldn't miss the "trick-or-treaters" who came to our house for homemade popcorn balls! One Halloween in the early 1960s, she also sewed another clown costume for my brother's last grade school Halloween costume party.
This traditional orange and black clown costume eventually found its way to a grab bag of Halloween clothes. As my brothers and I grew older and no longer trick-or-treated, my mother took the grab bags of Halloween clothes to nursing homes where she volunteered. Dressing in the orange and black clown costume, she encouraged the residents to put on some of the grab bag clothes and relive the fun of bygone Halloween parties. After my mother passed in 2012, I rediscovered the Halloween grab bags.
I just could not discard the vintage, but now a little worn, orange and black clown costume. With no plans for its future use, I washed it and put it away in the laundry room.
After my retirement from teaching in 2016, I began volunteering at the 1920s
Farm at Prophetstown State Park. Just a few weeks before Halloween in 2017, the staff asked me to participate in its Halloween celebration of "Trick-or-Treating with the Animals." Could I decorate the Gibson House, as if the family was celebrating traditional Halloween? Could
I wear an appropriate costume?
My mind almost immediately went to the classic orange and black clown costume. With the help of a former teaching colleague, the costume was patched and renewed. It fit! These last few Halloweens, I have entertained and engaged visitors at the Farm in a truly traditional costume. This simple classic costume continues to bring enjoyment to youngsters who are celebrating their first Halloweens, and it connects me to fond memories of my family's traditions.
Mary E. Anthrop | West Lafayette, Indiana 
---
Costumes have magical transformational powers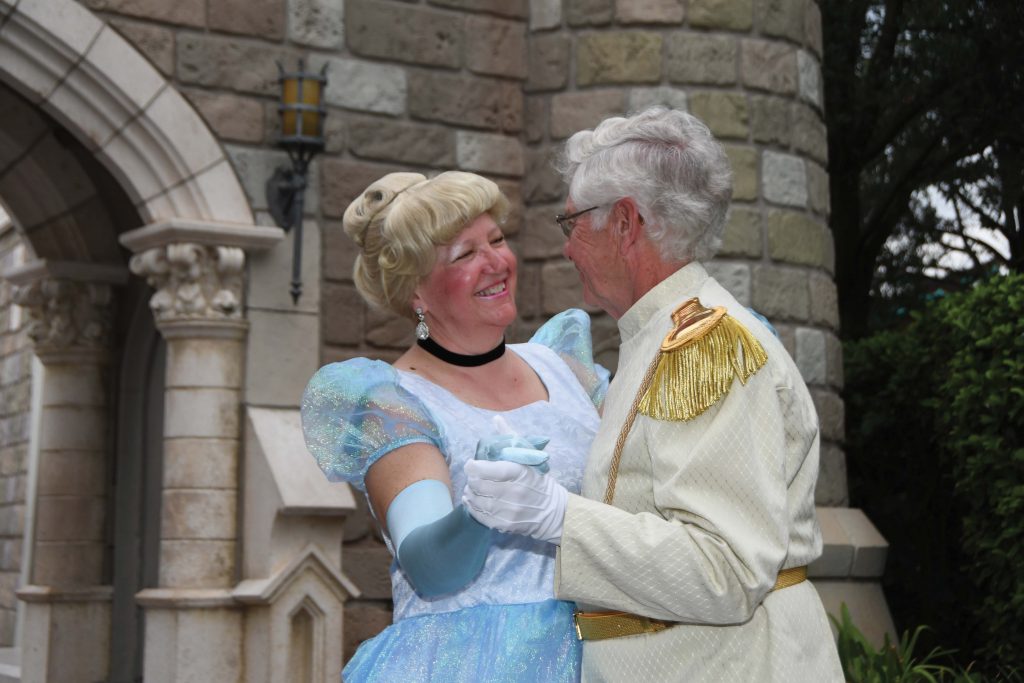 Did you know Halloween costumes have magical powers? Slip into one, and you miraculously slip into a new identity! And did you also know that youth is not required for this mystical transformation to take place? We know! It's happened to us … and we're senior citizens!
Of all the "alter egos" we've had the chance to experience, perhaps Cinderella and Prince Charming are our favorite. When we are in those costumes, children respond so genuinely and in doing so, truly DO create magic. While dressed as the personas of Cinderella and Prince Charming, we met a small girl in her own Halloween costume. She literally threw herself, in tears, into the folds of my skirt because she was so overjoyed to see Cinderella!
Through the magic of a homemade costume I became, in her eyes, Cinderella — alive and in person! That same magic transformed me. I temporarily ceased to be a "senior-citizen-office-worker-from-Lafayette-Indiana" and was suddenly a PRINCESS, making a little girl's dreams come true. You'll never be able to convince me that that's not magic.
Our costumes are both homemade. I sewed Cinderella's dress and the Prince's jacket from patterns bought at the local fabric store. But the real fun was in creating the rest of the costumes' components.
My favorite saying is, "The difference is in the details." And I applied that to these costumes.
For the Prince, I added gold trim to pre-purchased red pants and shopped the internet for a coordinating gold belt. Courtesy of the internet again, Prince Charming's gold epaulettes are the real deal … no drapery fringe for a prince! Cinderella's accessories were easy: earrings out of my jewelry box and ribbon for a necklace and for my hair. Of course, Cinderella's costume had one other very important requirement: Glass slippers!
Once again, the internet obliged and provided some very lovely (if terribly uncomfortable!) glass slippers. But in the end, it's worth it. To become "REAL," to make a child believe in fairy tales. That's priceless.
Oh, and as a side note: I'm not so sure that Cinderella and Prince Charming really ARE our alter egos. My dear husband truly IS even more charming than Prince Charming…and he certainly makes ME feel like a princess … even when my shoes AREN'T made of glass!!
Rosalind Rupp | Mulberry, Indiana
---
The 'leaf' of the party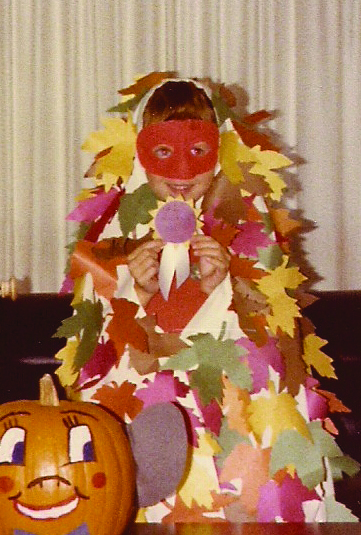 When my children were growing up, we avoided scary or gory costumes. In 1976 I made my 5-year-old daughter a costume so she could dress as a pile of autumn leaves. I draped an old sheet around her like a hooded cape, pinning it under her chin and down the front, and cutting the bottom to ankle-length. I picked up a couple of maple leaves out of our yard, traced them on construction paper until I had about 70-80 copies, cut them all out by hand with scissors, and sewed them onto the sheet by hand with a few stitches through the middle of each leaf. She wore a red half-mask to complete the costume.
When she walked into our church to attend the children's Halloween party, someone said, "Oh, look! A tree!" She immediately set them straight, saying, "I'm not a tree!! I'm a pile of LEAVES!!"
The ribbon she is holding in the picture is the prize for "Most Original Costume."
P.S.: I told my husband that if I ever again came up with such a time-consuming, labor-intensive idea, he should do an intervention.
Mary C. Blair | Corydon, Indiana
---
Halloween costume with a 'twist'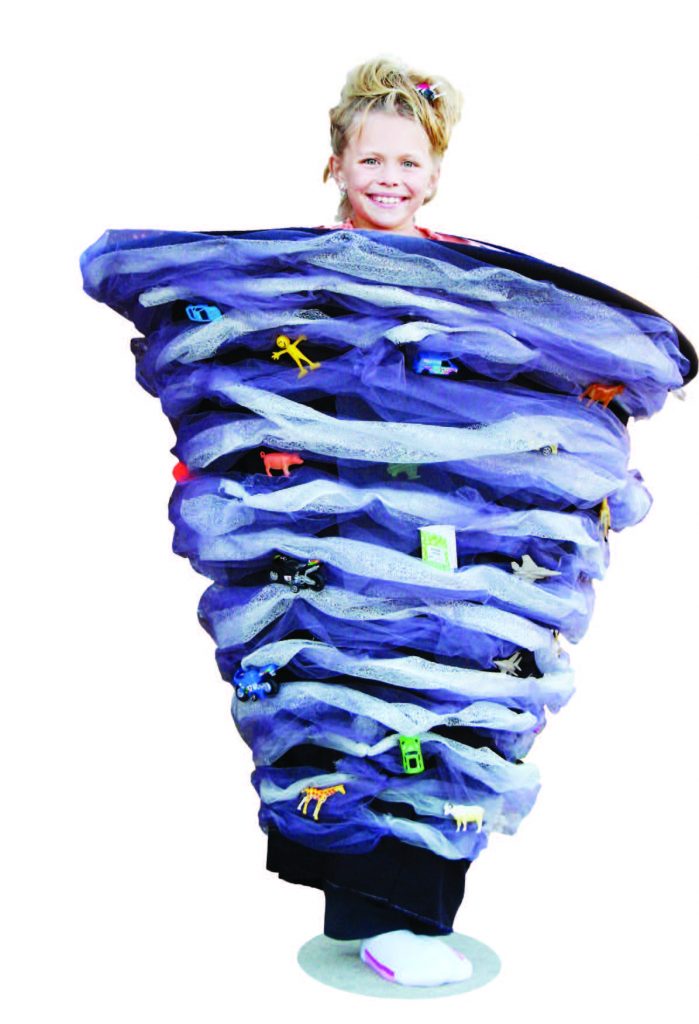 My daughter, Holly, always had the best ideas for Halloween costumes, and this is the one that truly became our family favorite. In 2011 she requested a tornado costume. I am a seamstress, but at the time was eight months pregnant and miserable. It took roughly a couple hours to create it by sewing black fabric into a cone shape and (I still am unsure how I managed this part) sewed a hula hoop into the top of the cone. To keep it on her shoulders I sewed ribbon in a cross for her head to go through and the ribbon would not slip off her shoulders.
The fun part came when we used a glue gun to adhere shades of white, gray and purple tulle to the outside of the cone. We completed the look by adding little plastic animals, vehicles and people to the tornado. I swirled her hair into a funky mess to duplicate the twisting of a volcano.
On Halloween, she was the only warm kid on the block as she was able to wear a winter coat underneath the tornado costume. She would spin from house to house while trick or treating.
Beth O'Donald | Georgetown, Indiana
---
Halloween grab bags
HANDY

RENNEKER

MESSMER

LILLY

RAYMAN
Some of my favorite Halloween memories are from my aunt's Halloween parties over the years. The whole family would get together, and everyone (young and old) would go all out with their costumes. One of my favorites was the year my now-husband and I went as Curious George and The Man in the Yellow Hat. And one of the best parts of the evening? A family hayride put together by my uncle!
Laura Messmer | Jasper, Indiana
This big guy's name is Harry, and he shows up every Halloween. He keeps getting bigger every year!
Tony Lilly | Floyds Knobs, Indiana
Homemade costumes are the best. This was one of my favorites. It was pretty easy to put together. Kids wear long sleeve black shirts, leggings and black gloves. I made the sheep costumes from material bought at a fabric store. The ears were black felt, and they also had little black tails! The staff was made from a pole and aluminum foil, duct taped, and spray painted white. I made the bonnet out of cardboard wrapped in material. The skirt I owned, and just added an apron over the top, with a white shirt. My kids have many fond memories, and trophies from my creative ideas!
Kim Handy | Oxford, Indiana
First you get your craziest camping friends together. Then you cast a "spell" that makes them get Addams Family costumes ready. Poof! These are some of the best Halloween memories of our lifetimes.
Karen Rayman | Washington, Indiana 
Saw this idea from a Martha Stewart article. I used white bulletin board paper and free handed the ghosts from black paper and glued them to the white paper, then taped them to the windows from inside the house. They are on all three sides of the house facing a highway, and I pray every year that it won't cause a wreck when drivers glance over and see it.
Kim Renneker | New Salisbury, Indiana