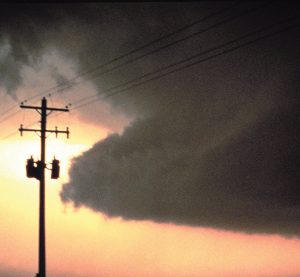 Late summer and early fall often bring tornadoes and floods to our part of the country, so it's smart to take precautions after a storm hits. Keep in mind that debris from storms can easily ignite if it comes into contact with downed power lines, especially if electrical wires are severed. Also, standing water and even appliances can become electrically charged.
Remember these five tips to help keep you safe following storms:
NEVER TOUCH A DOWNED POWER LINE. Call your electric co-op to report it immediately. Avoid contact with overhead lines during cleanup and other activities. Assume all wires on the ground are electrically charged.
BE SURE ALL ELECTRIC AND GAS SERVICES ARE TURNED OFF before entering buildings for the first time.
ALLOW ALL ELECTRICAL APPLIANCES AND ELECTRONIC EQUIPMENT, ONCE SUBMERGED, TO DRY THOROUGHLY. Have them checked by a qualified repair person before turning them on.
LOOK FOR AND REPLACE DAMAGED EXTENSION AND APPLIANCE CORDS, as well as loose prongs and plugs.
If water has risen above the electrical outlets in your home, CONTACT A LICENSED ELECTRICIAN BEFORE TURNING ON YOUR MAIN CIRCUIT BREAKER. Outlets and wiring that have come in contact with water could present a fire and shock hazard.
SOURCES: U.S. Fire Administration, Consumer Product Safety Commission, Arkansas Cooperative Extension Service