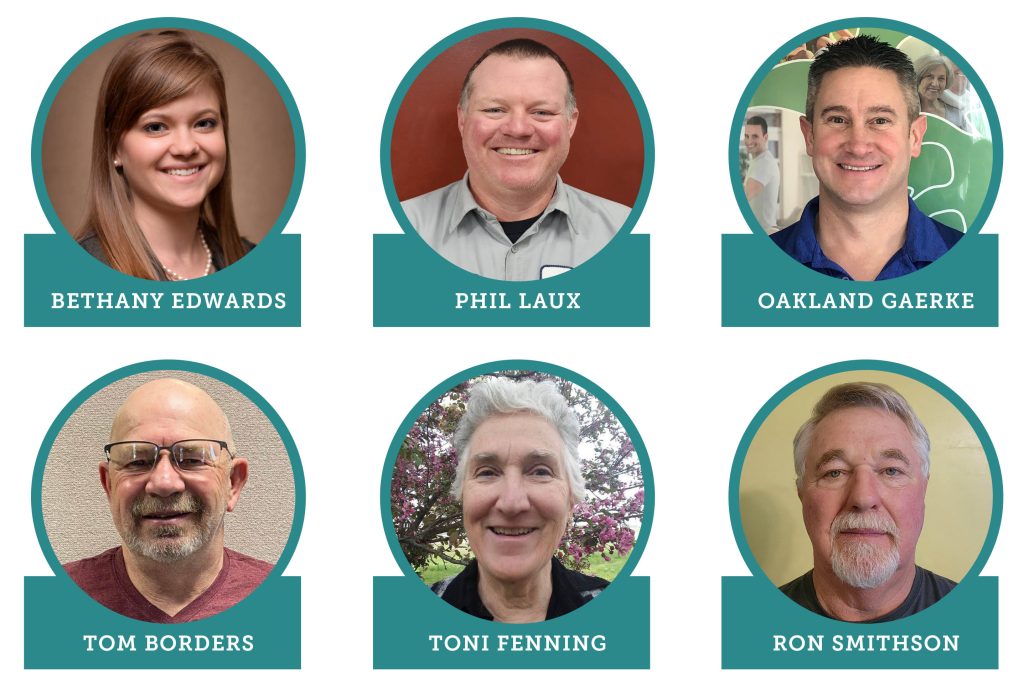 District 2
Bethany Edwards
Bethany Edwards was born and raised in Adams County. After college, she and her husband lived in Tennessee and Alabama before returning home to Berne, Indiana. After recently feeling motivated to get involved in her community, Edwards felt led to run for the Jay County REMC Board of Directors.
Edwards grew up on a small family farm and has a passion for agriculture and rural living. "Serving on the board of directors would be an honor and a job I will not take lightly," Edwards said. "It would be my privilege to serve in this role, that in turn, serves many rural residents."
You will likely find Edwards helping out on the family farm doing things she considers "fun," such as working the ground in the spring and running the combine in the fall, in between her "mom duties." She is married to her husband, Max, and they have one toddler son.
District 5
Phil Laux
Phil Laux is a lifelong resident of Jay County and a graduate of Jay County High School. He attended Northwestern of Lima, Ohio, and earned a degree in HVAC/R. Laux worked at a local company before starting his own business in 2007, Laux Plumbing & Heating. He earned a state plumbing license in 2005 and is a member of Indiana PHCC.
Laux and his wife, Tracy, have been married for 15 years and have three daughters, Melanie, Carmen and Bridget. In his spare time, he loves camping and being around friends and family. Laux is excited about the opportunity to serve the members.
Oakland Gaerke
Dr. Oakland Gaerke was born in Jay County and raised in southern Adams County. He grew up on a small farm and attended South Adams High School. He attended IPFW for his undergraduate degree and then went on to graduate school at Logan College of Chiropractic. He moved to Jay County in 2008 and owns and operates Clear Choice Chiropractic.
Gaerke has been involved in multiple organizations over the years and is currently a member of Optimist International and is a host for high school health occupation classes. He puts a great deal of work into helping grow the chiropractic profession as a leader for multiple chiropractic offices. He enjoys spending his free time with his wife, Ashley, and three children Addison, Oakland Jr. and Ainsleigh. He has a passion for learning and looks forward to learning more about the electrical field.
Tom Borders
Thomas B. Borders Jr. was born in Portland in 1959. He is a 1977 graduate of Jay County High School and a 2004 graduate of Indiana Wesleyan University in business and management.
Borders has been married for 37 years to Angela (Boeckman) Borders and has worked as a full-time police officer for the Portland Police Department. He is currently a reserve deputy for the Jay County Sheriff's Office and has been for the last 15 years. He was previously a full-time medic with Jay County EMS and is still a certified EMT.
Currently, Borders is a production supervisor at Sonoco in Portland and has been for 15 years. He became an REMC customer when he and his wife moved to the country in 1986.
Toni Fennig
Although she is a recent transplant to Jay County, Toni Fennig's history goes back to her first visit almost fifty years ago when she and her fiancé, Randy, visited his family farm in 1975. They married during her mechanical engineering training at Purdue, two years before her 1978 graduation, after which she took a job in Chicago working in nuclear power generation with Sargent & Lundy Engineers. She achieved her professional engineering license from the State of Illinois in 1982.
Over the next 30 years, Fennig worked in five countries over two continents, working in everything from village knitting projects in Mozambique to solar power installation projects in Sierra Leone. This gave her a breadth of experience and practice that could not have been acquired in a typical career. In 2011, the Fennigs returned to Jay County, where they planned to retire. Randy's unexpected death in 2021 led Fennig to her official retirement.
Fennig has three children and one granddaughter, who provides an excuse for her to exercise her lifelong love of needlework. She is a ballroom dance enthusiast, an avid gardener and a prolific reader.
District 9
Ron Smithson
Ronald Smithson is a lifelong resident and farmer in Randolph County. He and his wife have three children and three grandchildren. Smithson and his wife raise grain and hay and have a herd of beef cattle with the help of their two sons.
Smithson has served on the REMC board since 1998 and has served on all committees there, and he is currently the co-op's representative for Indiana Electric Cooperatives.