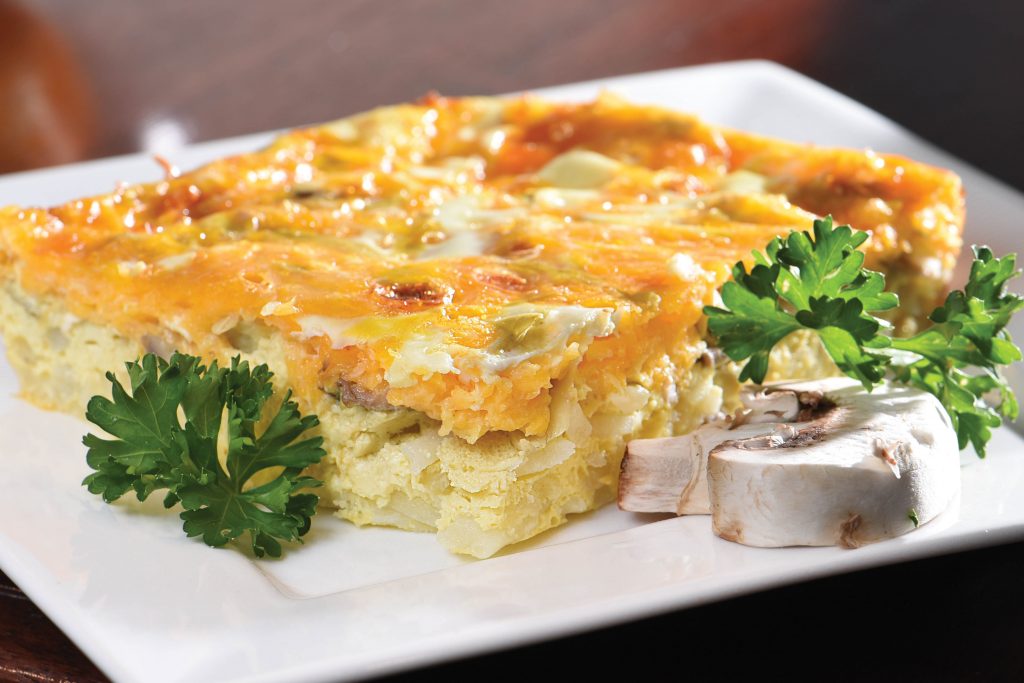 by Charlotte Rymph, Monterey, Indiana
3 cups frozen shredded hash brown potatoes, thawed
2 T. butter, melted, divided
½ t. salt
2½ cups sliced fresh mushrooms
1 can (14-oz.) water-packed artichoke hearts, rinsed, drained and quartered
3 cups (12-oz.) shredded cheddar cheese
12 eggs
1¾ cups 2 percent milk
1 can (4-oz.) chopped green chiles, drained
Preheat oven to 350 F.  Place potatoes in greased 13×9-inch baking dish; drizzle with 1 T. melted butter and sprinkle with salt. Bake 20 – 25 minutes or until lightly browned.
Meanwhile, in a small skillet, sauté mushrooms in remaining butter until tender. Place artichokes on paper towels; pat dry. Sprinkle mushrooms, artichokes and cheese over potatoes. In a large bowl, whisk the eggs, milk and green chiles. Pour over cheese.
Bake, uncovered, 40-45 minutes or until a knife inserted near the center comes out clean. Let stand 5 minutes before serving. Serves 12.