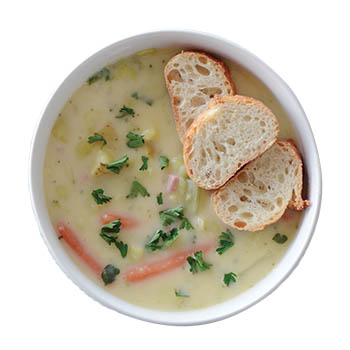 Ingredients
6 potatoes, diced
8 oz. baby carrots (½ bag)
6 oz. (1 cup) chopped broccoli
1 t. salt
1 oz. (2 T.) minced onion
2 T. corn starch
¼ t. pepper
4 slices of ham, diced
1½ inches from block of pasteurized, processed cheese
Parsley flakes
Directions
Fill 4 quart saucepan half full with water.
Add in potatoes, carrots, and broccoli. Add salt and onion, and bring to a boil and cook for 30 minutes.
Mix corn starch with a small amount of cold water and stir into soup to thicken.
Add pepper, ham, and cheese. When the cheese is melted, add a sprinkling of parsley flakes and stir. Serve hot.
by Jan Hackman, Columbus