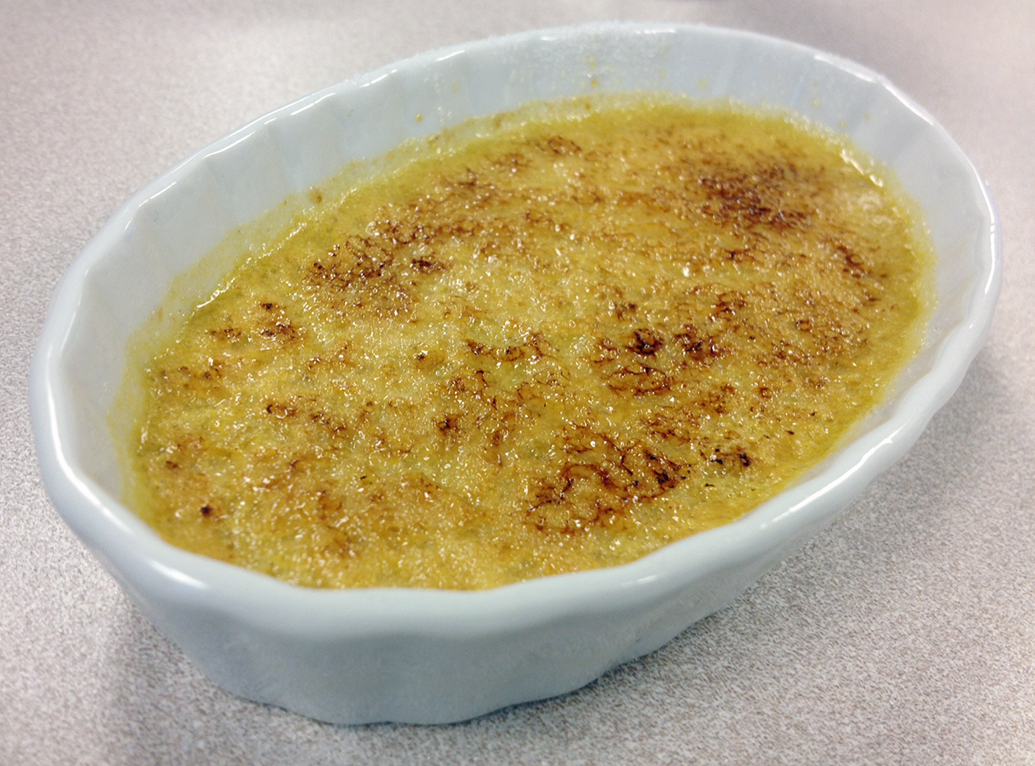 Ingredients
3/4 cup butternut squash puree
1/2 cup half-and-half
1/3 cup brown sugar, packed
1/2 t. cinnamon
1/8 t. nutmeg
Pinch ground ginger
8 large egg yolks
1/4 cup granulated sugar
Topping: 2-3 T. granulated sugar
Directions
Heat oven to 300 F. Place 8-10 1/2-cup ramekins or custard cups in a large metal baking pan.
In a medium saucepan, combine the half-and-half, brown sugar, cinnamon, nutmeg and ginger. Heat over medium heat, stirring frequently, until the mixture just begins to boil. Remove from heat and let stand for 5 minutes. Meanwhile, in a small mixing bowl, beat egg yolks with 1/4 cup granulated sugar until thick and lemon-colored. Slowly add about 1/3 of the hot mixture to the egg yolks, whisking constantly. Add the egg mixture back to the saucepan, whisking constantly until thoroughly blended. Whisk in the butternut squash puree. Pour this mixture into the ramekins or custard cups, distributing evenly, about 1/2-2/3 cup per ramekin.
Pour very hot or boiling water into the baking pan, so it is at the depth of about 1 inch, or about halfway up the sides of the ramekins or cups. Bake for 45 to 55 minutes or until the custard is set in the center but not overly stiff. It will jiggle slightly. Remove the ramekins from the baking dish and place in the refrigerator. Refrigerate for about 4 hours or overnight.
Just before serving time, sprinkle about 1/2-1 t. of sugar over each custard. Using a kitchen torch, melt and carmelize the sugar. Or, place the ramekins in a baking dish and put under broiler for 1 to 2 minutes, just until browned and carmelized. Serves 8-10.