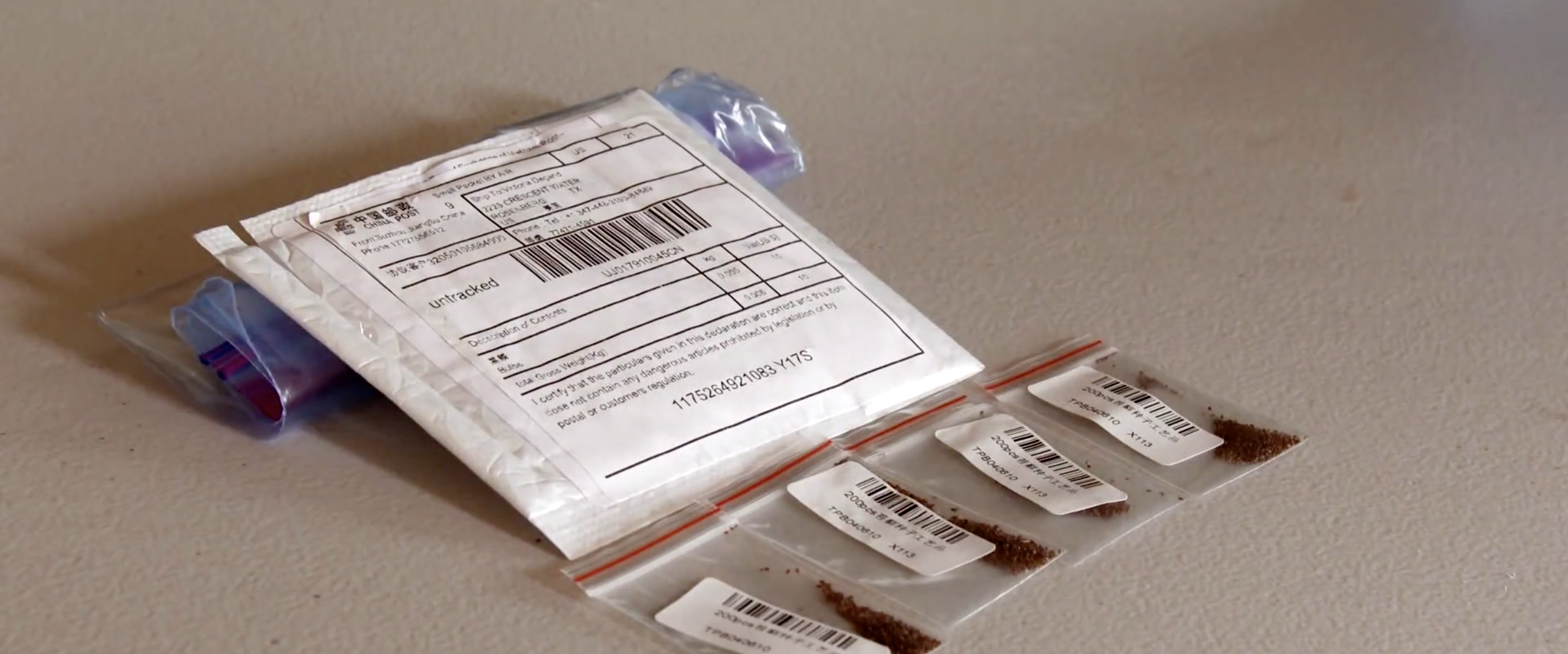 By B. Rosie Lerner
In late July and early August, folks around the country began receiving mysterious unsolicited packages of seeds that appear to have shipped from China. While curious gardeners may be tempted to see how they turn out, it's never a good idea to plant "mystery" seeds, especially if they've come unsolicited from another country.
The seeds might turn out to be weeds, invasive species or carry pathogens that can cause serious harm to your own garden, agricultural crops like soybeans, and the local environment, as well.
Anyone in Indiana who receives a package is asked not to open the seed packet and to mail it and any packaging materials to the U.S. Department of Agriculture's Animal and Plant Health Inspection Service (APHIS) Indiana. Also, please do not place them in the trash or compost pile. State and federal authorities are working together to identify and properly dispose of all seeds and plant materials.
"The last thing we want is to spread a weed, invasive species or disease, and that's a real risk if people plant these or throw them in the garbage," said Don Robison, seed administrator for the Office of Indiana State Chemist.
Weed seeds, invasive species and disease pathogens can spread rapidly, costing millions of dollars annually for just a single plant or disease, and cause billions of dollars of impact overall each year.
It's possible that the seeds are part of a "brushing" campaign in which online retailers send out unsolicited packages and use the fake sales to improve the seller's ratings in the marketplace. But state agricultural and environmental leaders don't want to take any chances.
"Once a new disease or invasive species is out there, it's a very costly problem," Robison said. "It's like trying to put a genie back in the bottle."
Anyone who receives unsolicited seeds should
Keep the seeds and packaging, including the mailing label, but do not open the seed packet.
Place all contents in a zip-top bag, then place the bag in an envelope or small box and mail it to:
Nick Johnson, USDA State Plant Health Director, 3059 N. Morton St., Franklin, IN 46131.
If you cannot mail the items, do not dispose of them. Keep the seeds, packaging and mailing label and contact the Indiana Department of Natural Resources Division of Entomology & Plant Pathology at 866-663-9684 or DEPP@dnr.IN.gov.
Anyone who has already planted seeds should not dispose of the plants or soil. Contact the Indiana DNR Division of Entomology & Plant Pathology at the phone number and email address above.
B. Rosie Lerner is the Purdue Extension consumer horticulturist and is a consumer of Tipmont REMC. Questions about gardening issues may be sent to "Ask Rosie," Indiana Connection, 8888 Keystone Crossing, Suite 1600, Indianapolis, IN 46240-4606, or use the form at IndianaConnection.org.