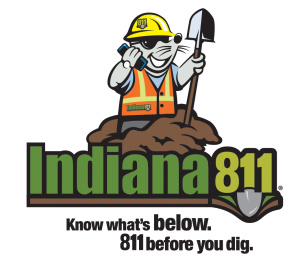 Installing a new deck or fence? Planting some new bushes in the garden? No matter what you're undertaking, if your project requires digging, there's a free and easy way to locate utility lines buried on your property. A quick call to 811 will connect you with a regional center for locating utility lines.
Before you make your call —
Outline your project area with white paint. It's important to use this color because of pre-established color coding standards utilized by utility companies.
Notify — Tell the operator the location where your project will be done, including street address, township and county, and the name and phone number of the person who will be doing the digging. Make the call at least three working days before you plan to dig, not counting weekends or holidays.
Wait — Don't begin your project until all the utility lines are marked. You may have several different people come and mark your site with spray paint. 
Confirm — Electric lines will be marked in red, gas lines in yellow, telephone and cable lines in orange, water lines in blue and central sewer in green.
Respect — Respect the utility marks or flags.
Dig carefully — Once your lines have all been marked, you can begin your project. Dig carefully and be watchful for utility lines. Locating underground wiring is not an exact science, so take care as you undertake your digging in yards or at construction sites.
If a project gets delayed, the markings remain legally valid for 20 days from the time the locate request is initiated.
You can learn more at call811.com.