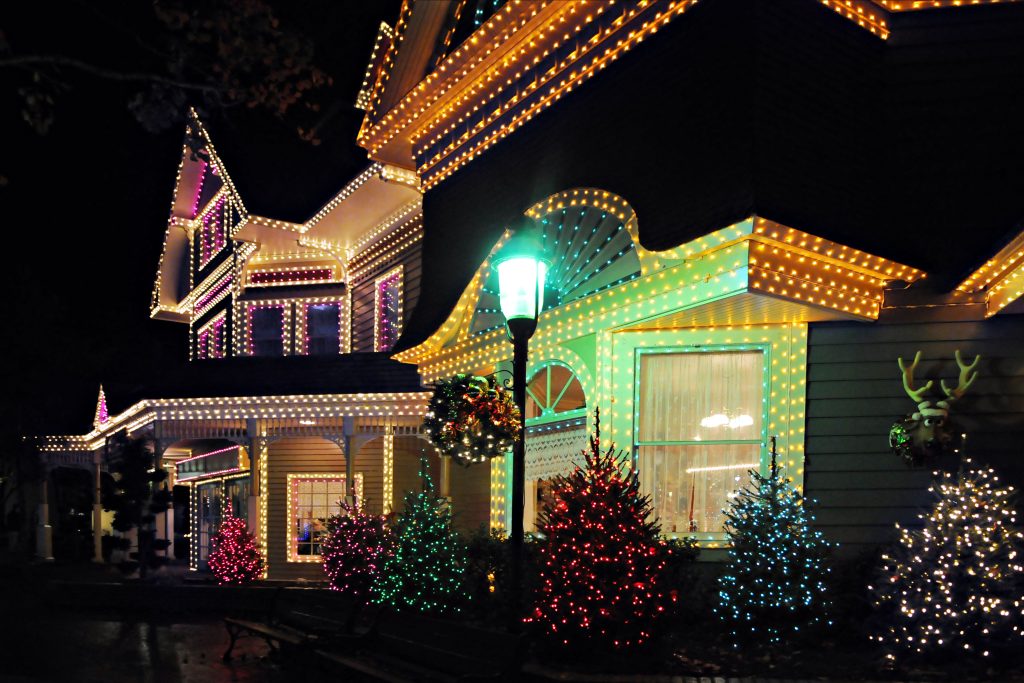 Whether you're illuminating a single bush or your entire roof, here are some tips for safely hanging lights outdoors this season.
MAKE A PLAN
Map out where each strand of lights and every outdoor decoration will go before you get to work — you'll save time and you'll stay safer.
DETERMINE WHAT YOU'LL NEED
Before you buy any new lights or hangers, know how thick your gutters are and how flexible your shingles are. This will help you determine the best way to hang the strands. It also will save you from a few unnecessary trips up and down the ladder because you'll be prepared with the right equipment the first time.
CHECK YOUR LIGHTS
Carefully inspect each light on, and the cord of, every light set you use. Read the warning labels on all lights and decorations, and follow the manufacturer's instructions on how many strands can be connected together — it differs based on the type of light.
SHOP WISELY
If you need new lights and cords, invest in UL-approved, made-for-outdoor models. Purchase LED lights, which last longer and use less energy than traditional strands. Unlike incandescent lights, LEDs will last for many years. Truly want to manage the cost of operating holiday lights? Invest in a smart plug for your lights which can be programmed and controlled from your smartphone.
START SMALL
You don't need to go all out if you're a lighting novice. Instead, illuminate just one or two items, such as a small tree or bush, to serve as a focal point. You can always add more lighting each year.
ASK FOR HELP
If you're climbing a ladder, always bring a helper or watcher with you — they can help steady the ladder and pass up decorations. As you're hanging your lights, if you cannot get to a point where your body is completely centered between the sides of the ladder, get down and relocate your ladder. If your ladder is too short, rent or borrow a longer one.
STEER CLEAR OF POWER LINES
When working outside with a ladder, be mindful of the location of overhead power lines. Always carry your ladder so that it is parallel to the ground. Before placing your ladder in an upright position, look around to ensure you are at a safe distance from any power lines.
TURN IT ALL OFF
Before going to bed and any time you leave your home, turn off all of your lights and decorations.