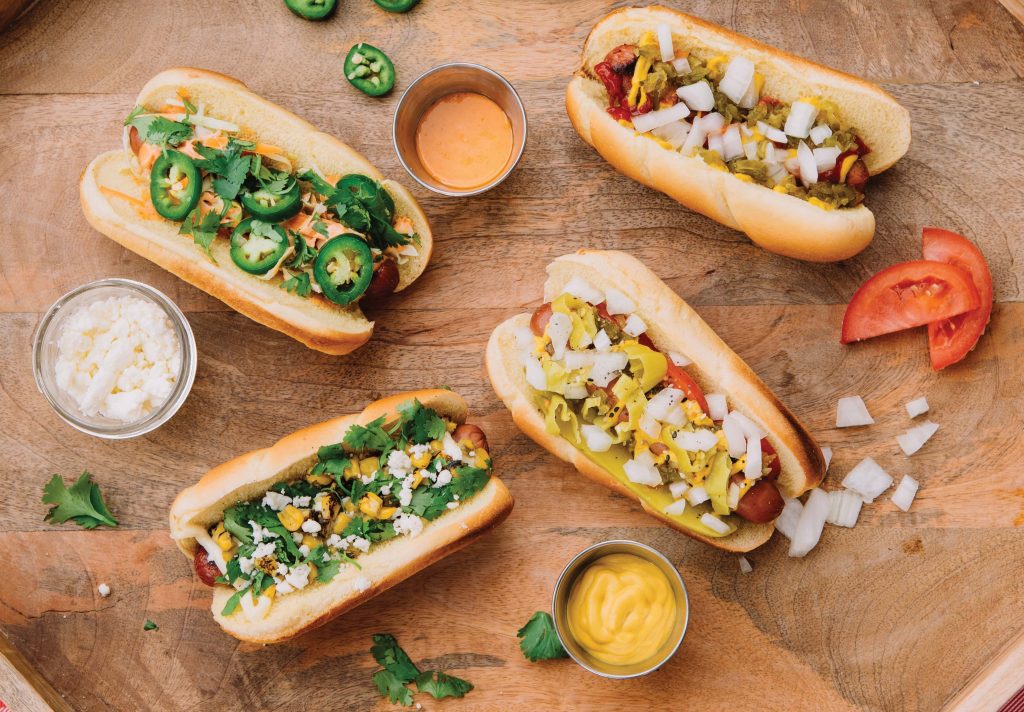 Humble hot dog no more! Celebrate National Hot Dog Month by upgrading everyone's favorite summertime staple. Set up a toppings bar of creative extras to bring out the best in the wurst. Turn the page to find out how.
By adding a few tasty extras, your dog can explode with flavor. First step in setting up a simple yet wow-worthy hot dog bar: print out recipe cards for these four sandwiches at indianaconnection.org/printable-hot-dog-recipes. Then, stock up on the ingredients, including your favorite hot dogs and buns. On the day of your get-together, set out the ingredients and recipe cards, grouped together according to sandwich, on your buffet or picnic table. Finally, invite your guests to create their own culinary masterpieces.
Here are just a few of the tasty ideas you can use for your hot dog bar (see printable recipe link above):
The Bahn Mi
Sriracha mayo
Sliced jalapeno peppers
Pickled carrots
Cilantro
---
Chicago Dog
Dill pickle spears
Tomato slices
Pepperoncini
Mustard
Relish 
Chopped onion
---
Mexican Street Corn Dog
Cilantro
Grilled corn
Mayonnaise
Cotija cheese
---
All American Dog
Ketchup
Mustard
Relish
Chopped onion
---
For those who prefer going "freestyle" with their franks, set out an array of toppings like:
Barbecue sauce
Hoisin sauce
Nacho cheese sauce
Chili or chili sauce
Pesto
Marinara sauce
Ranch dressing
Hummus
French onion chip dip
Hot pepper sauce
Sauerkraut
Crumbled bacon
Pulled pork
Cole slaw
Sliced radishes
Baked beans
Crushed corn chips
Shredded lettuce
You can also include other options for those who want to go beyond the bun. Pita bread, tortillas and lettuce leaves are all good alternatives for the traditional hot dog bun.