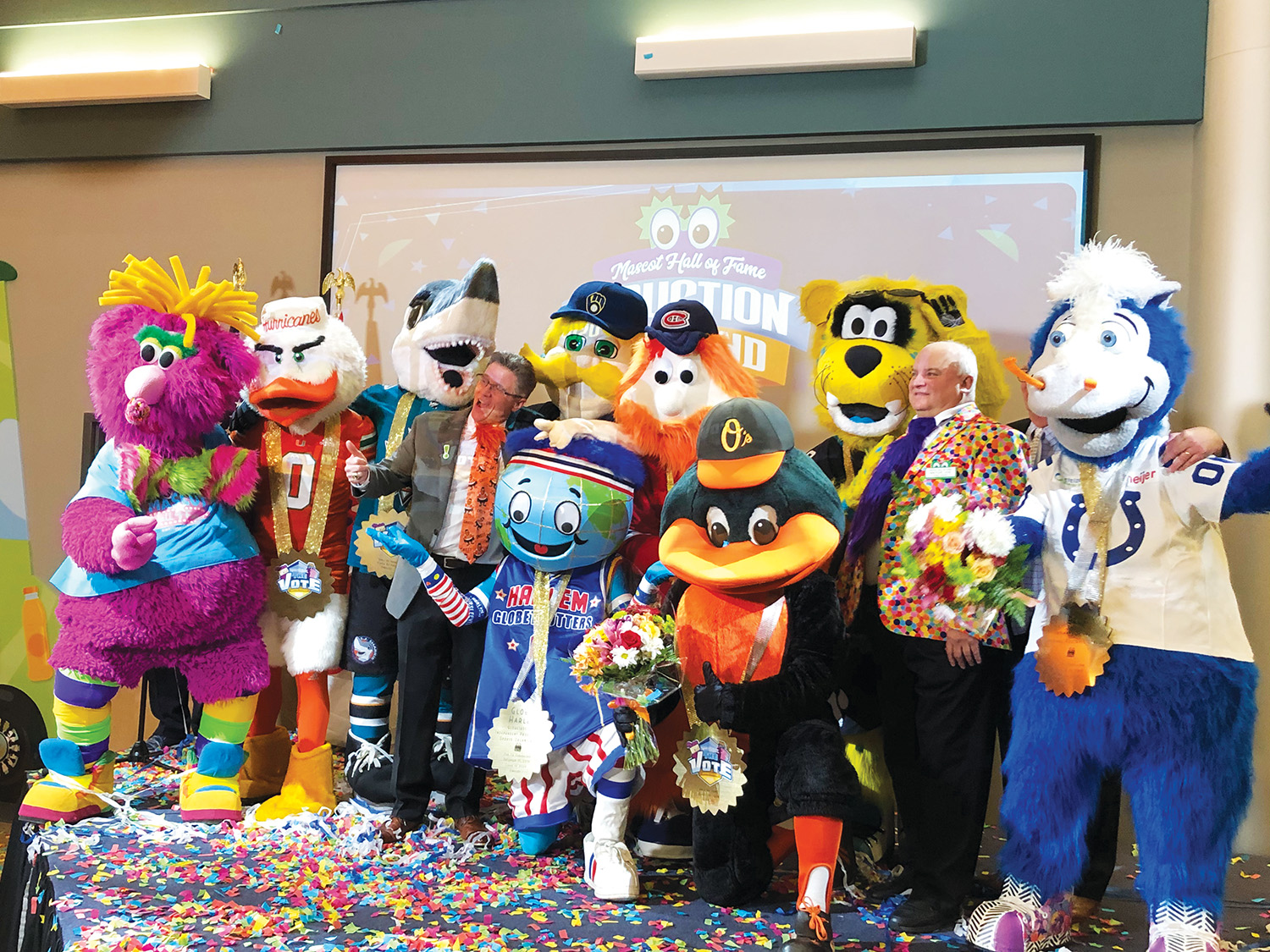 By Richard G. Biever
You can never have enough confetti said Reggy Funfurhuggin, the purple party dude and official spokescharacter of the National Mascot Hall of Fame in Whiting. And with that, fanfare blew and confetti flew as the Hall welcomed the class of 2020 — its four newest furry, fleece and foam-faced members.
Located on the shore of Lake Michigan, the Mascot Hall of Fame is the world's only interactive shrine dedicated to the lovable zany characters of professional and collegiate sports. These anthropomorphic critters and blobs, nut- and baseball-headed humanoids, and colorful creative amalgams not only entertain fans with their sideline shenanigans, but they also bring warm-fuzzy feelings to folks in quieter places not always in the glare of stadium lights.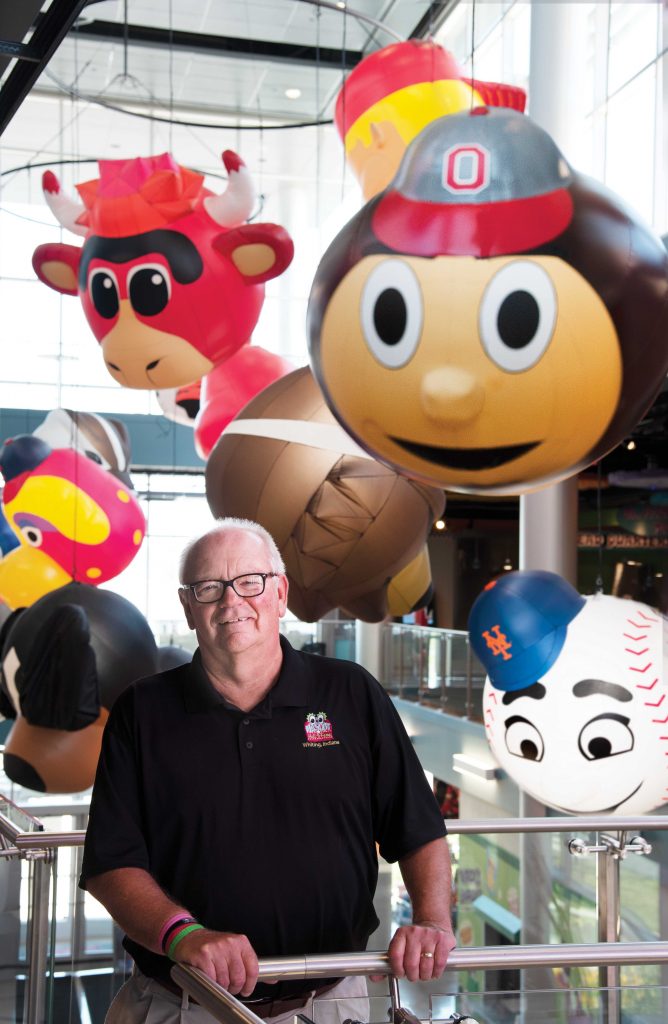 What makes these previously unsung costumed characters so special that they now have their own Cooperstown and Canton? The answer can be found in places like hospitals, schools and nursing homes where they're often at their best. "To me, it's real simple," said Al Spajer, the Hall of Fame's director of community engagement. "It's the attention that they pay, generally and specifically, to people.
"They're entertainers," he said. "They're wonderfully conditioned athletes. They can just do all sorts of physical activity. But it's the way they treat their fans. It's just incomparable. They are able to capture hearts and minds and imaginations."
This year's Mascot Hall of Fame class, the second since the facility opened its doors the day after Christmas in 2018, included its first Hoosiers. The mascots from both of Indiana's major-league professional franchises made the grade: Blue, the hammy swivel-hipped horse of the Indianapolis Colts, and Boomer, the acrobatic panther of the Indiana Pacers.
Inducted alongside Blue and Boomer were the Oriole Bird, of the Baltimore Orioles baseball team, and Youppi!, the first international mascot who represents the Montreal Canadiens of hockey. Youppi! originally represented the Montreal Expos baseball team which relocated in 2005.
"We've always known Boomer's one of the best mascots," said Jamie Russell, Pacers associate of game operations. "And Boomer and Blue getting recognized together was just fantastic. They're both such great ambassadors for our city, our state, and our franchises."
"Blue and Boomer are worthy additions, but that's not something that gets manufactured," Spajer emphasized. "You got to win the vote."
To be eligible for the Mascot Hall of Fame, the character must have existed for a minimum of 10 years. It must also impact both its sport and community, inspire its fans, and consistently give memorable and groundbreaking performances. This year's inductees emerged from an original slate of 19 nominees selected and vetted from the pantheon of performing characters last October. To earn induction, they faced two rounds of public online voting. Almost 127,000 votes were cast from 41,000 ZIP codes and 57 countries to narrow the number to 10 and then to four.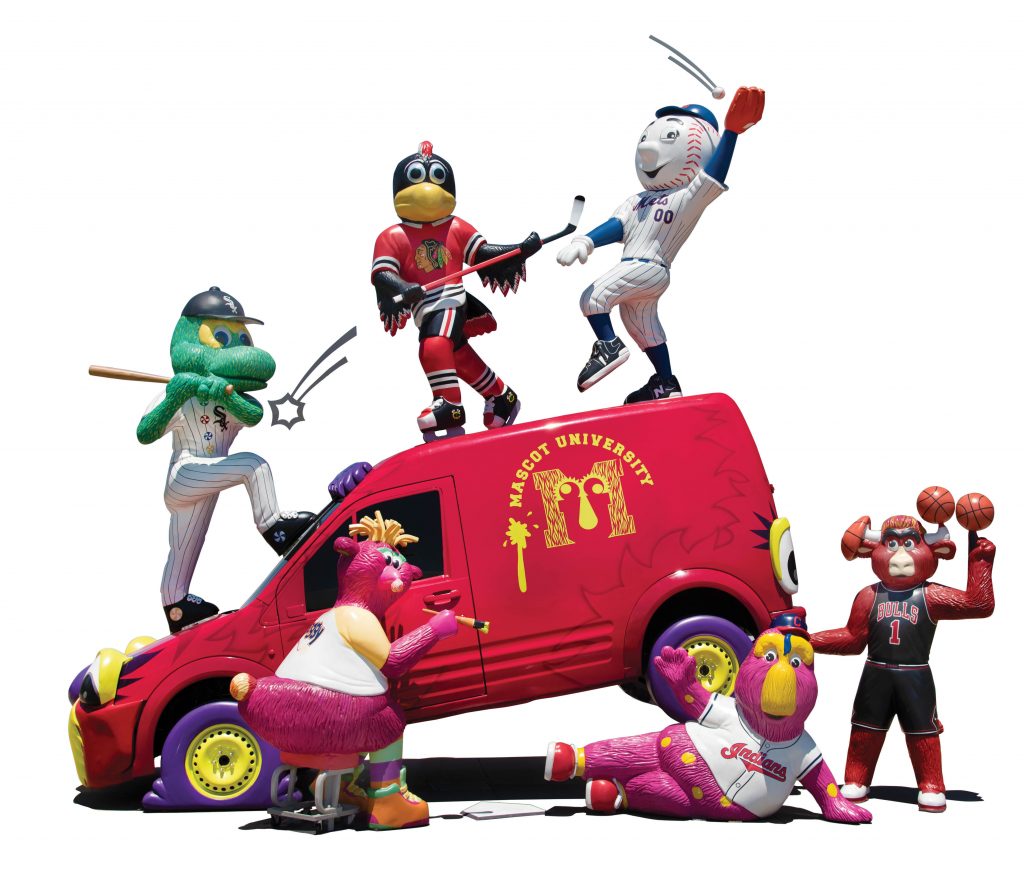 Because of the COVID-19 restrictions, the Mascot Hall of Fame has been closed to the public since mid-March. The planned live June induction celebration was held online. Spajer said the Hall hopes to reopen later this year, depending, of course, on the pandemic recovery.
On the outside, the Mascot Hall of Fame Interactive Children's Museum looks like a giant funhouse: Reggy — the mascot's mascot, with his giant purplish visage, googly eyes and inflatable dancing tubes of golden locks -— looks down Whiting's main street. But, as its full name implies, it is also a storehouse for learning.
"This is a place where there's a lot of overt fun, but a ton of subliminal education," noted Spajer. "Everywhere you go, there is a master plan as to what the facility is trying to do. There's geography. There's nutrition. There's exercise. There's acting. There's building. There's mathematics."
The museum worked with Calumet College of St. Joseph in Whiting and Trine University in Angola to develop lesson plans and exhibits based on S.T.E.A.M. (science, technology, engineering, arts, math) educational principles. The museum's goal is to educate, spark creativity, promote fun and engage in the community — while honoring the mascots and their trade.
Every inch of the 25,000-square-foot building pays homage to the creatures that, for a lot of fans, are the faces of the professional and college sports teams they follow. Exhibits for the "Mascot University" include:
Fureshman Orientation, an introductory film hosted by Reggy, the mascot of the Mascot Hall of Fame (and about the only talking mascot around), that tells the story of mascots.
Department of Phuzzical Education, an interactive play area that includes the chance to virtually shoot a T-shirt cannon.
Science of Silliness which points out things like how much force is needed to jump off a mini tramp and dunk a basketball from the 3-point line — as Boomer does; just how hot does it gets under those furry faces; or just what is that fur even actually made of.
Mascot Studies that includes a map locating where the mascots come from and a chance to learn about mascots through history.
The Department of Furry Arts where visitors can design their own mascot, perform as a mascot, and Build-A-Mascot with a Build-A-Bear brand workshop.
That a world-class national shrine to mascot silliness should be located in the small hard-working city of Whiting (population about 5,000) in Indiana's industrial northwest corner in the shadow of Chicago is not as improbable as it may sound. To know Whiting, the folks there say, is to appreciate a sense of whimsy.
After all, Whiting's biggest event each year (when there's no pandemic) is the Pierogi Fest. It attracts over 300,000 people over the course of a July weekend. All for a Polish dumpling.
"It is a parody on parades and festivals. We poke fun at our Eastern European heritage," Mayor Joseph Stahura, now in his fifth term, told the Indianapolis Star when the mascot shrine opened. "We have a lawnmower brigade instead of motorcycles. Old ladies dress up in house coats, twirling plungers and rolling pins. Mascots just fit smack in the middle of that theme."
And a little farther up the western Lake Michigan shoreline from Whiting is Milwaukee where the whole notion of a Mascot Hall of Fame had its birth.
It was July of 2003. During the usual "Sausage Race" at a Milwaukee Brewers baseball game, in which four people dressed as a variety of 7-foot-tall sausages dash around the field, a Pittsburgh Pirate leaned over the dugout railing with a bat and playfully clubbed the Italian sausage named Guido on the back of the head as they ran by. The whack was well above the head of the young woman inside the costume and didn't hurt her, but it was hard enough to make her lose her balance. Guido fell, taking down the racing Hot Dog beside him, as well.
The incident became a rallying cry for "mascot rights."
David Raymond, the original Phillie Phanatic mascot, channeled the tongue-in-cheek outrage to a new awareness for their craft. In 2005, Raymond founded the Mascot Hall of Fame, a virtual shrine that lived online. From 2005-2008, 16 mascots were inducted. But he always dreamed of putting it into brick and mortar.
When Stahura became mayor in 2004, he brought a vision for expanding Whiting's tourism beyond pierogis and its popular summertime beach. Over 9.5 million people live within just about an hour's drive of Whiting. He was looking for a year-round attraction for a plot of city land just across the railroad tracks from Whiting's lakeshore park. In 2013, he came upon Raymond's online Hall of Fame.
Feasibility studies and an economic analysis later, a $14 million tax-increment financing package was approved by the Whiting Redevelopment Commission. A non-profit entity to operate as the mascot museum was created. Construction began in 2016. The official grand opening and ceremonial ribbon cutting was held April 6, 2019.
Spajer had just retired from a 40-year career directing human resources at a steel company in the region when he was asked to be the museum's executive director in the early stages of its planning. His community and charity work, most notably with the Lake Area United Way, made him well known among area civic leaders. He stepped back into the role as the executive director this spring. But Spajer prefers to be called "Grandpa Mascot."
Heading up a museum dedicated to the softer, sillier side of sports might seem a like departure for a native Chicago Southsider who spent his life working in the steel industry and watching and playing hockey. But Spajer, who now makes his home as a Kankakee Valley REMC consumer in Valparaiso, said folks who know him best say he's finally found his calling.
Kidding aside, he noted, "The HR person is always looking for the organization to improve, to be innovative, and to do what's right. When I look at mascots, I'm like, 'Yep, they check all those boxes. And they certainly know how to treat people.'
"For seven years, I've had the privilege to follow those guys and girls around and see what they do," Spajer added. "I'm behind them, so I'm looking at the kids. I see their eyes, or I'm looking at the family … and how special they feel. I'm not looking at the mascot; I'm looking at the person who's looking at the mascot. That's cool."
And from his background in the steel industry, Spajer is also super safety minded. So when it comes to reopening the hands-on museum after COVID-19, he said museum staff has gone over and over protocols and practices. "Whatever group comes through here, not only do I want them to FEEL safe, I want them to BE safe."
But even cleaning up after mascots can provide a chuckle. "When we took the pause for coronavirus, we did a very extensive deep cleaning," he said. "As soon as we started, we got a leaf blower in here, and we were marshaling confetti. There was a heckuva lot more than we thought we'd ever find. It was everywhere. In the rafters. In all the nooks and crannies. Confetti is a staple of the mascot trade."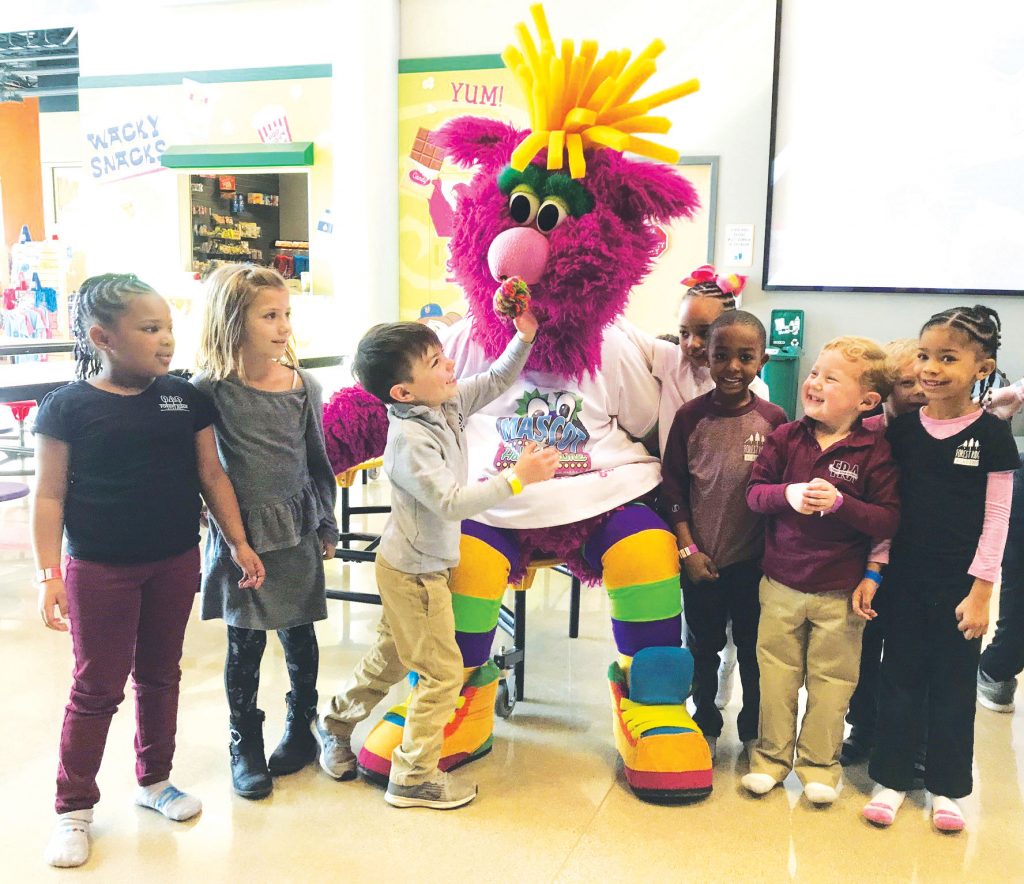 Mascot fans eagerly await the museum's reopening; everyone could sure use some mascoting right about now. And when that happens, let the fun return — and that confetti fly.
RICHARD G. BIEVER is senior editor of Indiana Connection
---
If you go…
The Mascot Hall of Fame is located just across the railroad tracks from Whiting's Lakefront Park on the Lake Michigan shoreline. The HoF has been closed during the pandemic. Check its website for latest details on reopening dates and times.
1851 Front St.,
Whiting, IN 46394
219-354-8814
MascotHallofFame.com
Regular Hours
Tues-Wed, Fri-Sat: 10 a.m. – 6 p.m.
Thurs: 10 a.m. – 8 p.m
Sun: 10 a.m. – 5 p.m.
The Mascot HOF is closed on Mondays and the following days: New Year's Day, Easter, Thanksgiving Day, Christmas Eve, and Christmas Day.
Admission
Adults and children: $12
Children under 2: Free
Teachers and seniors (over 65): $10
Active military: Free
Free parking!
---
Two Indiana mascots inducted into Hall of Fame
BOOMER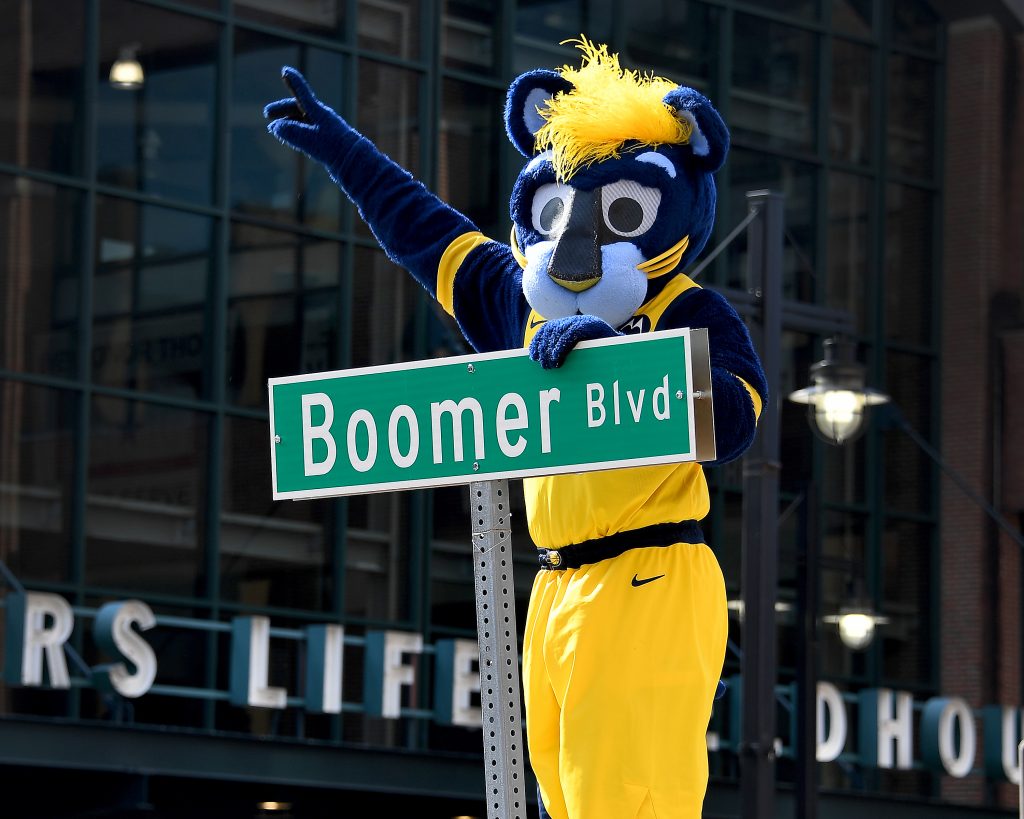 Boomer, the Pacers Panther, has become one of the most popular mascots in all of sports. His amazing cat-like athletic abilities and comedic antics have won over fans and drawn laughs from even the opponents and referees.
Boomer became the Indiana Pacers mascot in the fall of 1991 and the current performer has been Boomer since 1997. He performs at every Pacers home game and makes more than 300 community appearances each year. His school convocations across Indiana focus on varying topics such as anti-bullying, health and fitness promotion, anti-drug messages, and proper studying techniques.
"We've always known Boomer's one of the best mascots," said Jamie Russell, Pacers associate of game operations. "Since it's the fans voting on this, it really makes it extra special to know how much they love and appreciate Boomer."
BLUE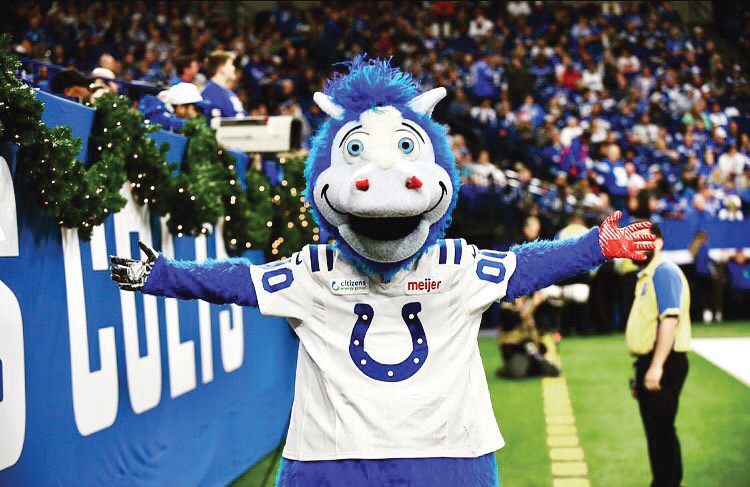 Blue is the official mascot of the Indianapolis Colts. He's now in his 14th season providing game-day entertainment, skits, and sideline antics for Colts fans.
Blue travels the state making over 300 appearances a year. Blue performs more than 100 school shows each year, visiting more than 55,000 students across the state.
In 2018, Blue introduced a new show, "Choose Love." The show is geared toward middle school and high school students where Blue takes off his mask, encourages students to stop hiding behind their own masks, embrace themselves and treat others with love and respect.
---
Members of The Mascot Hall of Fame
Phillie Phanatic, Philadelphia Phillies, 2005
Suns Gorilla, Phoenix Suns, 2005
Aubie the Tiger, Auburn University, 2006
Bucky Badger, University of Wisconsin–Madison, 2006
Clutch, Houston Rockets, 2006
Jazz Bear, Utah Jazz, 2006
KC Wolf, Kansas City Chiefs, 2006
YoUDee, University of Delaware, 2006
Big Red, Western Kentucky University, 2007
Brutus Buckeye, Ohio State University, 2007
The Coyote, San Antonio Spurs, 2007
Lil' Red, University of Nebraska–Lincoln, 2007
Mr. Met, New York Mets, 2007
Rocky, Denver Nuggets, 2008
Slider, Cleveland Indians, 2008
Smokey, University of Tennessee, 2008
Nittany Lion, Penn State University, 2019
Benny the Bull, Chicago Bulls, 2019
Tommy Hawk, Chicago Blackhawks, 2019
Sluggerrr, Kansas City Royals, 2019
Blue, Indianapolis Colts, 2020
Boomer, Indiana Pacers, 2020
The Oriole Bird, Baltimore Orioles, 2020
Youppi!, mascot of the Montreal Canadiens