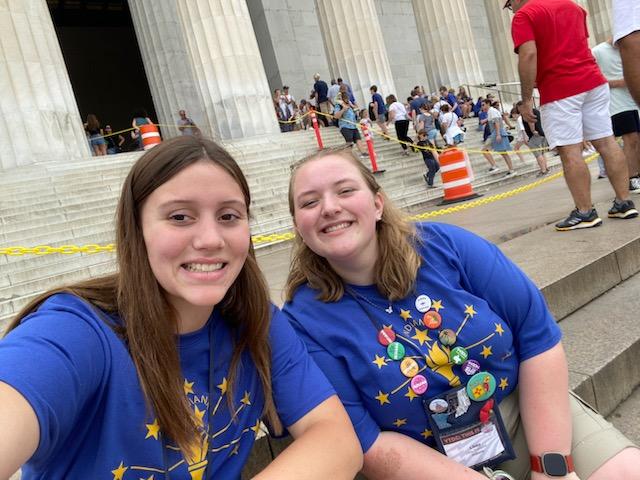 Indiana Youth Tour is described by our delegates as a once-in-a-lifetime experience for high school juniors from our cooperative family, where students travel to Washington, D.C., to learn about public service, our nation's history and the electric co-op story.
Noble REMC had the opportunity to sponsor two students on the Indiana Youth Tour June 11-18: Alayna DeLong and Libby Dreibelbis.
A delegation of Indiana students represented our state's electric cooperatives, alongside thousands of students from across the country. Students visited the Flight 93 Memorial, the Gettysburg battlefield, Arlington National Cemetery, the Smithsonian museums and the National Mall memorials.
The Indiana Youth Tour students also participated in a youth rally hosted by the National Rural Electric Cooperative Association and spent a day on Capitol Hill, where they had an opportunity to meet with Indiana's congressional delegation to ask questions and share their thoughts on a variety of timely issues.
But to get the best picture, let's hear directly from this year's delegates:
Alayna DeLong, West Noble High School
"I would like to thank you for sending me on this trip. It was truly a trip of a lifetime. I enjoyed the many memorials and museums we got to see.
"My favorite memorial was the Lincoln Memorial because it was so surreal, and you could see so many monuments from the memorial. My favorite memory from this trip was meeting all kinds of new people. I made so many friendships that will last a lifetime from my state and other states.
"This trip was truly one of a kind and cannot be described in a short paragraph. It was a trip I will always remember, and I am forever thankful that I got the opportunity to go."
Libby Dreibelbis, Churubusco High School
"I was so lucky to be able to attend this trip; it was truly a once-in-a-lifetime experience. I was able to see the Flight 93 Memorial, Gettysburg, the Library of Congress and countless other landmarks. We were able to experience so many different things in D.C.; I made amazing friends and amazing memories.
"I think my favorite place we visited was the Library of Congress. I was
amazed by all the books, architecture and photographs that we were fortunate enough to see. I also loved being able to tour Capitol Hill, and we had the opportunity to watch the House of Representatives vote. It was awesome to be able to see our government in action. I was also able to spend time with Rep. Jim Banks, and we were able to talk about what was important to him, along with what was important to us.
"I think that every junior should apply for this trip. It was truly one of my favorite things I have ever done. There was never a dull moment; everything, even down to the bus rides, was incredible. I was able to meet many people from around our state and country. Thank you Noble REMC for selecting me to go on this trip. It will stick with me my entire life."