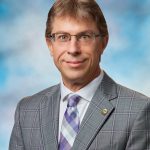 By Scott Sears
As we near the decade's end, we're seeing three positive trends involving you and the electric industry. 
First, a growing share of your electricity comes from renewable sources such as solar and wind energy. We purchase electricity through Wabash Valley Power Alliance, and as recently as 2018, only 7 percent of it's power came from alternative energy sources*, compared with 40 percent from coal. This year, it increased the alternative portion to 11 percent and decreased coal's share to just 36 percent. There's also the Co-op Solar program, which allows member-consumers like you to choose electricity generated through solar power without having to buy and install your own solar panels. Expect the trend to continue as everyone invests in more renewable sources.
Another positive trend involves our rates. As you'll read on page 7, we just completed a study to determine what our rates should be in 2020. The short answer is that our rates for residential member-consumers will not increase! We will share more with you on the new rates as they go into effect beginning with the electric bills you receive in February, for your January use.
A third trend that's important is what's called "environmentally beneficial electrification." Through this approach, fossil fuel-powered appliances and machines are replaced by newer models which run on responsibly generated electricity. The idea is to reduce greenhouse gases and give consumers products that are cleaner, quieter, and easier to maintain. Your cooperative took a step this year toward that with the purchase of a Chevy Bolt electric vehicle.
The topic of beneficial electrification is an important one to our industry. I look forward to sharing more on this growing trend throughout next year as we work with our power supplier and other cooperatives to see how we can bring programs to our member-consumers that are more focused on the environment.
We're excited about 2020 – and everyone at Kankakee Valley REMC wishes you and yours a warm, happy, and healthy holiday season! 
*Wabash Valley Power Alliance supports renewable energy by owning landfill gas generation and purchasing the output of wind farms and biogas generators. Wabash Valley Power Alliance sells, separately, the environmental attributes associated with this generation to its member-consumers and third parties, and therefore does not claim the generation as renewable within our own supply portfolio.