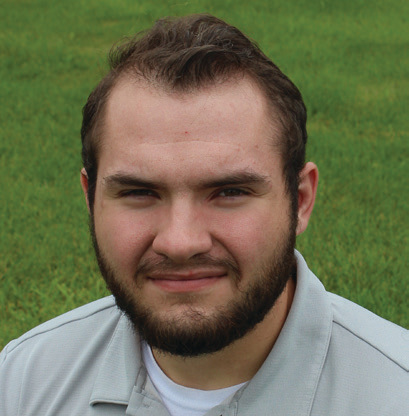 After spending five months in Oregon as a manufacturing engineer at Parker Hannifin, LaGrange County REMC's newest employee returned to his hometown roots in Northern Indiana. MASON SLAVEN joined us in August as our distribution engineer.
A Purdue University graduate, Slaven utilizes his mechanical engineering and technology degree to help make sure our electrical devices are protected, maintaining the integrity of our system. He also ensures that our lines, substations, transformers and other items coordinate together.
"As demands grow, we have to make sure everything is protected," Slaven noted.
One thing Slaven has enjoyed at the co-op is the relaxed atmosphere. "It's a little more laid back," he said when asked about the difference between the co-op and manufacturing hydraulic cylinders in Oregon. His favorite part so far has been learning about a new industry.
"I'm looking forward to getting the full grasp of the electric industry so I can dive in on my own and help make an impact for the REMC."
Slaven enjoys working on engines and other equipment his family uses on its farm near Shipshewana Lake. He is also currently restoring a 1978 Chevy truck.
Please join us in welcoming Slaven to the REMC team!