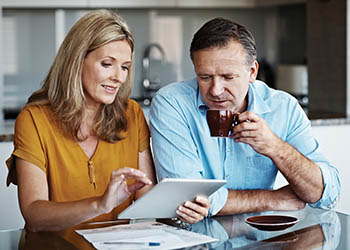 We want to make it easy for you to pay your Kankakee Valley REMC electric bill.  Many convenient payment options are available that require you to never leave the safe comforts of your home.   
In response to the economic impact of COVID-19, KV REMC suspended the disconnection of electric service for non-payment and suspended assessing any new late fees. These suspensions were not bill waivers. Member-consumers are responsible for those bills.  If you have not been able to pay your bill, please contact our office as soon as possible to discuss a payment arrangement. We want to help you.  
If you have an account balance that you would like to pay, you can use one of the below payment options.  To speak to a customer service representative about a payment arrangement, call 800-552-2622.  
Credit Card & Bank Draft
Through this method, your credit or debit card is drafted each month on your due date. When using bank draft, your savings or checking account will be drafted monthly one to two days before your bill is due.
Mobile App
Download the app through the App Store or Google PlayTM by searching "Kankakee Valley REMC".
Online Bill Pay
Log onto kvremc.com and click on Login/Pay My Bill at the top of the page.
Phone Payment
The Interactive Voice Response system (IVR) allows you to pay your electric bill 24/7, 365 days a year. You can also pay directly with a customer service representative Monday-Friday, 7:30 am.–4 p.m. CDT or after hours with a call center representative.