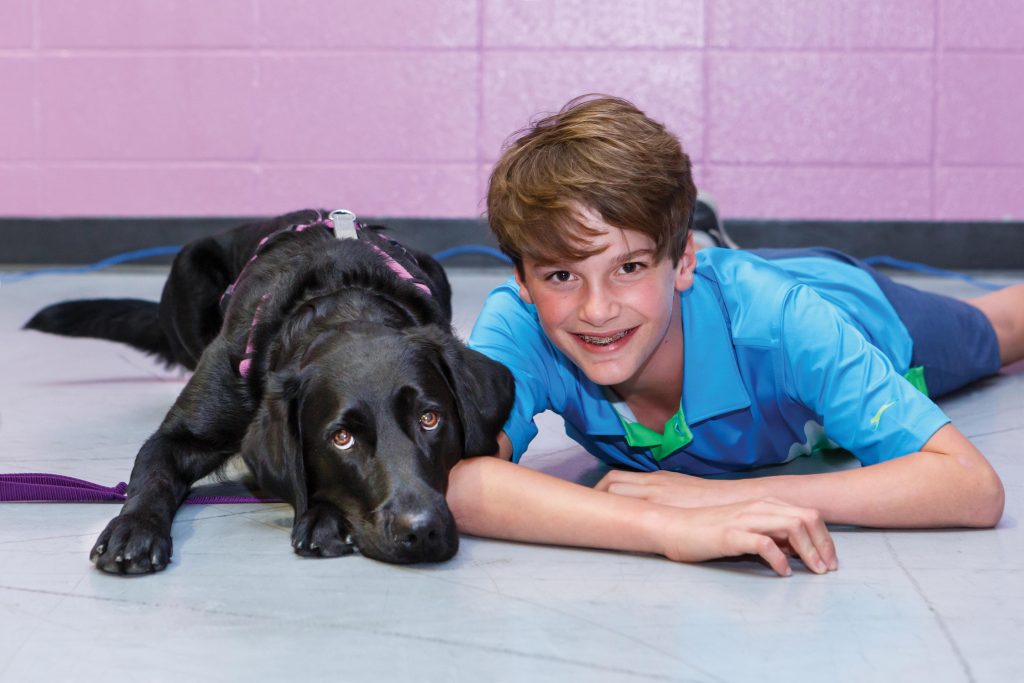 By Richard G. Biever
Collin Kreiner was just 6 months old when doctors told his parents he had cerebral palsy. The condition affected the right side of his brain and left him with a partial paralysis. The diagnosis came after his parents had noticed Collin was not using his left hand. He kept it clenched in a fist — as if he needed something to hold on to.
Vanessa was an adult when she was convicted of a crime and sentenced to the Indiana Women's Prison in Indianapolis. Life was spinning too fast, she noted, and she had not slowed down to see and appreciate the beauty in things. The future seemed empty behind bars. What she had had of a life on the outside, she let slip through her hands.
From these seemingly divergent paths came a common band Collin and Vanessa could firmly cling to. Staring down an uncertain implacable future, both found hope and redemption on the end of a leash of a dog named Your Majesty.
In June of 2019, Collin, now 14 and an eighth grader from Noblesville, and Vanessa, still incarcerated at the Women's Prison, met for two weeks inside the prison walls. That's where Vanessa, who had become a dog trainer and spent months handling and living with Maj at her side, taught Collin and Maj how to work together. And then, as Collin's parents shed tears among a room full of others like them, Vanessa handed Maj's leash to Collin at the graduation. It was an act repeated several times that evening between other inmate handlers, like Vanessa, and other recipients, like Collin, taking home an individual service dog, like Maj.
"It was amazing to see him the night of graduation and all the people that were coming up to him," Ryan Kreiner said of Collin, the third of his four sons. "I've never seen him like that before. He was beaming. You could see he was just so excited to have Maj. And I was watching Vanessa and him when they were going to meet on the stage, and you could just see the connection with those two."
Collin even noticed how his normally stoic dad responded, asking afterward, "Dad, are you crying?"
"All the stuff he's been through," Ryan continued. "It's so great to see him get something that he wanted and succeed in something and be …"
"… the star!" injected Collin's mom, Claudine, completing her husband's thought.
Stars Align
The program that brought Collin and Vanessa together with Maj is Indiana Canine Assistant Network.
Since its beginning in 2002, ICAN has fostered 201 similar unions. The statewide nonprofit has brought new hope and possibilities to individuals living with a disability who need a service dog and to the offenders who train them. It repairs the brokenness those in both groups often feel through the unconditional love of these dogs.
"They're very parallel experiences," explained Jillian Ashton, ICAN's president. "Even though their reasons may be different, the sense of isolation and not being able to participate in the community wholeheartedly for whatever reasons — barriers of intimacy, barriers of physical abilities, whatever — and then the dog just changes all that." She added that the trainer and the client come together with the sole purpose of just helping each other. "And the dog is the conduit. There's restitution and restoration."
The professional training and experience the offenders gain handling the dogs has given most of those who have been released from prison the encouragement, confidence and skills to succeed and not repeat the poor choices that put them there.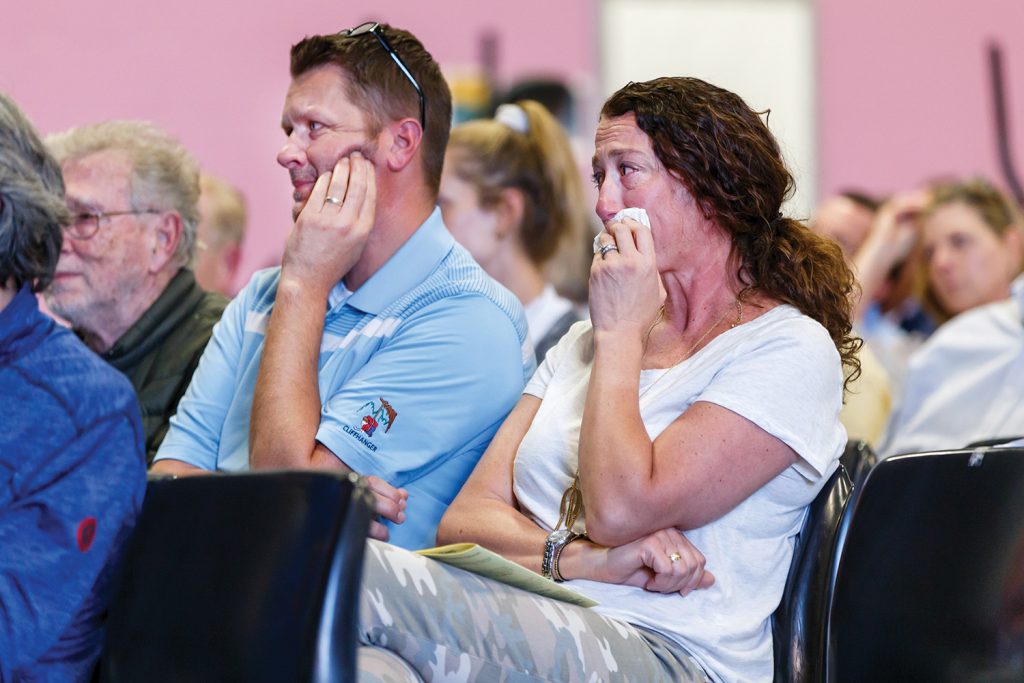 Beginnings
ICAN was founded with that two-fold mission: to train and place high-quality service dogs with individuals with disabilities; and to provide foundational life skills to inmates through their experiences as trainers. The dual purpose makes ICAN stand out as one of the few organizations like it in the U.S.
ICAN, which just this summer moved its office from Indianapolis' west side to a new location in Zionsville, primarily serves residents of Indiana. ICAN also works with other similar organizations in surrounding states.
ICAN currently works with 60 adult men and women offenders in three prisons: Pendleton Correctional Facility at Pendleton, the Correctional Industrial Facility at Pendleton, and the Indiana Women's Prison in Indianapolis.
ICAN's service dogs assist:
mobility/stability — for those who have suffered strokes or other traumatic brain injury. Dogs help stabilize the clients as they get up and move, clear pathways and open doors. This is ICAN's primary clientele, Ashton said.
veterans — for service men and women who live with physical and/or brain injuries with a secondary diagnosis of PTSD. Just by their calming nature, dogs help reduce PTSD.

facilities — for occupational physical therapy units, rehab centers, schools and courthouses (to help children in CASA — Court Appointed Special Advocate — situations).
autism — for those on the higher level of the spectrum to assist with disorders affecting developmental, communication and other skills.
diabetics — for those who have a hard time sensing rapid changes in blood sugar, dogs are trained to detect the chemical changes and alert the diabetic of the onset of low or high blood sugars and assist.
Puppies for the program are raised by trained volunteers who help socialize the dogs and teach basic obedience skills. They also work at stimulating the dogs' cognitive abilities and acuity through rubbing, touching and noises. At about 16 weeks of age, each dog is assigned an offender inside a prison to begin the first round of its Level 1 training.
From there, ICAN uses a 6-weeks-in/3-weeks-out training schedule that repeats until the dog is about 2 years old and is ready for its permanent placement. For six weeks, the dog is trained in various skills by its selected inmate handler. For three weeks, it is taken out of prison and placed with a trained volunteer known as a "furlougher" who socializes the dog to the noises and distractions of the outside world it will face with a client. The dog then returns to the handler for another 6-week training session.
To be a trainer for ICAN, the offender must not have committed a crime against children or animals. Handlers must also have four years or more of their sentence remaining, have high school diplomas or GEDs, and be referred by their counselors. They then complete an application and go through an interview process with Sean Diamond, ICAN's director of training, and key staff at the prison.
Diamond, himself, is an ICAN success story. He turned his life around after he turned his love and experience of working for ICAN while in prison into his career after he was released.
As the dog approaches its second birthday, a client is carefully matched to the strength of each dog. Bigger, stronger dogs, might be assigned to bigger clients needing mobility and stabilization help. A dog who has shown a keener sense of smell might be trained in sensing hypoglycemia and be matched with a diabetic. "Finishing school" for the dog is with a handler at the Indiana Women's Prison who teaches the dog specialized skills based on the selected client. About six out of 10 dogs that enter the training will graduate and serve ICAN clients.
The overall cost to train a service dog is about $25,000. To receive an ICAN dog, the client is asked to cover 10% to demonstrate a commitment to the dog and the training. But once that partnership is created, ICAN continually monitors and maintains that relationship and provides support to the client throughout the working life of the dog, usually about 8-10 years.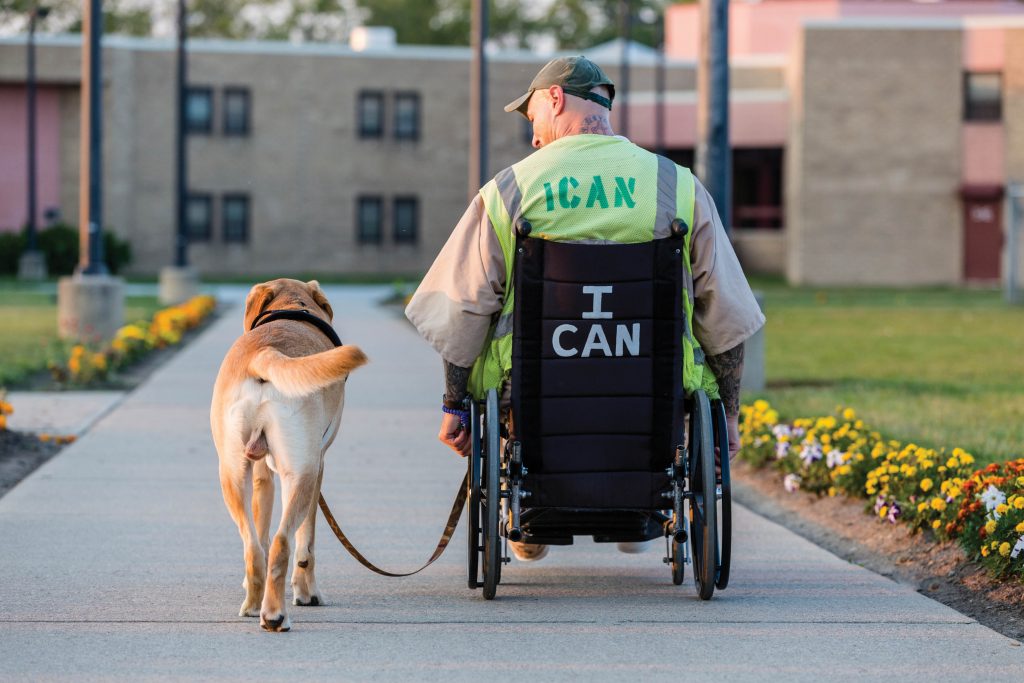 "When you're placing a dog with somebody with a health concern, especially a degenerative health concern like MS, the client experiences changes," noted Ashton. "So we may have to do some tune-up work on the dog to make sure that the dog's skills are keeping up with the individual's changes."
Promising Futures
Over the years, Collin Kreiner has had surgeries to help his mobility. But he's also been diagnosed with a seizure disorder and attention-deficit/hyperactivity disorder.
"If you met him, he doesn't use his disability as an excuse. He makes his own adaptations, but sometimes he does get frustrated," said his mom.
With the arrival of Maj, who's also been trained to assist Collin during a seizure, Collin, his parents and his three brothers are all sleeping easier. Even though Maj takes up most of his bed and pushes Collin to the edge as dogs do, Collin said, "She makes me feel safe at night. I'm not afraid I'm going to wake up and have a seizure. And if I do, she'll be next to me."
Collin is grateful for what Maj has brought to his life and recognizes what ICAN has done for Vanessa, the "super nice, super welcoming" trainer. "I think it's taught her to do good in life, and not just throw away your life and act like it doesn't matter."
ICAN has shown offenders and their clients, two groups of people broken in different ways, that their lives do matter. ICAN brings hope.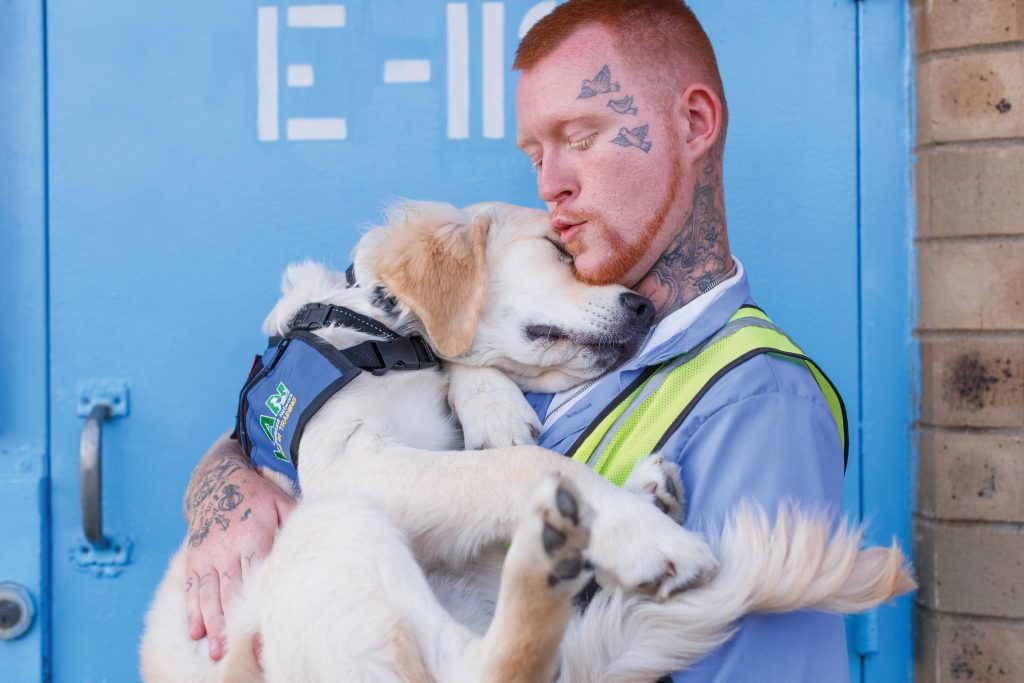 "Hope is defined as a promise for a better future," noted Vanessa. "With the training and character-building skills that ICAN has provided for me, I can now say that my future looks promising — not only for me but, more importantly, for my children."
This story was written by senior editor RICHARD G. BIEVER using some source material from ICAN.
---
ICAN at a glance
Founded in 2002, Indiana Canine Assistant Network is a non-profit organization that trains and places assistance dogs with children and adults living with disabilities AND provides foundational life skills to carefully screened incarcerated adults through their experiences as trainers.
Number of active client/dog teams — 108
Number of inmate handlers — 60 (recidivism rate of past handlers is less an 15%, Indiana average is 33.8% in 2017)
Number of dogs in program — 60
Average graduation rate for dogs in program — 60%
Number of outside volunteers — 140
Number of people waiting for a dog — 85
Average wait for client/dog pairing — 2-3 years
Accreditation — ICAN is accredited by Assistance Dogs International and is the only accredited service dog program based in Indiana
---
ICAN costs
Training a dog to become an ICAN service dog takes two years. The total cost for training and for ICAN to provide lifetime support for the dog and its partner is $25,000. Here are some of the costs based on just one year in training:
$600 — dog food, bedding and crates
$2,000 — veterinary care, and heartworm and flea prevention
$75 — grooming and hygiene
$750 — team training/graduation (per client-canine team)
$300 — x-rays for joint health
$500 — balance and training vests, bandanas, collars, leashes
$500 — spay/neuter
$125 — toys, Nylabones and treats
---
How you can volunteer
Do you like dogs? Want to help ICAN meet its multi-purpose mission? Here are three ways to volunteer:
Puppy Raisers
Welcome a future service dog into their home when the dog is approximately 8 to 16 weeks old.
Go through training with ICAN volunteers.
Socialize the puppy to home life and world experiences.
Begin basic obedience training.
Attend puppy-raiser classes with their puppy.
Furloughers
Give dogs the opportunity to leave their prison training environment and practice skills in real-life situations.
Go through training with ICAN volunteers.
Take a dog for three weeks at a time.
Attend monthly meetings to maintain skills.
Other volunteering
ICAN does a lot of outreach and special events. One, for example, is "Puppy Love Valentines," a fundraising program in which volunteers deliver gift boxes with one of the dogs-in-training.
If you are interested in volunteer opportunities, sponsoring ICAN dog training or making a financial donation or know someone who can benefit from a service dog, please contact Indiana Canine Assistant Network (ICAN) at 317-672-3860 or visit www.icandog.org.
---
Wine & Wags goes online on Oct. 8
ICAN's largest annual fundraising event, Wine & Wags, is going virtual this year because of the pandemic. The incredible online experience will be filled with stories of clients, handlers in prison, released handlers and community members. The event takes place on Thursday, Oct. 8, at 6:30 p.m.
There is no cost to view the virtual event. Visit www.icandog.org to register. The link will then be emailed to you. Questions? Contact Dino at 317-672-3864 or dino@icandog.org.