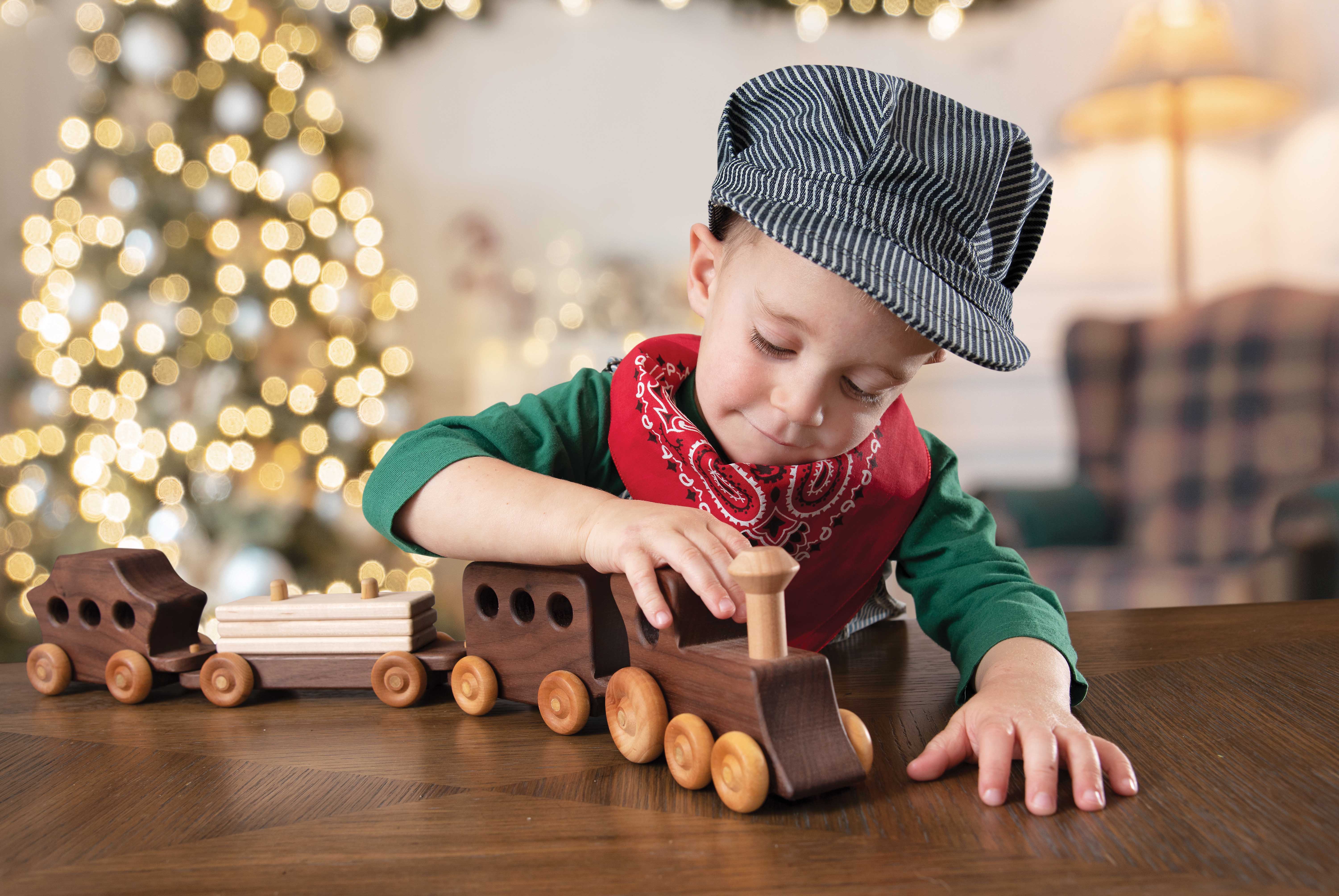 By Richard G. Biever
When Christmas dawns and children scamper with wide-eyed anticipation to the tree, often the most anxious to gather are the parents and grandparents bringing up the rear.
As the wrapping paper and ribbons start flying, there are so many things for the adults to ponder among the wonder. Will each child burst with glee at the first glimpse of that special something longed for all year? Did Santa bring what each child whispered in his ear? Will the clothes fit? Does the shape of those two big remaining presents for Addie from her grandmas look an awful lot alike?
Teresa Martin-Gay and husband Darren Gay know that ponderation. They have 12 grandkids, ages 10 years to 2 months. But come Christmas morning, their anxiousness and wonder isn't twelvefold; it's more like twelve-hundred.
The two are makers of handcrafted wooden toys sold mostly online. As such, the rural Kosciusko County couple has a share in Christmas mornings across all of kiddom — from New York to California and everywhere in between.
"Every Christmas morning we always say, 'Well, I wonder if all the kids are happy with what they got," said Teresa.
When the emails start ringing in, they know …
"The train bank looks like a piece of art. My grandchildren … will cherish them forever! Thank you so much for putting all your love into the things you build."
"My baby loves [the wooden infant rattler toys]."
"Beautiful wooden train set and very well made. Looks like a piece of art but rolls around like a busy little choo-choo! No rough edges anywhere. I can tell this will be used a lot."
Choo-choos and fishing rods
My Unique Wooden Toys, the company Teresa and Darren started 13 years ago, specializes in, as its name says, unique wooden toys. From scratch, the two handcraft planes; trains; automobiles; fishing rods; farm sets with fences; tractors; stick horses; gun cutouts; and more. They also make prop rifles used by color guards and dance recitals like performances of the Nutcracker Ballet.
Nine out of the 10 toys they sell are through Etsy, the online shopping mall of handcrafted and vintage merchandise. Customer satisfaction is right up front. The Etsy shopping site posts the reviews that buyers leave on each seller's page. A brief survey clicking through 155 pages of the reviews for Teresa and Darren's account, which goes by "MyHandMadeToy" on Etsy, reveals a satisfied clientele giving Teresa and Darren five stars on most all sales.
"We are making something that is unique. That's USA made. That's quality," said Teresa. "The stuff you're finding on our website or Etsy shop or store, you're not going to be able to go out and find at a big box store."
In this age of mass-produced, "flying-off-the-shelf" over-hyped toys and throwaway electronic gadgets that are cheaply made overseas, there's something to be said for the charm of individually made, sanded and finished timeless old-fashioned toys.
"There is a clientele that looks for that type of thing," Teresa said. "They don't want China. China's done the lead paints and everything else. They're done with China. And they want to help small family businesses; that's a big thing."
Parents or grandparents shopping My Unique Wooden Toys will learn they are all made right here in Indiana by Teresa and Darren. They use only child-safe paints and finishes, some of which Darren and Teresa mix using mineral oil and beeswax in their workshop. They also source most of their lumber — walnut, maple, cherry — locally and mill it out themselves.
Teresa said they often get emails or messages from customers that say things like: "This takes me back to my childhood"; "This is something like I had"; "My grandkids are playing with stick horses like we did in our childhood."
And that's by design.
"What inspires us were the toys that my kids actually made when they were growing up," Teresa said. "My kids grew up on a farm. They played with stick horses and guns. So, where we came from was: 'Let's go back. We're going to just do the toys that my kids loved to play with.' Those were the first things we made."
From milking parlor to woodshop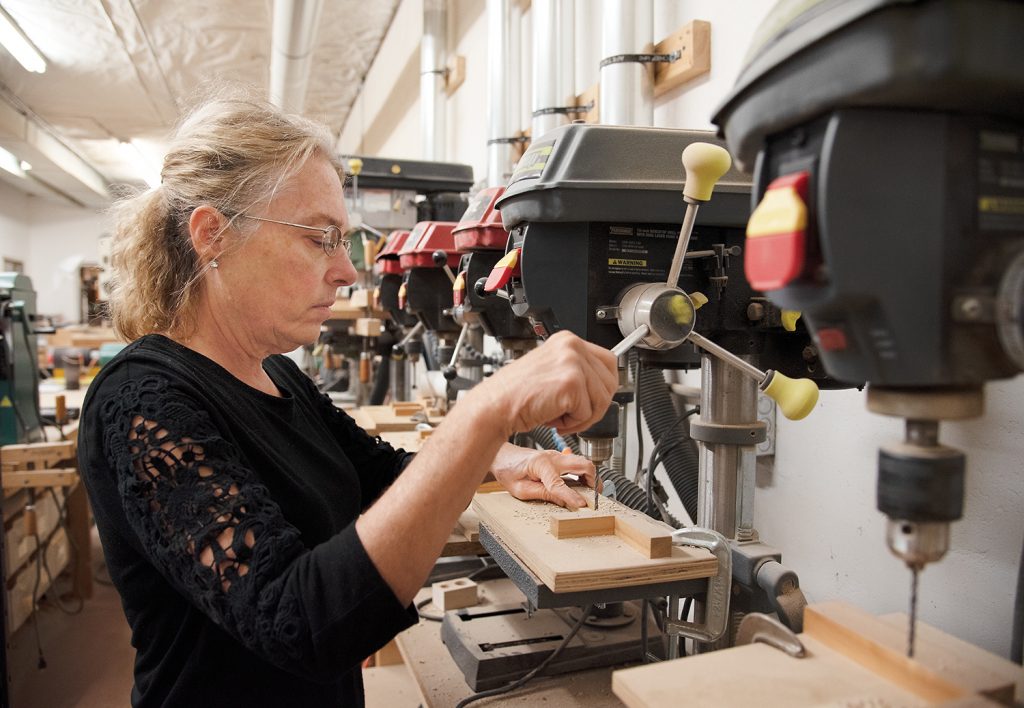 In the early 2000s, Teresa and her first husband, Randy Martin, were running a dairy farm on Kosciusko REMC lines southeast of Silver Lake after relocating from Elkhart County. They had four children: Landon, Tosha, Trent, and Kyle.
Days before Christmas 2003, Randy died in traffic accident. At the time, their oldest child, Landon, was 20 and their youngest, Kyle, was 13. Teresa carried on running the dairy farm with help of her kids and farmhands.
In 2004, Teresa, who is now 58, and Darren, now 53, met online. Darren was a bachelor from Georgia. The two began a relationship. He moved to Indiana, and they married. But milking 400 cows three times a day began taking a toll on the new couple and her children. By 2006, Teresa said her children were tired of it. "That was a lot of demands for kids."
The family sold the dairy cows and went into other farming ventures. Though Teresa still keeps the books for the farm now run by Landon, neither she nor Darren would continue as farmers. She said she and Darren asked themselves, "Well, now what are we going to do?"
Darren had been a woodworker in Georgia. He worked for a company whose main client was Georgia-based fast-food chain Chick-fil-A. The firm designed and built the serving counters and cabinetry for all the Chick-fil-A restaurants across the country.
After some online research, Darren and Teresa thought they found their new career — making wooden toys they could sell on the internet.
As an aside: It's odd that the Chick-fil-A mascot imploring folks to "eat mor chikin" (instead of beef) is a black and white Holstein cow, a breed mostly used for dairy. But how apropos that Darren, who perfected his woodworking skills working for the Chick-fil-A contractor, set up a wood shop in the farm's former milking parlor.
Teresa said their e-business plans brought a negative reaction from an unexpected source: her kids. "How is anybody going to find you?" they pooh-poohed.
"My four kids laughed at us," Teresa added. "But they're not laughing now."
Going online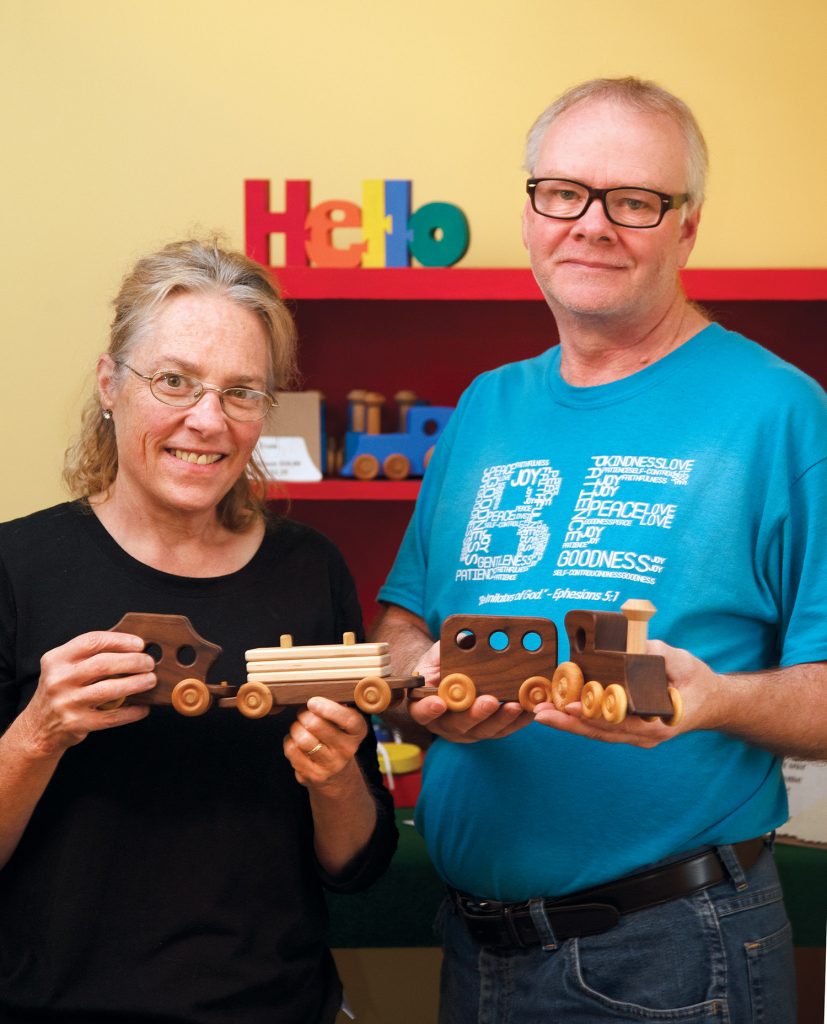 The couple that first found each other online quickly found a niche for their new enterprise online. Starting in November 2006, they began their own dot-com toy store and created an account on Etsy.
To help establish their presence, they asked a maker of similar toys in Pennsylvania if they could sell his goods on their website, as well, a practice known as "drop shipping." He agreed. Two years later, the toymaker had a question for them: He was retiring and wanted to know if they would buy his business. They did.
They traveled to Pennsylvania to pick up his toy patterns, and they picked up his customers. "His clientele was valuable," noted Teresa, "because it had a lot of wholesale. That was what really got us in the wholesale business. We were able to grandfather in."
"We picked up where he left off," said Darren.
One of the toymaker's big clients was Lifetouch, a nationwide chain of photography studios, which uses the toys as props in photos of children. Darren and Teresa made 485 wooden planes, four-piece train sets, race cars, and "cookie cutter" pieces meant to look like cookies. They are currently making 546 trains for Lifetouch due in April.
The biggest boon to their business, though, came from Etsy. "I was told not to create an Etsy account because it will overtake your business," said Teresa. "And it does." But that was a good thing. "We've never been where we're looking for work," she added.
"We never would have known it would be this big," said Darren.
Based in Brooklyn, New York, Etsy was launched in 2005. The dot-com says it has some 2.3 million active sellers and 42.7 million buyers. Etsy accounts racked up $3.9 billion in gross sales in 2018.
Through their Etsy account, Teresa and Darren were contacted by Vermont Teddy Bears, makers of high-end handcrafted soft furry designer teddy bears. The Vermont-based company was fishing for an American supplier to tackle the tackle accessory for its "Gone Fishin' Bear." The 15-inch bear, which also comes with a fishing hat and vest, sells for $79.99 online. "They wanted a very, very small fishing pole set for their bears," Teresa said. "That was not a product we had online. But they specifically were looking for somebody to make what they were originally getting from China, and we created that."
That order was for 600 wooden rod and reels with string and a wooden fish attached.
As they were hitting their stride online, disaster hit on the homefront. On Nov. 17, 2013, a tornado leveled nine of the 11 buildings on the farm, including the milking parlor-turned-woodshop. An area resident generously offered Teresa and Darren a woodshop he rarely used until they got back on their feet, and they barely skipped a beat fulfilling Christmas toy orders that year.
As they rebuilt the farm, Darren and Teresa took a corner parcel for a new house for themselves. The new house included a walkout basement they turned into their new workshop. A portion of the basement was set aside as a small showroom and store for their work. At the store and online, they also sell the work of an Amish associate who makes barns and toy farm implements.
Perhaps the most frequent shoppers at the store are the grandkids who all live nearby. "They come with their dollar bill," said Teresa. "We let them pay because I think it's good that they know they have to pay for something. They just can't come to Me-me's house and 'I want this … I want this … I want this,' and Me-me gives it to them."
But she noted with a laugh, "They don't pay full price … they do get the 'friends and family discount.'"
In addition, she said her grandkids are their "testers" in product development. "We have this new toy. Try it out," they'll tell them.
"We'll let them experiment on that. There were some things we had to re-do because they didn't work so good," she said. "We'll take it back to the drawing board."
Teresa noted though the store is off the beaten path, people seemed pleased when they find it. And Teresa and Darren, by living upstairs, are able to accommodate evening hours by appointment for folks unable to shop during the day. Another bonus, she said: "It's not going to be like your big crowded stores."
Christmas afterglow
In the glowing aftermath of the crazed Christmas morning rush, most parents and grandparents sit back, take a deep breath and rest on the laurels of another successful holiday.
But Teresa and Darren, who kiddingly call themselves "The Elves," soldier on. For as soon as one holiday passes, another looms. "We have a busy season," said Teresa, "and a busier season."
RICHARD G. BIEVER is senior editor of Indiana Connection.
---
If you go …
Teresa Martin-Gay and Darren Gay's Toy Shop
11152 S. 100 W., Silver Lake, Indiana
260-578-0725
Email: dgtm@localnet.com
Web: MyUniqueWoodenToys.com
Etsy: etsy.com/shop/MyHandmadeToy