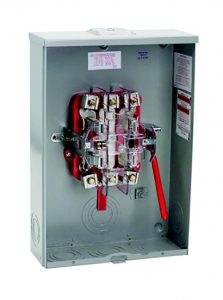 Spring isn't too far off, and you are probably already starting your "To Do List" of spring projects.
If your spring home projects involve upgrading your electric meter base, please remember Heartland REMC requires all new meter bases installed on our system to have a lever bypass. These bypasses will need to be inside all new self-contained meter bases. This requirement will not affect existing meter bases.
Meter bases with bypasses are safer for Heartland REMC crews, electricians, and the homeowner. The bypass will allow Heartland employees to install or disconnect the meter without interrupting the power when there is a need to address the meter.
All meter bases should be installed by licensed electricians following Heartland REMC meter base installation and selection specifications. Heartland REMC does not install meter bases.
Heartland REMC inspects all new services on our lines. If the REMC does an inspection on a new or upgraded existing service, and the service does not have an internal bypass lever at the meter base, the location will not be energized.
Once the new meter base has passed inspection, Heartland REMC will install a meter, meter seal, and "heat up" the service. If an electrician needs to do work inside your meter base after it has been sealed, please contact the REMC several days in advance. Breaking a meter seal results in a $50 fee being charged to the homeowner. Be safe. There is potential for deadly arc flashing in a meter base.
If you have any questions about the installation of a new meter base or working in an existing meter base, please contact the Heartland REMC engineering department. We are here to help in any way we can to provide safer service.
• Call: 260-758-3155 or 866-336-2492.