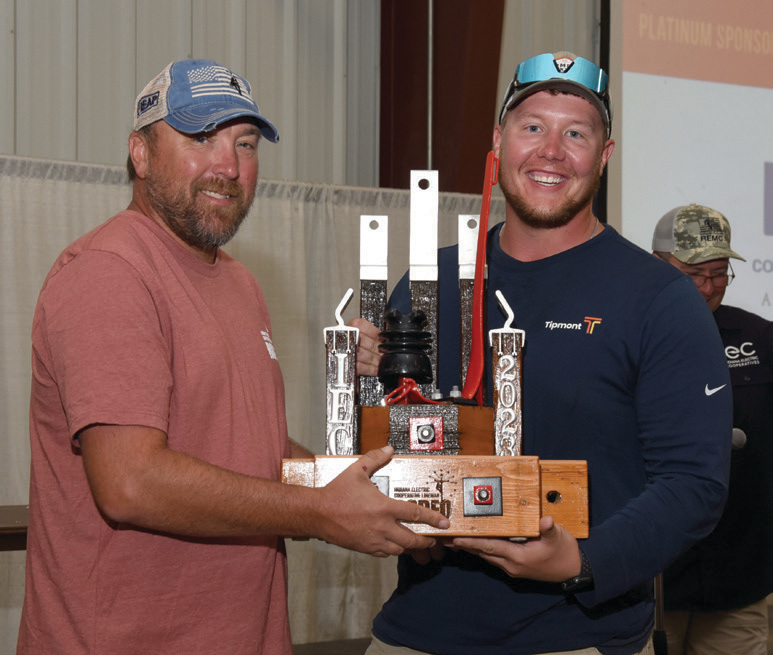 At a lineman rodeo, sustaining safety for several minutes represents a gold standard rather than eight seconds of holding on tight. Neither will you find any bucking broncos or bulls.
In a showcase of on-the-job skills and safe operations, Tipmont linemen competed on Aug. 24 and 25 at the 2023 Indiana Electric Cooperative Lineman Rodeo – held at the Hendricks County Fairgrounds in Danville.
Tipmont's own Matt Bassett, Bo Bouwkamp, Tristen Hoffman and Dusty Manns participated in the event, which featured competitors from electric cooperatives across Indiana. The rodeo simulated real-world scenarios such as rescuing an injured lineman from atop an electric pole, replacing lines and changing out hardware. As they would on poles inaccessible from Tipmont bucket trucks, the linemen used harnesses around their waists and spiked gaffs strapped to their legs.
"It's a great way to reinforce and evolve the way I work alongside my peers and build that relationship that involves trust and confidence in each other out in the field," Bassett said.
For Bassett, Bouwkamp and Manns, this wasn't their first rodeo. Bouwkamp and Bassett were defending their respective first- and second-place placement in the Individual Journeyman division from 2022, and that collective team of three looked to build on its third-place overall honors in 2022. Meanwhile, Hoffman made his lineman rodeo debut in the Apprentice division.
At the team level, Bassett, Bouwkamp and Manns moved up one spot on the podium – earning second-place honors.
Meanwhile, Hoffman snared first place in the individual Hurt Man Rescue and Security Light Repair events of the Apprentice division and third-place overall division honors. Manns also took third place in the individual Hurt Man Rescue event.
Bassett, Bouwkamp, Manns and fellow Tipmont lineman Jason Phillips will also compete in the upcoming 39th annual International Lineman's Rodeo this month in Overland Park, Kansas.
"I am very happy with our performance and hope to continue to do well in future rodeos as an apprentice and eventually as a journeyman lineman," Manns said.
"It's also an opportunity for our families and cooperative members to see a different side of linework," Bouwkamp said.
Please join us in congratulating Matt, Bo, Tristen and Dusty on their outstanding performance! We also celebrate their commitment to keeping you safe and comfortable.