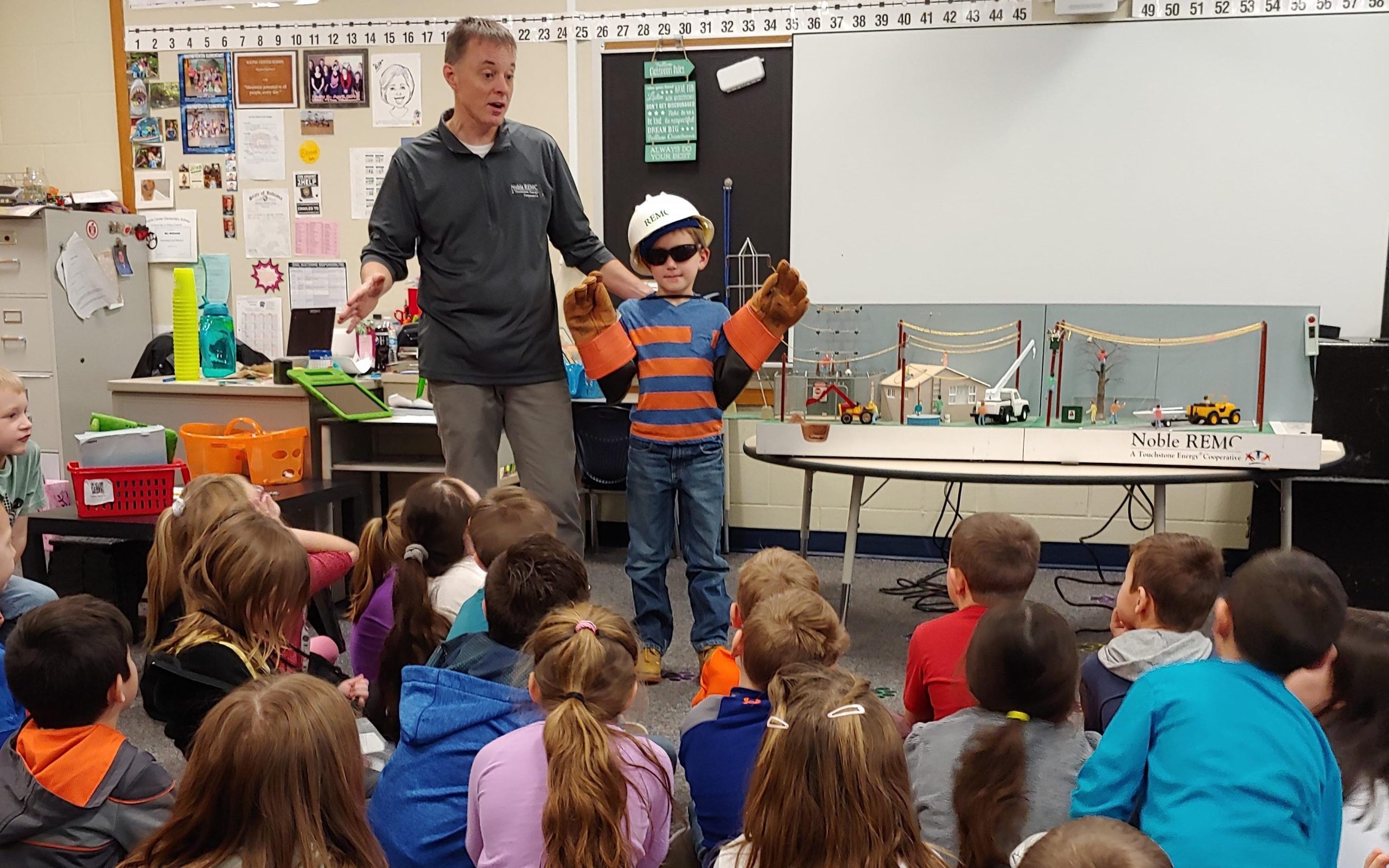 There's nothing quite like seeing the first "zap" of a safety demonstration grab the attention of the students watching intently.
"It's even funnier when the teachers who have seen the demonstrations for years, and know it's coming, still jump," said Noble REMC Communications and Marketing Manager Kevin Dreibelbis.
He has been conducting tabletop electric safety demonstrations in local schools for 28 years, and it continues to be one of his favorite parts of his job. It gives him the ability to take his love of teaching and combine it with his three decades of experience in the electric industry.
The presentation illustrates to students how electricity works, but also the dangers of coming into contact with power lines and poles. That's where the "zap" comes in.
"To watch their amazement and interest is so neat. Teaching them something as vitally important as electrical safety that could prevent them from getting injured or even possibly killed is so worthwhile," Dreibelbis said.
How does he know that the message is being received and making an impact? He inevitably hears from the students' parents.
While out and about in the community, he'll be approached by weary parents who sarcastically laugh as they explain how their children are now giving their own electric safety lessons at home — over and over and over again. Fortunately, the ribbing is all in good fun.
"I respond with, 'Great, that means I've done my job!'" Dreibelbis laughed.
He estimates he's probably given more than 250 presentations over his tenure, not including multiple demos at the same school, as well as those he's given to other youth programs and organizations, such as 4-H.
This past school year, he was able to visit seven schools, presenting more than 10 demonstrations.
He's happy to be able to provide this service for the community and encourages youth organizations to reach out if they would like to teach their own students or participants about electric safety.
Dreibelbis' main goal is to get to the students young so they can remember these lessons well into the future, when they begin driving and owning homes of their own.
"Electricity is our friend, and we pretty much can't imagine life without it; however, it can be dangerous if it isn't used properly."