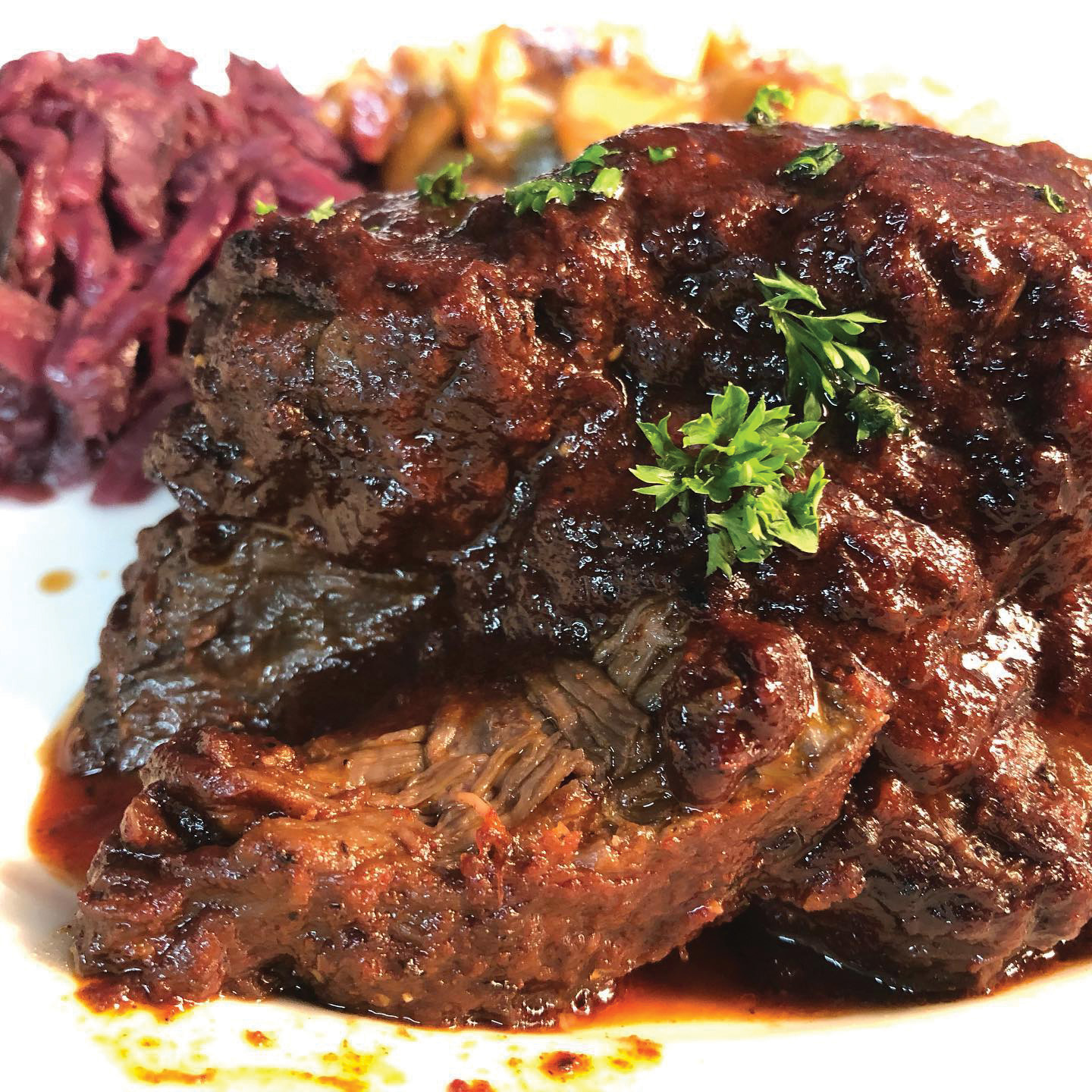 At a time when traveling beyond our borders is not an option, one of the best cures for wanderlust is to sample cuisines of other countries. And one of the best restaurants to enjoy authentic German cuisine right here in the Hoosier state is The Sherman, a combination bar/restaurant/hotel in Batesville.
Formerly known as The Sherman House, the German tudor-style building was constructed in 1852, making it the one of the state's oldest buildings. Its name honors Gen. William Tecumseh Sherman and the 83rd Indiana Volunteer Infantry who marched under him in the Civil War.
The Sherman's owners — husband and wife Georg Heringer of Bavaria and Peyton Hughes from Fort Worth, Texas — offer an eclectic menu blending German and American favorites at The Sherman's recently renovated Circa 1852 Restaurant. Sauerbraten with braised red cabbage and whipped potatoes, and the appropriately named "Best Wurst Platter Ever" (featuring three different German sausages, a trio of mustards and sauerkraut) are standouts for German cuisine lovers. The impressive Bavarian Giant Pretzel, served with bier cheese and mustard trio is a not-to-be missed appetizer.
Meanwhile, restaurant regular State Sen. Jean Leising also vouches for menu items like shrimp cocktail, ribeye steak and filet mignon. Homemade cheesecake and bread pudding, she said, are among the restaurant's finest desserts. "(The Sherman) is the nicest restaurant with quality food in the Batesville area," Leising said.
For those preferring the vibe of a German-style bar or biergarten while enjoying a variety of beers (including Hoosier craft beers), wines and cocktails, The Sherman offers three options: The Black Forest Bar, which features a 20th century antique bar and a fairy tale ambience; the Biergarten; and the Bier Hall. The Sherman also offers catering and box lunches.
Its convenient location between Indianapolis and Cincinnati makes an overnight stay at The Sherman perfect for those wanting a quick autumn getaway. Designated a Historic Hotel of America, The Sherman has 22 restored guest rooms, all with the ambience of European boutique hotel rooms.
Visit the restaurant for lunch and dinner from Monday through Saturday. Though the restaurant is closed on Sundays, the Black Forest Bar is open for Sunday dinner from 3-9 p.m.
---
If you go … The Sherman
35 S. Main St., Batesville
812-934-1000 | 800-445-4939