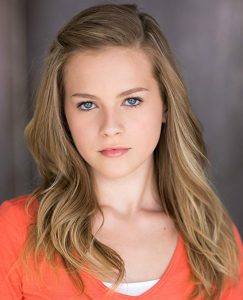 Taylor Moss is about as down to earth as a kid can get with her unassuming nature and easy smile. But what lies beneath is rare. Not only does the sophomore at Lebanon High School speak four different languages – Russian, Spanish, French and English – but she also has some eclectic hobbies.
She is one of the oldest clowns at one of the largest clown troupes in the world: Black Box Bozos, located in Lebanon. The group performs at Thorntown Library, Pixie Playhouse and several senior homes in Boone County. "Hoops" has become kind of a mentor to the other children participating in the program.
"When I get on stage, everything disappears," Moss said. "I honestly try to make people's lives better by making them laugh or smile. Performing just has a special place in my heart."
And she has done a lot of performing… when she is not aerially performing on her Lyra, a metal ring, or flying through the air on the trapeze while she trains with the Peru Circus, she is singing or acting all around Central Indiana. Recently starring in several award-winning films, "Infectus", "Knock Knock", and "Tsirk", Moss has been working with Indiana Film Fest director Mark Rose. She has also completed production on several other films, including starring in "Cries Unheard." She played Savannah in "Freaky Friday" (Vanity Theatre), Scarlett in "Clue" (Black Box Theatre), Mary in "First Kisses" (Center Stage), and Belle in "Beauty and the Beast" (Black Box Theatre).
She now has agents in both Indianapolis and California to help jump-start her career. She recently auditioned for "It" and "The Greatest Showman." Traveling to New York, Minnesota, Wisconsin, Kentucky, Florida, and Illinois for various gigs has left her believing that New York is where she would like to end up.
"My grandpa took us, my whole family, to the circus and for me, the trapeze artist just stuck out," Moss said. "I fell in love with it – the gymnastics and dancing – that had been my whole life. It was the perfect combination of both. The summer after that, I was around seven, and I wanted to find a trapeze school and that is when I went to Orlando Circus School."
According to Moss, the community is part of the reason for her success.
"Everyone has been so supportive. My mom was worried about me being one of the older clowns that kids would make fun of me, but it has been the opposite. This community has embraced my talent and been so supportive," Moss said. 
---
Eye in the Sky
Taylor Moss is a classically trained singer and dancer and specialized in aerial and circus training that involves:
Flying Trapeze
Silks
Aerial Hoop/Lyra
Corde
Lisse/Spanish web
Contortion
Acro/tumbling
Clowning
Hula hoops