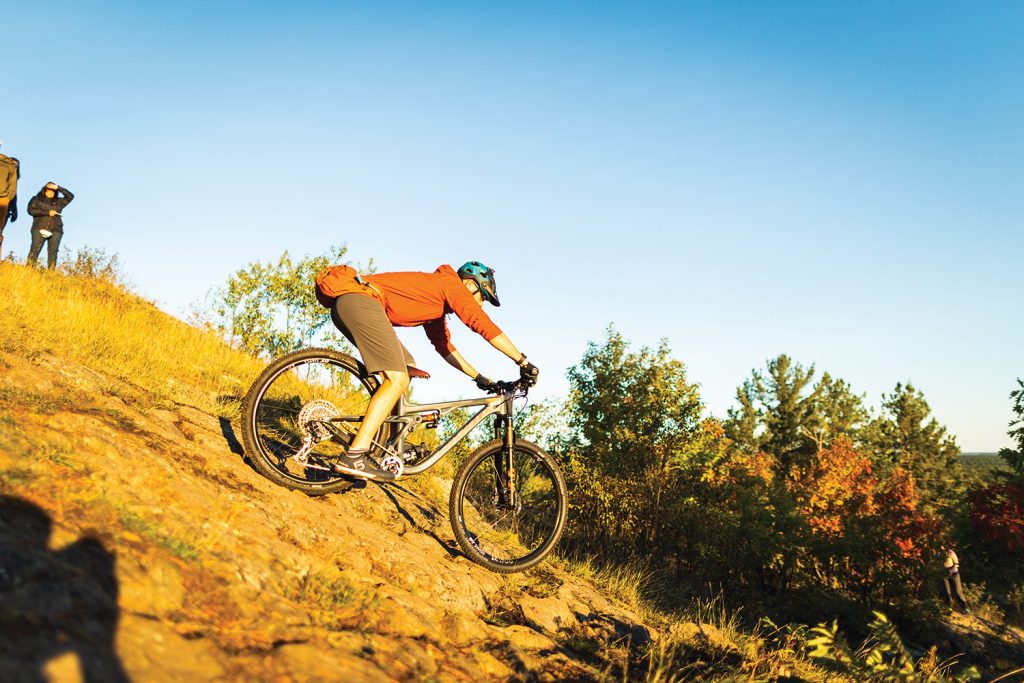 Electric linemen are a tough breed. They climb 30-foot wooden poles in all kinds of weather with only metal spikes strapped to their legs and a leather belt around the pole and themselves. They work within reach of live power lines protected physically by only rubber gloves and sleeves.
But Brent Buckles, a former lineman turned service technician for Northeastern REMC, says riding a bicycle was the most grueling thing he's ever done.
Last September, Buckles completed the Marji Gesick mountain bike challenge, labeled the "toughest race in the Midwest." The ride on Michigan's Upper Peninsula, from Marquette to Ishpeming, was 100-plus miles over rough terrain, rocks, and hills. Overall climbing elevation was 12,300 feet. The ride started at 7:30 a.m., Saturday, Sept. 18, 2021. Buckles completed it just over 22 hours later.
Buckles, who turns 39 this month, had done mountain biking for years, but never anything like this. "This was the hardest thing I've ever done in my life. Even the endless hours I spent training for this race did not fully prepare me for how tough it would be," he says. While called a "race," Buckles notes he was only competing against himself. "It was just a self-motivating thing, trying to push myself to my limits."

In fact, "Find your limits. Destroy them." is how organizers market this ride. They spell out its challenges in the FAQ section of the ride's website:
"In the event of an emergency call 911."
"You may NOT accept mechanical assistance (from anyone but another rider)."
Your bike is to be human-powered, with no level of assistance.
And that's not even including the arduous course itself or the half-mile run cyclists make from the starting line to their bikes.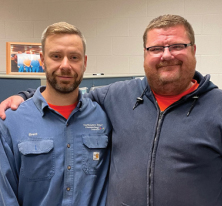 Since there are no official aid stations along the trail, Buckles' one-man support crew was Josh Traxler, a friend and colleague at Northeastern REMC. Every 20 miles, Traxler provided food, water, and anything else Buckles needed, including charging his GPS, and most importantly, encouragement.
Buckles encountered many challenges throughout the day and night. He described 40% of the race required pushing his bike up steep inclines. He'd hurt his knee when he slipped on a rock at one point 20-some miles into the ride, but he pressed on.
He said the only time he thought about dropping out was around mile 90. "But I knew that it would take longer to try to get back than it was to finish," he says. "So, the last 10 miles took me over four hours because I was pushing my bike up hills and pulling myself up with trees. That was the torturous part, and that was all in the middle of the night. I just pushed through."
For the night portion of the ride on the unlit wooded trails, Buckles had a light on his helmet and one on the handlebars. He said some reflective arrows were on the trails, but that's why GPS was so important.
"It's all self-supported. And I preloaded the map on my computer for navigation."
Buckles says there were checkpoints throughout where riders picked up tokens to keep them on the right path and motivated to the next. "After I received my last token and came back into town, I knew the finish line was up ahead. So, I FaceTimed my wife (Ashley) to let her cross the finish line with me."
Buckles placed 162nd out of 521 riders.
Buckles notes he has no plans to do the ride again. It took him months to recover from the knee injury. "I wanted to see if I could do it. And luckily, I was able to complete it."
For now, he's enjoying his solo rides and riding with Ashley and their two kids, Kirra, 12, and Sawyer, 10, who also enjoy mountain biking.
The Marji Gesick race is a production of the 906 Adventure Team, a non-profit organization with a mission to empower people through outdoor adventure.
For more information, visit http://www.marjigesick.com.