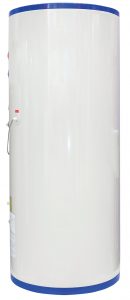 Did you know you can purchase your water heater directly from your trusted electric cooperative? That's us! LaGrange County REMC.
Whether you're replacing your old water heater or installing one in a new home, we provide an energy efficient option in A.O. Smith's water heaters, and we do it at cost. The water heaters, which are three times more efficient than a standard water heater, come with two 4,500-watt elements, six-year tank and parts warranties and adjustable thermostats.
For those replacing their water heater, they can purchase them at cost from us for:
50-gallon water heater — $376
50-gallon heat pump water heater — $1,223

Also eligible for a $400 Power Moves® rebate
Other sizes of water heaters are available for purchase at our cost.
Interested in learning more? Call Energy Advisor Jake Taylor at 877-463-7165 for additional pricing details or visit lagrangeremc.com/water-heaters.