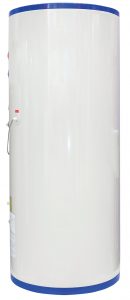 Did you know you can purchase your electric water heater directly from your electric co-op? That's us! Noble REMC.
Whether you're replacing your old water heater or installing one in a new home, we provide energy efficient options free of charge or at cost, depending on the circumstances. We also provide credits for water heaters purchased elsewhere.
For those replacing their water heater, they can purchase them at cost from us for:
50-gallon water heater — $366
50-gallon heat pump water heater — $1,220

Also eligible for a $400 Power Moves® rebate
New home needing one water heater:
50-gallon water heater — FREE
Heat pump water heater from Noble REMC — $150 credit

Also eligible for a $400 Power Moves rebate

Any size water heater, purchased elsewhere — $366 credit
There are additional options for homes needing two water heaters, as well as other sizes of water heaters that can be special ordered and priced at our cost.
You also have the potential to benefit from a $50 electric replacement installation allowance, $100 gas replacement installation allowance and an $85 annual service reimbursement.
Interested in learning more? Call Energy Advisor Brian Hawk at 800-933-7362 for additional pricing details or visit nobleremc.com/water-heaters.