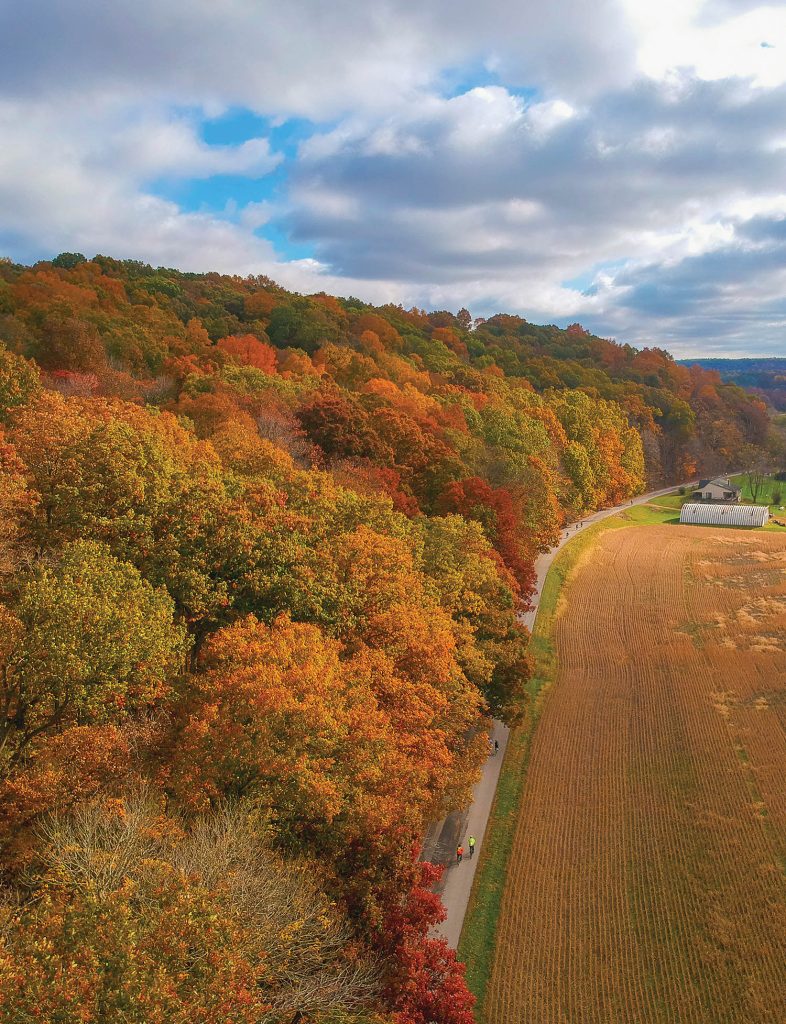 The hills of Monroe and Owen counties will be alive with the sound of music — not to mention the whirring of wheels, grinding of gears, huffing and puffing, and oohs and aahs of Indiana autumn splendor. The Hilly Hundred Weekend returns Oct. 21-23 for its 54th annual go-round … and up and down.
The Hilly Hundred is a nationally known tour, not a race, and listed as one of the "Best Rides in America." It is the premiere Indiana autumn bicycling experience known for its scenery, challenging hills, music, food, drink, and entertainment.
Several thousand cyclists will tour the scenic backroads around Ellettsville and Bloomington on the Saturday/Sunday rides. Each day offers multiple fully SAG (Support and Gear)-supported routes of 30-plus or 50-plus miles. Mechanics will be at rest stops for unexpected repairs.
Designed for the touring bicyclist, the Hilly Hundred attracts riders from over 40 states and several countries. The ride offers different route options each day for the cyclist's ability. Over 5,600 feet of elevation is climbed over the course of the 100 miles.
The ride began with just 60 participants in June 1968 and continues as one of Indiana's longest-running cycling events. Riders come for the challenge. They come for the camaraderie of family and friends. They come for the joy of immersing themselves in nature and rural scenery of the hills of southern Indiana during the peak of fall colors.
The routes start and end at Edgewood High School, 601 Edgewood Drive, Ellettsville. Riders generally begin leaving the Edgewood schools area between 8 and 10 a.m. each day. At the end of each day's ride, participants can enjoy ice cream, visit a Welcome Center for pictures from the day's ride and a Vendor Market Place. Meals will also be available at Edgewood High School. Sleeping accommodations at the junior high are also available, although many cyclists book camping sites at nearby McCormick's Creek State Park.
Online registration closes at midnight, Oct. 19. Day-of registrations are not available. Registration begins at $85 for the full participation and $65 for riding one day. Registration fee for shorter routes vary.
Riders with electric bicycles please note: For the safety of all riders, only those with Class 1 or Class 3 e-bikes, both of which have motors that provide pedal assist, are welcomed to register and participate in the Hilly; those with Class 2 electric bikes — which have a throttle-powered mode that can engage the motor without pedaling — should not participate.
For full updated ride and registration information, visit HillyHundred.org. 
The Hilly Hundred is sponsored and organized by the Central Indiana Bicycling Association (cibaride.org).