Steuben County REMC's fiber project is running ahead of schedule and is set to be completed by the end of 2023. This announcement comes as the project is quickly approaching the one-year mark from installing the first fiber-to-the-home (FTTH) connection, which took place last October. "We are very excited to now be offering fiber-optic broadband internet to a large majority of our membership, with Phases 1 through 3 now completed and available for service. We have been diligently working to reach this point and are excited that by the end of 2023, all members will have access," said Kevin Keiser, CEO of Steuben County REMC.
The project dates back to early 2021, when Steuben County REMC acquired the fiber network from the Steuben County Community Foundation, which was servicing critical businesses throughout the area's cities and towns. At that time, the REMC committed $30 million to expand the system over the next 4–5 years into a FTTH network, offering high-speed internet access to their membership. Despite early challenges and roadblocks brought on by the COVID-19 pandemic and supply shortages, over the past 18 months, the REMC has aggressively built out the fiber network overtop the electric system developed over the last 85 years. This included replacing over 1250 poles to accommodate the additional weight and spacing requirements, along with system improvements to allow for clearance of the more than 800 miles of new fiber installation. Currently, high-speed internet service is available to over 8,000 member homes and businesses within Steuben County REMC's service territory. Later this year, Phase 4 of construction will conclude, bringing access to the remaining 2,000 members and providing fiber internet across the region.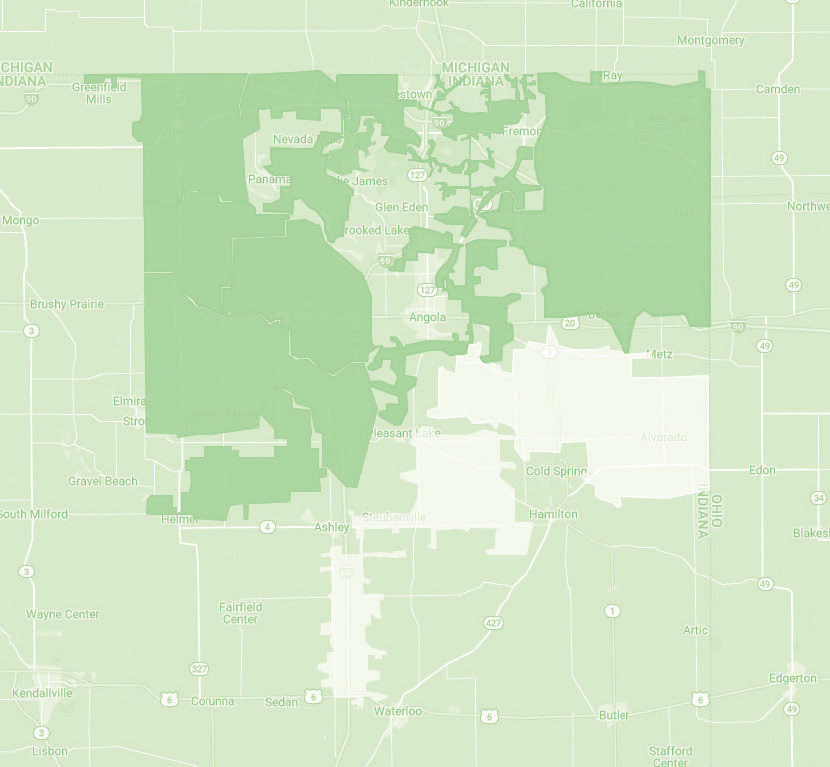 All members in Phases 1 through 3 are encouraged to place their requests now to finalize their installation and receive service. "We continue to connect multiple subscribers each day and are currently working within a 4-to-6-week backlog for installations. We ask any member requesting service to complete their order now. This will allow us, weather permitting, to complete most installations by the end of the year," said Director of Broadband Operations Dave Short. Anyone who has not already preregistered in Phase 4, serving the southwest portion of Steuben County into DeKalb toward Waterloo, is asked to do so. This will place you on the list to receive first notice when service becomes available, which is forecasted to be in November or early December.
Internet packages offer symmetrical upload/download speeds, with packages starting at 100 megabits-per-second (Mbs), 500 Mbs, or up to 1 Gigabits-per-second (Gbs); 10 to 100 times faster than any other available providers in the area. All plans include free installation, with no contract or any additional equipment fees.
Members seeking more information, or to place their order, can contact the REMC office at 260-665-3563 or visit remcsteuben.com to check the availability of their location.
---
Broadband Update
Phases 1-3 are open. 
Phase 1(5 zones)
Orland/West Otter/Salem/Helmer
Phase 2(4 zones)
Nevada Mills/Lake James/Crooked Lake
Phase 3(5 zones)
North-Central-East Angola/Fremont
Phase 4 to open soon.
Pre-register now.
 Phase 4 (3 zones)
Angola South/Steubenville/Waterloo
---