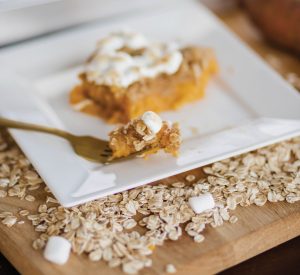 Sweet Potato Casserole
3 lbs. sweet potatoes, peeled and cubed
½ cup sugar
½ cup milk
2 large eggs, slightly beaten
¼ cup butter
1 t. vanilla
⅛ t. cinnamon
Topping:
¾ cup flour
¾ cup brown sugar
¾ cup old-fashioned oats
⅛ t. salt
⅓ cup cold butter, cubed
2 cups mini marshmallows
Preheat oven to 350 F. Place sweet potatoes in a 6-quart stock pot. Add water to cover. Bring to a boil. Reduce heat and cook uncovered for 10-12 minutes or until tender. Meanwhile, make topping by combining flour, brown sugar, oats and salt. Cut in butter until crumbly. Drain potatoes; return to pan and beat until mashed. Add sugar, milk, eggs, cinnamon, butter and vanilla; beat until combined. Transfer to a greased 13-by-9-inch broiler-safe baking dish. Sprinkle topping over potato mixture. Bake uncovered until topping is golden, around 45 minutes. Remove from oven and sprinkle with marshmallows. If desired, broil 4-5 inches from heat until puffed and golden (about 30-45 seconds). Serves 12.
Recipe courtesy of Susie Kraning, Peru, Indiana