Macadamia and Irish Cream Cookies Recipe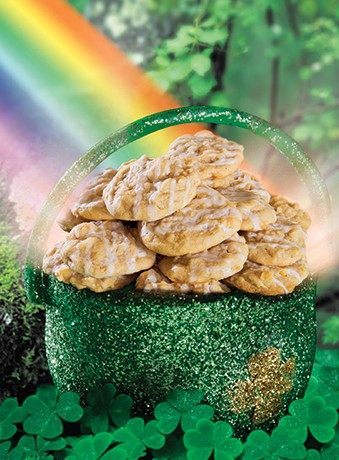 Ingredients
1 cup packed brown sugar
½ cup butter, softened
¼ cup half-and-half
1 T. Irish cream coffee flavoring syrup plus enough half-and-half to make ¼ cup or ¼ cup Irish cream liqueur
¼ t. rum extract
1 ½ cups flour
¼ t. baking soda
1/8 t. salt
1 (3.25-oz.) jar macadamia nuts, coarsely chopped
½ cup powdered sugar
1 T. Irish cream coffee flavoring syrup
1 T. half-and-half or 2 T. Irish cream liqueur
Directions
Cookies:
Preheat oven to 350 F. Beat brown sugar and butter in large bowl on medium speed until creamy. Add half-and-half, Irish cream/half-and-half mixture, and rum extract. Beat until mixed. Reduce speed to low, and add flour, baking soda, and salt; continue beating until well mixed. Stir in nuts. Drop dough by rounded teaspoonfuls, 2 inches apart onto ungreased cookie sheets. Bake for 10 to 12 minutes or until lightly browned. Cool completely on wire rack.
Glaze:
Combine powdered sugar, Irish cream coffee flavoring, and half-and-half or Irish cream liqueur. Blend until smooth. Drizzle over cooled cookies. Let stand until glaze is set. Makes 4 dozen cookies.

Charlotte Rymph, Monterey, Ind.