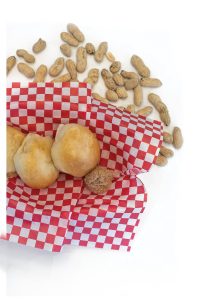 'Copycat' Texas Roadhouse Dinner Rolls and Cinnamon Butter
Rolls
1¼ cups milk
2¼ t. yeast
¼ cup honey
4 T. butter, melted
1 egg, room temperature
4 cups flour
1 t. salt
Scald milk. Let the milk cool to 110-115 F and then mix the cooled milk with the yeast and honey. Let sit 5 minutes. In a large bowl, mix 3 T. of the melted butter, the milk mixture, the egg and 2 cups flour. Mix slowly until smooth. Slowly add the rest of the flour and then the salt. Knead for 8 minutes. Let dough rise 1 hour. Punch down and roll out to ½-inch thickness. Fold dough in half and gently seal. Cut dough into 24 squares and let rise until doubled in size. Place rolls on lightly greased baking sheets. Bake at 350 F for 12-15 minutes until golden. Brush with remaining butter. Serve warm with cinnamon butter.
Cinnamon Butter
1 cup butter, room temperature
4 t. cinnamon
1¾ cups powdered sugar
1 cup non-dairy whipped topping
Beat butter until fluffy. Add cinnamon and powdered sugar. Fold whipped topping into mixture. Store in refrigerator.
Recipe courtesy of Glenda Sensenig, Cutler, Indiana