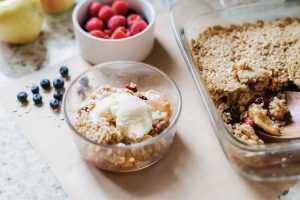 Apple Berry Breakfast Crisp
4 cups thinly sliced cooking apples
2 cups blueberries, blackberries, raspberries or mixed berries
¼ cup firmly packed brown sugar
¼ cup frozen orange juice concentrate
2 T. all-purpose flour
Mix together thoroughly and spread into a buttered 8-by-8-inch square baking dish. Prepare topping.
Topping
1½ cups quick or old-fashioned oats (do not use instant oats)
¾ cup firmly packed brown sugar
3 T. all-purpose flour
½ cup melted butter
Stir dry ingredients thoroughly in a bowl. Add melted butter in slowly and mix with fingers until it resembles medium crumbs. Sprinkle evenly over fruit. Bake in oven at 350 F for 30-35 minutes or until apples are tender. Serve warm with cream, half and half or vanilla ice cream.
Cook's notes: Although I prefer fresh berries, frozen berries are acceptable. I sometimes melt ice cream overnight and pour it over the crisp for breakfast. Although I call it a "breakfast crisp," it makes a great dessert on those cold winter evenings.
Recipe courtesy of Robert M. Winters, Rensselaer, Indiana