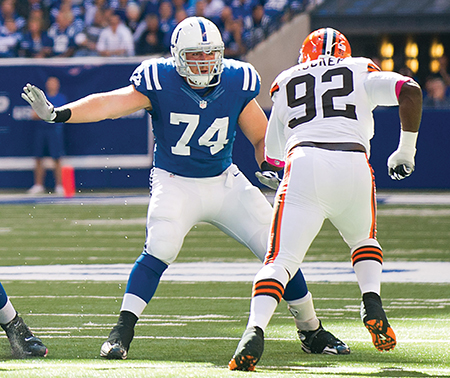 Ingredients
4 chicken breasts
1 packet/ liberal amount of any type of molasses and bourbon spice rub
¼ cup olive oil
1 (12-oz.) bottle of beer (preferably dark beer)
1-2 T. lemon juice
2 T. salt
1 T. fresh cracked pepper
Dash of cayenne pepper
Directions
Put chicken breasts in large mixing bowl. Sprinkle enough of seasoning to coat all breasts on all sides. Add olive oil to make a slurry out of seasoning. Mix with chicken. Add beer. Stir. Add lemon juice, salt, and pepper. Mix together. Let sit at least an hour. Cook on medium to low temperature grill until middle reaches 170 F.
Cook's note: "Good by itself or atop a salad"
Editor's note: We used a 1.13-oz. package of brown sugar and bourbon seasoning mix and boneless, skinless chicken breasts.
Anthony Castonzo, Indianapolis Colts
Action photo courtesy of Indianapolis Colts