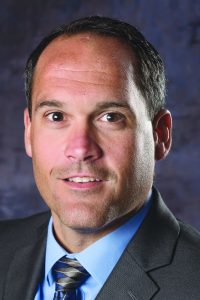 The kids are back in school, we are all settling into a new routine, the annual meeting is behind us and the end of summer is drawing near. This might sound like a good time to relax, slow down and enjoy some downtime.
Ha! Are you kidding me? You all should know me and my team better than that by now! We are ramping up the energy. We have our foot on the gas; the pedal to the metal. We are moving full steam ahead! This is an exciting time for Decatur County REMC (DCREMC).
My team is working diligently to complete our 2020 projects. Those include pole replacements, tree trimming, a construction work plan, and a new bill print design.
Our focus on member engagement and communications continues. We are committed to listening, receiving feedback and developing solutions together with our members. We appreciate your participation in our surveys, virtual town hall meetings and breakfast meetings out in the community. By building relationships with our members, we can better understand what you need and expect from your cooperative as we take things to the next level.
We have started the strategic planning process for the next several years and I am very excited about what it will look like. We will be using input from our members and external stakeholders to help craft our vision for the cooperative. Using data, we will be able to paint a picture of what our environment will look like and how DCREMC will function in that environment. Our goal is to connect member's future needs with solutions and continue to positively impact the quality of life for our members and communities.
I'm excited about what the future holds for us and I am proud that we are able to respectfully work together to serve your needs, address challenges with innovative solutions, and be a trusted resource for our members and communities.
If you have questions or feedback or just want to speak with me, please contact me directly (812-663-3391) or stop in the office. My team and I are always available to listen and serve you.