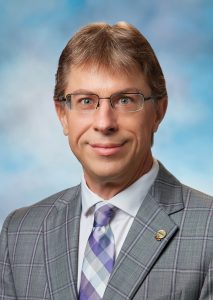 We have all heard a similar phrase: "In times of crisis, everyone pulls together." Over the past few weeks, that phrase has been proven at your cooperative.
Planning for a health emergency, such as the COVID-19 pandemic, is unlike other business planning. Your cooperative had to be prepared to operate with a significantly smaller workforce, threatened supplies and limited support services for an unknown length of time. We had to lean on our knowledgeable employees to help develop a plan that would allow us to maintain our core responsibilities: safety and keeping the lights on for you.
As a cooperative, we are responsible for our member-consumers' best interests. We believe closing our lobby to the public was the best way to limit direct exposure between our employees and membership. We instituted this change on March 18 and will let you know when the lobby is open again. Measures were also implemented to decrease the likelihood that an illness would disrupt our organization's operations workflow.
I encourage our member-consumers who have, in the past, paid their bill in person to now use alternative payment methods. Options include the drop box in front of our office, pay by phone (available 24/7), E-check and credit card payments, and online through our website.
With temporary closures of schools and businesses, we understand some families are experiencing financial hardships. To assist those families, we will suspend disconnections for non-payment of electric bills.
On a final note, I would like to acknowledge the cooperative's employees. During this very uncertain time, one thing is certain: We have an outstanding group of employees. The KV REMC employees have always gone above and beyond to ensure the cooperative continues to focus on you and the community. So, their actions now aren't a reaction to the situation, but a manifestation of who they are as people. I am proud each of them is part of the co-op family.
Please continue to watch Facebook, our website (kvremc.com) and email for operational updates.