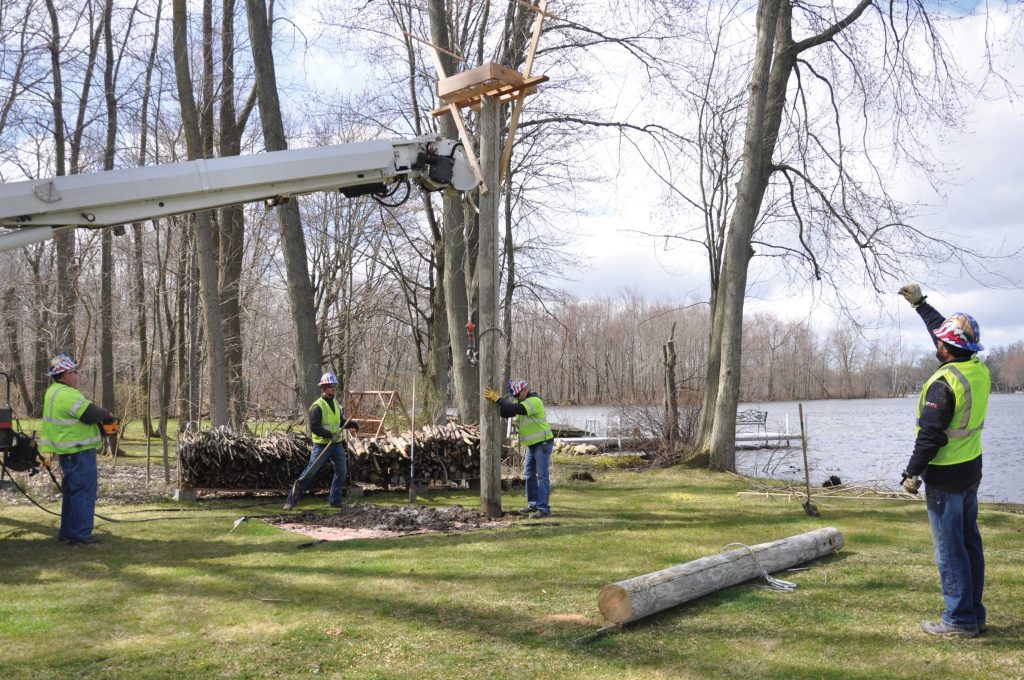 Members on Royer Lake celebrated Earth Day early and in a special way this year.
LaGrange County REMC linemen spent their morning April 21 installing three poles around the lake to serve as perches for ospreys to eventually build their nests.
For those who have never seen an osprey, they are a large raptor (hawk), known for their unique ability to dive into water to catch their diet of live fish.
This is not the first time the cooperative has donated decommissioned poles and labor to community projects, but the timing was a special display of our commitment to community, as most of our members were spending the majority of their time at home due to COVID-19.
With neighbors watching from their homes or spaced out in the homeowners' yards, the chilly, snowy day was warmed by the much-needed fellowship from afar.
The project had been months in the making after Tom McCue of the Fish and Royer Lake Association reached out to LaGrange County REMC for assistance in installing perches.
McCue had seen similar projects in the southern U.S. and thought: Why not here?
"Each year we see osprey diving into the lake. They're a unique bird, and it's cool to see them. I love to have them around here, so we wanted to provide them a few nesting areas so they would stay over the summer," McCue said. "We couldn't have done our own poles, so we reached out to the REMC."
The cooperative provided the poles and the labor to install them, while homeowners and association board members built the cedar perches placed on top.
The properties on which the poles were installed were based on who volunteered, while also taking into account how they were spaced out along the lake. One was chosen for its proximity to a former nest that had been spotted over the years, while the others were chosen to give the most space between nests – both for the birds and the birdwatchers.
Over the years, residents have seen two or three different ospreys in the area, so McCue hopes this invites them to come back year after year to lay their eggs.
"I hope we succeed."