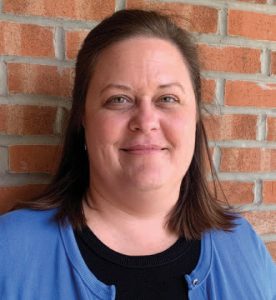 One thing you'll immediately pick up on after two minutes with Tammy Berg is her fun personality and contagious laugh. You'll also quickly understand why she stood out among other candidates because of her work ethic and attention to detail.
Berg graduated from the University of Southern Indiana with a bachelor's degree in business administration. Since then, she has held various positions but most recently comes to us from her previous employer, Holiday World & Splashin' Safari, where she was the manager of purchasing support (food and beverage) for the last eight years. Berg's job here at the co-op will be processing the monthly bills, balancing payments/ transactions, meter (AMI) readings and processing all new/old meters and exchanging meters in the NISC software.
Berg is very productive in the morning and very organized at work, but she likes to fly by the seat of her pants at home! She loves to be challenged and finds that seeing a plan come to fruition is the most accomplishing feeling. Berg also loves to end her day reading because it helps clear her mind from a long day. Berg will take over the billing specialist role here effective Jan. 3.