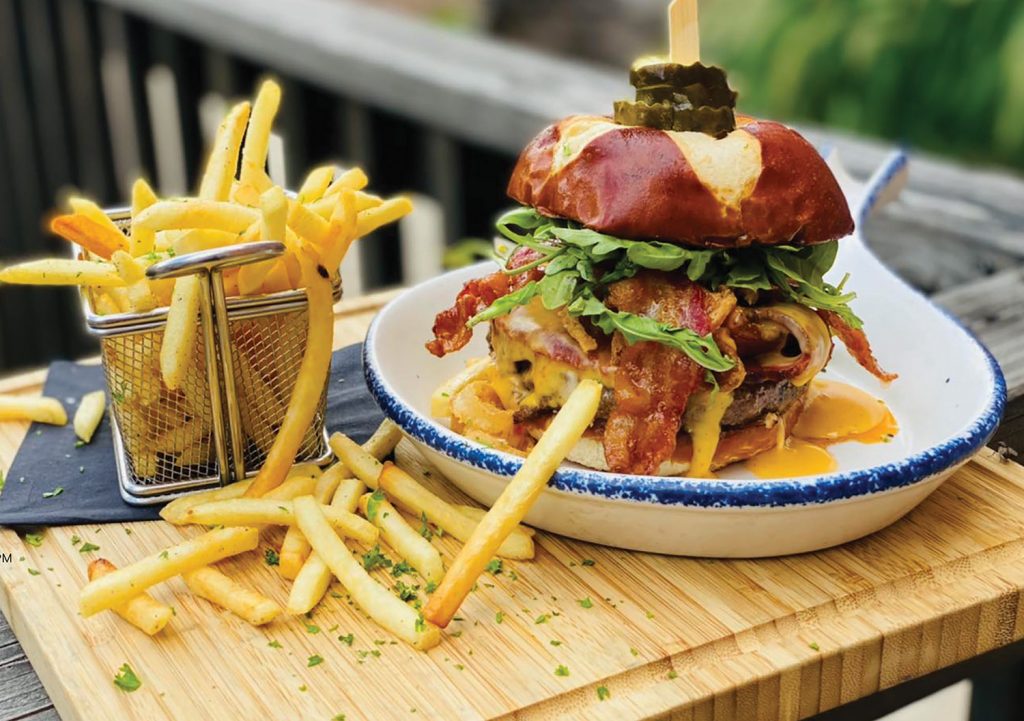 The 1894 Lodge bills itself as a "place where everyone comes to drink, eat and have fun." The original structure, nestled on E. Main Street in New Washington, was built in 1894 (hence the name) as a Masonic temple. It later served as a school and even a movie theater before being transformed into its current iteration
in 2015.
Managed by Logan Hostettler, The 1894 Lodge offers elevated homestyle cooking as well as an interesting array of craft beers and a nicely stocked bar. The restaurant's leadership prides itself on the fact that the business grows its own produce and herbs, and actively supports local farmers.
With its tasty fare and hometown hospitality, the restaurant has earned its place as a must-visit in Clark County — and rumor has it that it's also become the go-to spot for many local firefighters to dine.
Open for dinner from 5-9 p.m. Wednesday through Saturday, The 1894 Lodge offers two different dining rooms as well as a lively bar area. For a more formal meal, you can opt for the main dining room, which boasts a gas fireplace, exposed brick and original floors. If you're interested in
laid-back dining, there's also a lively lounge area featuring a reclaimed wood bar and televisions that are usually airing the sports games of
the night.
As for the cuisine, there are rotating specials to enjoy that might include a "blue plate" offering like Salisbury steak with mashed potatoes and mushroom gravy, a "handheld of the week" and even an "egg roll of the day."
Indiana Connection's Creative Manager Amber Knight made a trip to The 1894 Lodge, and she was enamored with the restaurant's charm, service — and of course, the food. "The 1894 Lodge has some of the best food around and the menu is so fun," Knight said, adding, "Their burger was one of the best I've ever had — the beef sourced from local farmers makes a huge difference. And don't forget dessert!"
The hamburger Knight mentioned is the "1894 Lodge burger," described on the restaurant's menu as a "half-pound 80/20 burger cooked to order, dressed with lettuce, tomato, onion and pickle on a brioche bun" and served with golden, crispy fries.
Main course options include fish and chips made with cod loins, "Lodge fried chicken," as well as juicy️ steaks. If you have a sweet tooth, you won't be disappointed in the rotating dessert features — if there's a cheesecake available, odds are good that it's stellar.
The next time you're traveling on I-65 and looking for a place to dine, consider making a little detour on Highway 62 and popping by The 1894 Lodge. Or, check out the restaurant's Facebook page (facebook.com/ 1894Lodge), and when one of their "blue plate" specials catches your eye, make the drive to this unique dining destination. It'll be worth it.
---
If you go …
The 1894 Lodge
409 E. Main St., New Washington
812-628-9006