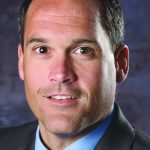 By Brett Abplanalp
The holidays are a time of year that many of us eagerly anticipate. The season is marked by special foods, seasonal decorations and lots of festivities. Here in Greensburg, we look forward to the annual Christmas parade around the square. 
We cherish carrying on old family traditions and enjoy creating new ones. For me personally, I look forward to more time spent with family and friends.
However, given the hustle and bustle of the season, the holidays can also offer an opportunity to slow down and reflect. All of us at Decatur County REMC are grateful for you, the members of the co-op.
You see, one of our founding principles as a co-op is "Concern for Community." While our main focus is providing safe, reliable and affordable energy, we want to give back. We want to help our community thrive.
Reflection
Looking back at this past year, I'm grateful that we were able to make a positive impact in the community. Two examples of community outreach were Co-Op Community Day, during which our team volunteers to do a community service project in our territory, and Operation Round Up, through thanks to your contributions, we awarded $28,700 in grants to charitable organizations throughout our service territory.
We were also grateful for the opportunity to partner with our youth to raise awareness of electrical safety and future career opportunities within the co-op. This year, we visited with the Might Marion 4-H group, students from Girls Inc., and students seeking trade careers. Our youth and their education and safety are so important to us.
There are other ways we can help the community, whether we're providing information about our Prepay billing program, and residential or commercial and industrial rebate programs, or helping you find ways to save energy at home. We want you to know we're here to help.
Looking Ahead
To prepare for 2020, our team has diligently been working on the budget to ensure we are providing the services, programs, and system improvements to best serve you, maintain a reliable system, and remain financially responsible in all we do.
In the coming year, we look forward to the opportunity to serve you and the greater community. On behalf of the Decatur County REMC family, we hope your holidays are indeed merry and bright!