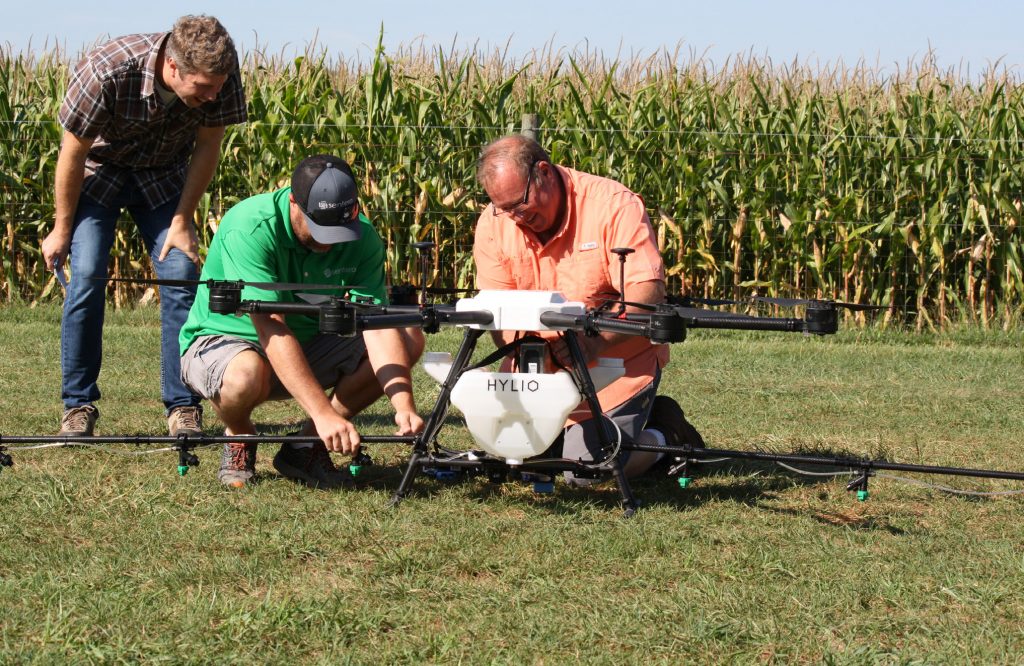 Jim Love flies drones all over Boone REMC's territory and beyond. The robotic manager and herbicide specialist helps farmers troubleshoot issues they are having with crops. Drones allow him to see what a man-made problem is vs. what is a Mother Nature problem. His drones do yield counts and collect data points.
"Drones allow us to get the data early enough in the year to do something about it," Love said. "It is an ever-changing technology, and we are constantly upgrading."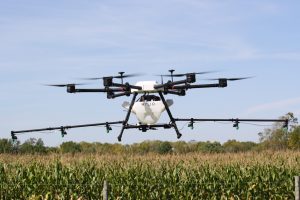 Love works closely with software company Sentera whose engineers integrate technology and sensor products that help farmers pinpoint real-time crop performance. Engineers visit his Thorntown property a couple of times a year to teach him the software updates and troubleshoot how they can continue to make their software more user-friendly.
"The average user just needs to get the drone in the air," Love said. "Once they have that first success, then they can access the software and all of its benefits. But if they don't have that first success, it can discourage the whole process."
The process for Love started years ago with his connection to Boone REMC. Love's father Jim Love was the engineer at Boone REMC for over 20 years and his son now works at Boone REMC as a journeyman lineman. Even when Love was a kid, Boone REMC played an important role in his love of flying.
"We always used the REMC for the 4-H workshops with C. Tom Taylor and Carlos Black when I was a kid," Love said. "They would teach the ins and outs of the electric projects, as well as doing the small engine projects there."
Love attributes his love of drones to his years in 4-H with his aviation projects. That is where his career began at Beck's Hybrids. After he graduated from Purdue, he initially started doing aerial imagery, but, according to Love, the imagery was so slow that it was no longer useful once it got to the farmer. When he saw the possibilities of the drones at a farm show, he knew that they would change the industry. At the time, the cost of the technology was nearly $25,000, but he knew he would deliver the data to the farmer within hours. It is now closer to $3,000 and that was just four years ago.
"The technology is just more and more in-depth," Love said. "They are now both optical and infrared. They keep adding functionality to keep the cost at a baseline."
Love even sees the possibilities for the electric utility industry. When it comes to walking out an electric line or surveying the quality of the equipment, according to Love, it is an inexpensive, easy-to-carry alternative tool for the linemen out on the frontlines.
"There was a misperception for a while about them being dangerous or some sort of invasion in privacy, but I don't hear that as much anymore," Love said. "The FAA (Federal Aviation Administration) only cares about having a safe air space, so that is less and less of a concern for them." 
---
Timeline of Drones in 2000
2001- U.S. Military uses drones to fly over Afghanistan after 9/11.
2006- FAA issues first commercial drone permits.
2010- First drone controlled completely by Wi-Fi.
2013- First camera capable drone enters the market.
2016- More laws and regulations are put in place because of growth in the trend.
2017- The first solar drone is developed.
2018- NASA announces that a drone will be used in the 2020 Mars mission.
2019- Goldman Sachs predicts that the drone industry could be worth $100 billion in 2020.
Information from The Case Farm and Digital Trends websites