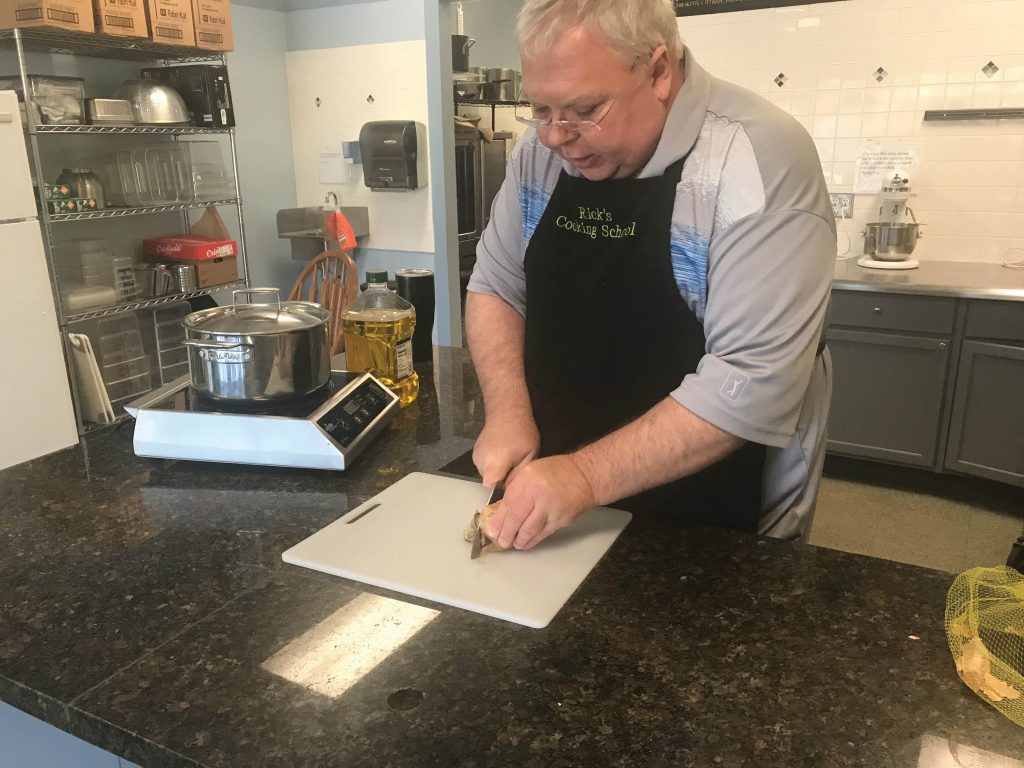 Chef Rick Whiteman has structured his business to incorporate a love of cooking. Since he was a child, he has taken ownership of a farm to fork inspired mission to help those who have a need for nutritious cuisine. 
"I like knowing where my products come from and chemicals change the taste of the food," Whiteman said. "I like to buy from local vendors: meat from Becker's in Colfax, eggs from Zionsville … quality food from where you know what you are getting. It may cost a little bit more, but it is worth it."
Whiteman's business is threefold. He provides meal delivery out of his Fisher's storefront Mondays, Wednesdays, and Fridays. He provides homemade, low cost soup for seniors in Boone County on Tuesdays and Thursdays. He also provides public and private cooking lessons.
"There is a huge need for seniors," Whiteman said.
And Whiteman would know. He served on the Boone County Senior Services Board for 12 years and continues to work closely with Executive Director Anita Bowen by providing monthly menus that seniors can order 24 hours in advance at a discounted price and pick up at the senior center in Lebanon.
"Rick is so generous," Bowen said. "If he can find a way to help, he will do it. He understands that nutrition is critical to a senior's health and he has been able to grow his passion and business around helping others."
Seniors can either pay Whiteman directly or they can leave the money at the Senior Center for collection. According to Bowen, the best thing about Whiteman's soups is the variety.
"I like to take a recipe and change it and then work it and work it until I feel like I have it and then, test it on my client, and then, it goes to the website," Whiteman said. "That is my niche. I always like to try something a little bit different. Quiches and soups are my favorites– that's why I have the soup program."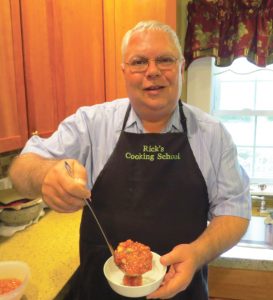 Think Italian Sausage Spinach Tortellini or Cheeseburger French Onion. When it comes a little more exotic fare, think chocolate crusted steak or raspberry chocolate chicken. He loves to make chili or beef stew. None of them are run of the mill; they are always a little bit different.
Seniors are taking advantage of the service. He has served as many as 100. However, anyone can go to his website and take advantage of his services (www.rickscookingschool.com). 
After having a kitchen in Zionsville for years, Whiteman has recently moved to his Fisher's location. He rents out the facility as a commissary kitchen mostly for food trucks and farmers market vendors. He still lives in Zionsville in his 152-year-old Victorian home where he continues to draw inspiration from his childhood heroes, Julia Child and Jeff Smith.
"I see my mother aging and the complications she has, and through the years I've wanted to help," Whiteman said. "When I see seniors suffering, it breaks my heart. Even in high school, I felt a need to volunteer with seniors."
Whiteman has combined his love of two completely different things to fill a need in Boone County, taking his passion and providing healthy, nutritious meals for those who might go without. 
---