By Richard Biever
Duff Patterson straddled his electric bicycle and examined the trail map at the head of the Cardinal Greenway in Richmond. He was deciding if he should go right onto the rail-trail or left to a path that followed the East Fork of the Whitewater River.
Until April, he'd been a lifelong resident of San Diego. Having picked Richmond as the place to retire, he was still greasing his bearings.
The move was to escape the dystopia he described back in California — its high cost of living, bureaucracies, taxes and overcrowding. The trails he rode in quiet solitude this summer morning would have been packed with pedestrians and bicyclists in San Diego, he said.
Patterson said he'd been an avid cyclist in his younger years. But now, at 67, he noted the pedal assistance of his e-bike allowed him to keep riding. Though new to Indiana, he quickly made himself at home. He had already traveled the Cardinal Greenway on its seamless run from Richmond to Muncie. He stayed the night at a hotel, then rode back the next day.
On this day, he plugged the stubbiest rump of a cigar back between his lips, hopped aboard his bike and took off down a hill and south along the river.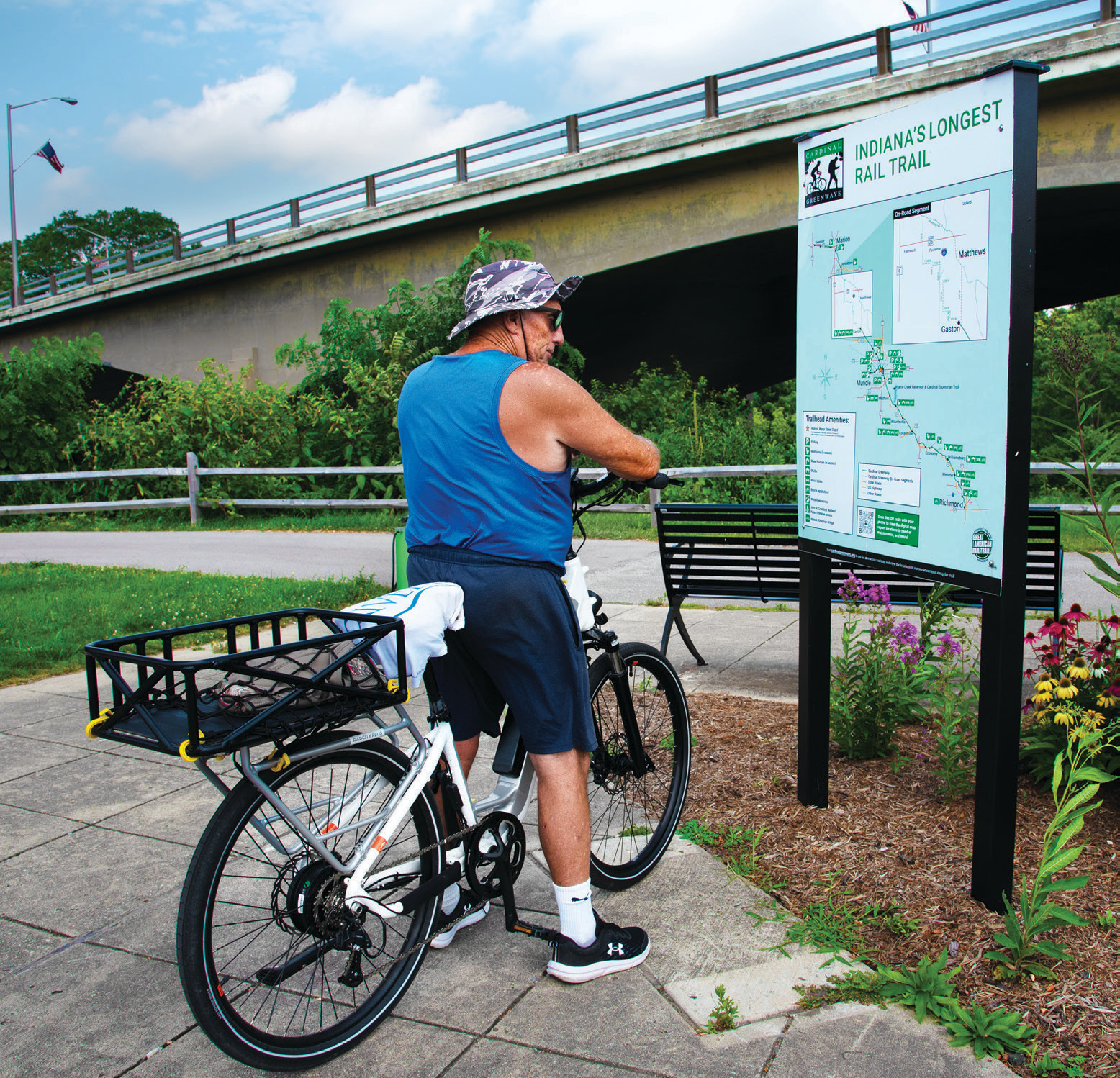 ON TRACK
Greenway was chosen by popular vote as a RTC Hall of Fame Trail. A year later, RTC identified the Cardinal Greenway, which crosses parts of five eastern counties, as Indiana's first link in the Great American Rail-Trail.
"We see our trail system as an oasis for our thousands of users each year," said Angie Pool, CEO of Cardinal Greenway, Inc. The private nonprofit owns and maintains the trail. "The trail provides an ideal space where you can go to recharge, and we know, from conversations with many, the trail can help stress melt away for a bit while you are out enjoying the peaceful, serene setting."
Beyond Indiana, the Cardinal Greenway has been recognized by the national Rails-to-Trails Conservancy. In 2018, the Cardinal Greenway was chosen by popular vote as a RTC Hall of Fame Trail. A year later, RTC identified the Cardinal Greenway, which crosses parts of five eastern counties, as Indiana's first link in the Great American Rail-Trail.
The Great American is RTC's ambitious 3,700-mile planned linkage of rails-to-trails that will connect Washington, D.C., to Washington state. Not only that, but RTC designated a "gateway trail" in each of the 12 states the Great American crosses that epitomizes what the concept of the trail should be like. For Indiana, that was the Cardinal.
"It still gives me goosebumps because we are as passionate as can be about Cardinal Greenway," Pool said, "and we want the world to be the same. We thought, 'we're hitting the big time.'"
Eric Oberg, RTC's regional director for the Midwest, noted in Outdoor Indiana magazine that the Cardinal has everything that makes a great trail: Its 60 miles are relatively flat and accessible to most anyone to go out and enjoy. The small towns it passes through are well-spaced and provide places to rest and eat, with cultural amenities to visit.
A few decades ago, rail-to-trail conversions were controversial. Proposals were met with vocal resistance, mostly by landowners whose property the railroad corridors crossed, Pool noted. Now, she said, the Cardinal Greenway and others show what great assets they are.
"The Cardinal Greenway is listed time and time again as one of the best assets of each of our communities," Pool said. "Businesses promote themselves by saying they're 'located beside the beautiful Cardinal Greenway.' Realtors brag homes are 'just 1 mile from the Cardinal Greenway.' The Chamber of Commerce and Economic Development staffs use it to bring new businesses to town and to keep employees here."
She continued, "We promote what the trail can do for all of our communities; form partnerships and collaborations to boost local pride and increase tourism and economic value to each."
Pool, now in her 16th year as the Greenway's CEO, also serves on the Indiana DNR trail advisory board and the Greenway Foundation of Indiana board. She's also a Henry County REMC consumer — as is the Greenway itself.
RAILS TO TRAILS
After World War II, the railroads that had helped build the United States into a world industrial and economic power began a steady decline. As passenger trains gave way to automobiles and jet planes and railroads consolidated, railroads began abandoning unprofitable and redundant rights-of-way and corridors in large numbers. In the early 1980s, Congress passed legislation that encouraged the preservation of the rights-of-way by preserving the basic infrastructure of abandoned corridors for possible future reuse as rail lines — and by creating rail trails.
In 1986, the Rails-to-Trails Conservancy was founded in Washington, D.C., to preserve the rail corridors as public trails by a group of walking and biking enthusiasts, railroad history buffs, conservation and parks groups, and transportation activists. At that time, just a handful of rail-trails dotted the landscape. Today, there are nearly 25,000 miles of rail-trails crisscrossing the countryside and another 8,000 miles of rail-trails ready to be built.
Today, RTC is the nation's largest trails organization — with more than 1 million grassroots supporters.
What makes abandoned railroad corridors so attractive as trails is that their cut across the land has been there, in some cases, for more than a century and a half. Infrastructure like bridges and culverts are in place. And they've been graded to be relatively flat. Inclines are hardly noticeable, even around hilly areas like Bloomington, observed Ross Tepe, trails manager with the Indiana Department of Natural Resources Division of State Parks.
"Rail-trails serve as great bike routes because they often follow a route that's away from the road right-of-way, so they're quiet," Tepe said. "They're also consistently followed by a tree canopy because those trees grew around the railroad right-of-way as it was abandoned. Several model routes are entirely shaded — which can be really helpful on a hot day."
Work on what became the Cardinal Greenway began not long after CSX railroad abandoned the line through Muncie in 1986. Business and civic leaders looked to turn it into a public trail not just for Muncie but across all five counties the line served. "I keep thinking back to the vision of our original founders: 'Let's create this path for people to enjoy,'" Pool said. "So, now we feel we are vital to each community that we span. We are a free resource for people to go out and improve their quality of life, whether it be by walking, riding their bikes or running. We love that we're a trail where one could also push a baby stroller."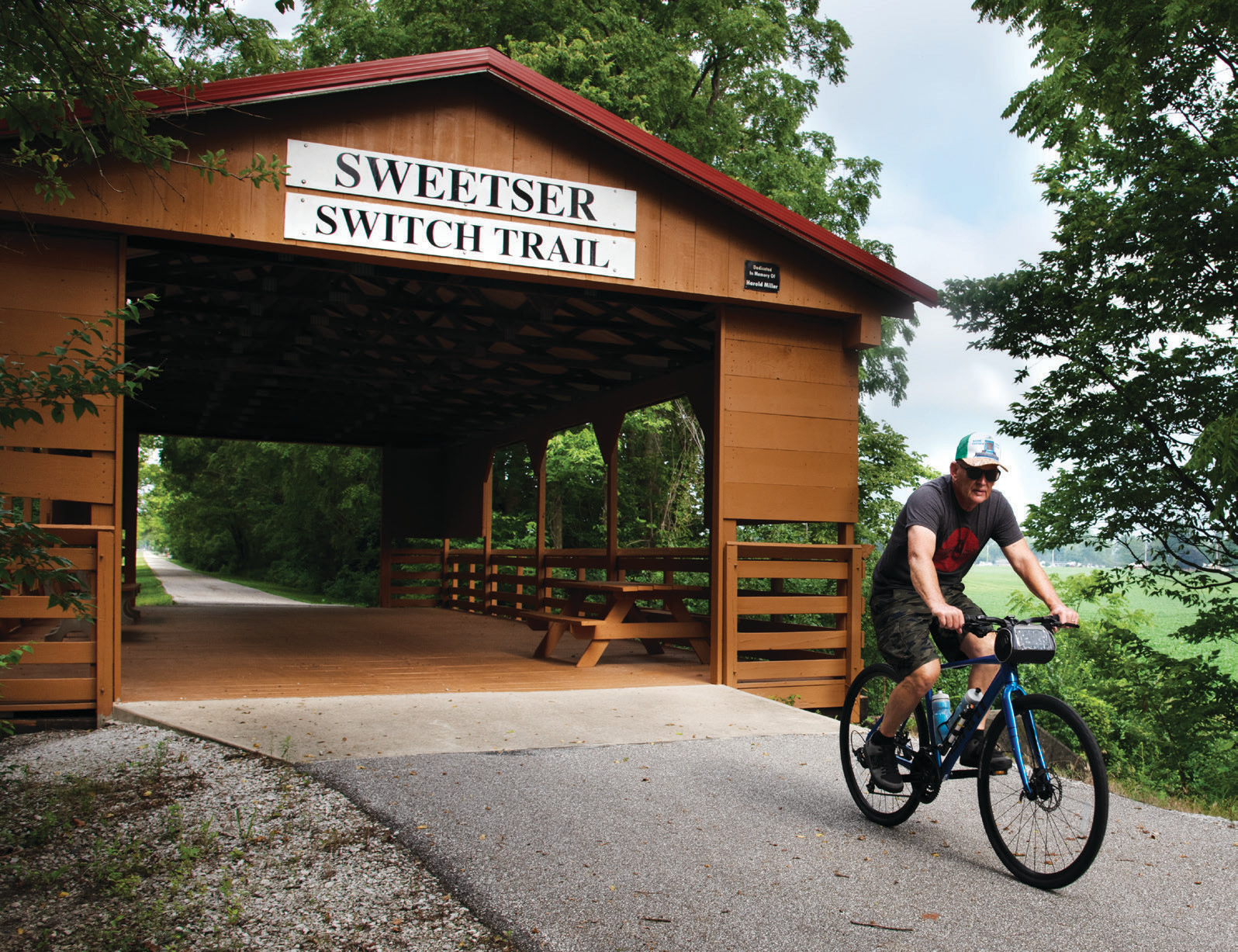 In 1993, the Cardinal Greenway incorporated as a 501(c)(3) reliant on volunteers. The new organization took its name from "The Cardinal," the last passenger train that regularly traveled the line from Chicago to Cincinnati to D.C. Through grants, federal and state funding and fundraising efforts, the nonprofit purchased the right-of-way from Marion to Richmond from CSX. An 11-mile gap was created between Gaston and Gas City, however, because CSX sold that section to local landowners first.
The first section of the trail was paved in 1998. The last segment between Richmond and Losantville was completed in 2012. The Wysor Street Depot in Muncie, which was included in the original purchase of the corridor and has been restored, now serves as Cardinal Greenways' headquarters. The depot also provides a rest center, a small gift shop and a gathering point. At the end of July, the depot hosted 180 cyclists participating in a century ride (100 miles) along the north and south sections of the Greenway.
Now, Pool said the Cardinal Greenway is focusing on maintaining the aging asphalt of the paved trails and closing that 11-mile gap between Gaston and Gas City with a dedicated trail or with side paths along county roads.
GREAT AMERICAN RAIL-TRAIL
"Imagine pedaling across the entire country on a safe, seamless and scenic pathway — or walking a local trail that connects you to historic routes from coast to coast.… Consider the intimacy of taking in all the country has to offer from the most personal vantage point: the trail."
That's how the Rails-to-Trails Conservancy promotes the promise of its Great American Rail-Trail. In a nation that prizes private property so highly, that the potential for a public transcontinental trail of this magnitude could even be imagined is amazing, if not sublime and even transcendent. But remarkably, the route is already more than halfway complete.
The preferred route of the Great American has been mapped out by RTC and its partners. It's more than 3,700 miles utilizing some 150 existing rail-trails, greenways and other multi-use paths through the 12 states, offering a route across the nation that is completely separated from vehicle traffic. Upon its completion at an unknown date, the Great American will serve more than 50 million people within 50 miles of its route, as well as the millions from across the country and the world who will explore America's diverse places via the trail.
The trail starts near the U.S. Capitol in Washington, D.C., at RTC's headquarters, and then runs through Maryland, Pennsylvania, West Virginia, Ohio, Indiana, Illinois, Iowa, Nebraska, Wyoming, Montana, Idaho and Washington, ending on the Pacific coastline.
Though the route still has gaps totaling some 1,700 miles to be developed, RTC said in its May 2023 Route Assessment Report that the route stands at 54% complete. Indiana has 55% of its 215 miles complete, while Ohio has 70% of 335 miles and Illinois has 87% of 193 miles.
Through Indiana, a dozen trails will host the Great American Rail-Trail on a diagonal trajectory from Richmond to the south side of the Chicago metropolitan area. They include: Cardinal Greenway; Sweetser Switch; Converse Junction; Nickel Plate; Monterey Erie; North Judson Erie; Veterans Memorial; Erie Lackawanna Trail; and ending with the Pennsy Greenway's connection to Illinois.
CLOSING THE GAPS
Closing the 96 miles of gaps in Indiana's portion of the Great American has been a focus of Gov. Eric Holcomb's administration and the DNR's Next Level Trails program.
"Our relationship with the Great American Rail-Trail and Rails-to-Trails really comes out with our grant programs, and how we award projects," said Tepe with the DNR, which administers the grants.
Since 2018, Indiana has dedicated $180 million to the Next Level Trails program. The program is part of Holcomb's Next Level infrastructure plan that was funded by the $1 billion renegotiated toll road lease.
"We have awarded smaller grants from pre-exisitng grant programs," noted Tepe, "but NLT is the largest by far."
Next Level Trails allocated $90 million in its first three years, the largest infusion of trail funding in Indiana history. "A big part of that grant program is connectivity, both local connectivity and regional connectivity," explained Tepe. "While we fund trails all across the state, we do have a scoring metric that shows preference toward projects along the [Great American] route."
Last year, an additional $60 million in Next Level Trails grants came from President Joe Biden's American Rescue Plan from 2021's COVID-19 stimulus bill. The latest round of NLT grants, an additional $30 million, came from the budget passed by the Indiana General Assembly in May.
For his leadership in accelerating trail development across the state, Rails-to-Trails Conservancy named Holcomb the Doppelt Family Rail-Trail Champion in 2021. Holcomb, the 40th honoree, was the first acting governor to be recognized as a Rail-Trail Champion.
"Trails, especially the Great American Rail-Trail, can help bring in tourism and economic development," said Tepe. "But it's also beneficial to communities along the trail."
He noted benefits include simply being able to ride a bike to work more easily or to connect to nature. "Making connections, both between communities, from one city to the next, and within those cities, connecting residential areas to local amenities such as parks, stores, job locations and schools, means a lot of quality-of-life improvements."
In addition to support for trails in the governor's office, the bipartisan Indiana Trails Caucus was formed in 2020. The caucus includes 33 state legislators comprised of Republicans and Democrats from the House and Senate. Members are committed to creating a statewide trails network that provides significant health, economic and other quality-of-life benefits for all Hoosiers.
ALL ABOARD
"Good morning, America, how are ya?" begins the chorus of the classic train song about riding "magic carpets made of steel," made famous by Arlo Guthrie a half-century ago. "Said don't you know me? I'm your native son…"
For almost anyone living today, morning in America is no longer about riding the rails. If you're out on a rail corridor, you're probably traversing the trails: the rails-to-trails. The long-abandoned magic carpets of steel have been replaced by smooth, gently rolling, narrow ribbons of asphalt.
Whether a "Golden Spike" — used to connect the last span of transcontinental railroad track in 1869 — is somehow employed if and when the last segment of the Great American Rail-Trail is opened down the line, one thing is sure: these are golden, heady days for trails. "People see the impact they can bring to the communities and even to themselves," said Pool. "They get out there and walk, ride their bikes, or just stroll on trail systems that are close to them. People have realized what a great resource trails are."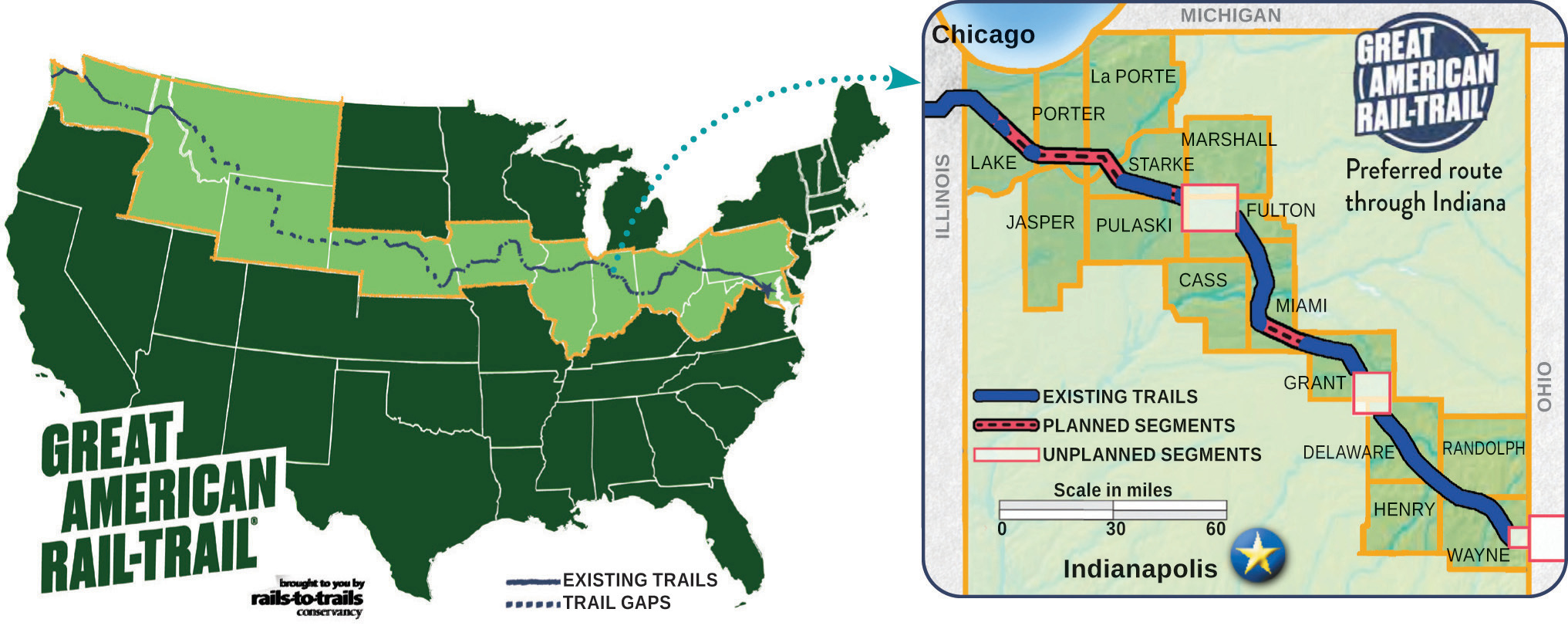 During the pandemic, trail use picked up by 300 to 400%, and it's remained consistent, she said. "With all that great momentum for trails and positive thoughts about trails, and people wanting them and wanting connections," she added, tossing in one last nod to the railroad lexicon that infuses our language, "I just think people are going to really jump on board."
Richard G. Biever is senior editor of Indiana Connection.
---
E-BIKES 101
Electric bicycles are becoming increasingly popular on trails.
Electric bikes, or e-bikes, are regular bicycles with an electric motor that can be engaged as needed. E-bikes are becoming especially popular with people who face challenging terrain or perhaps find regular cycling too physically challenging. Studies also show that e-biking can bring many of the same physical benefits as non-assisted pedaling. One downside is they are heavier than regular bicycles.
Features vary among the brands and models, but the industry has developed three standard classes of e-bikes:
Class 1 has a motor that provides assistance only when its rider is pedaling and is limited to motor-assisted speeds of 20 miles per hour. These e-bikes are capable of going faster than 20 mph, but only on human power beyond that point. (This is the most common e-bike available for rent or bike-sharing);
Class 2 also reaches motor-assisted speeds up to 20 mph but includes a throttle-powered mode that does not require pedaling;
Class 3 offers pedal assistance up to a maximum of 28 miles per hour. Additionally, Class 3 e-bikes are required to be equipped with a speedometer. These can still be pedaled faster than their motor-assisted speeds, but only with human power. (Class 3 e-bikes can ALSO be categorized as Class 2 e-bikes if they feature a throttle that is limited to 20 miles
per hour.)
Most trails welcome the use of Class 1 and Class 2.